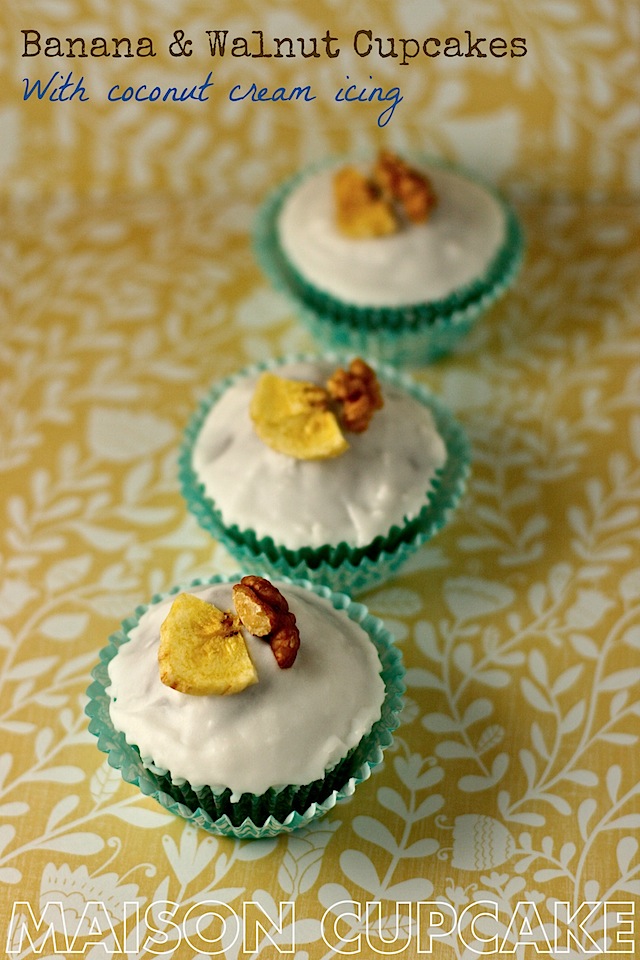 Cupcakes must be like buses… I go ages without making any and then they keep popping up one after another. It's not long since the last ones and there are more in the pipeline!
I had some left over icing from the plum and coconut cupcakes and used it for these cupcakes too. I am really rather smitten with my new coconut icing discovery, it makes such a change from buttercream and it's so easy to make.
Banana and Walnut Cupcakes with Coconut Cream Icing
Makes 12+ depending on size cakes used
Ingredients:
1 mashed ripe banana
130g unsalted butter
130g caster sugar
2 large eggs
130g self raising flour
1/2 tsp ground cinnamon
25g sultanas
25g broken walnut pieces plus 12 halves for decoration
100ml coconut milk
400g icing sugar, sifted
handful of dried banana chips
You will need a 12 hole baking tin and some paper cupcake cases
Directions:

1. Preheat the oven to gas 4 / 180c. Line the 12 hole baking tin with paper cases.
2. Cream the butter and sugar in a large mixing bowl until light and fluffy using an electric hand mixer. Beat in the two eggs and then the mashed banana.
3. Fold in the flour and cinnamon and then the broken walnuts and sultanas.
4. Divide the batter between the paper cases (two thirds full) and bake the cakes on the middle shelf for 15-20 minutes until golden and springy to touch. (18 minutes is what works in my oven).
5. Allow to cool completely on a wire rack.
6. In another large bowl, spoon the coconut milk over the icing sugar a little at a time, beating it into a smooth paste. It should be like thick PVA glue.
7. Spoon the icing over the cooled cupcake bases and stud with a banana chip and walnut half before serving.
These cupcakes are being linked up with:

One Ingredient organised by Laura and Nazima. This month the theme is "walnuts".

The MacMillan virtual bake sale hosted by FoodNerd4Life. This is still open for another week so do link up your bakes and make a donation in aid of Macmillan Cancer Support.