Lovely things we've been trying out recently…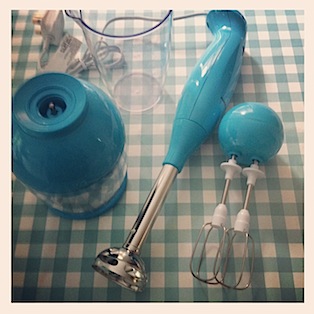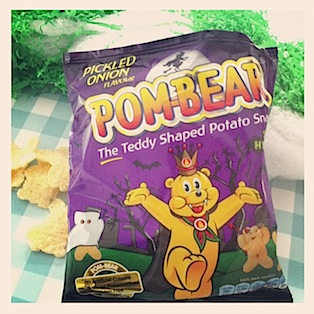 Buy It Direct offered a solution to the mystery of the missing stick blender. I'd recently suffered the downright freaky disappearance of my old Braun model and thanks to Buy It Direct replaced it with this funky Morphy Stick Blender as seen on Dinner With Crayons in my creamy pepper mushroom soup. You'll no doubt see this little baby performing tasks in many posts to come. I chose the colour because it reminded me of Smurfs. Say hi to them on Twitter @BuyItDirect
Pom Bears are truly in Halloween party mode with these pickled onion limited edition snacks. Perfect for your little monsters' packed lunches during October, grown ups might be interested to know bags contain fewer than 100 calories and they're gluten free too.The bear with fangs on the packet is unbearably cute (no pun intended!). Say hi to them on Twitter @pombear4 – which seems an odd Twitter ID to adopt but there you go.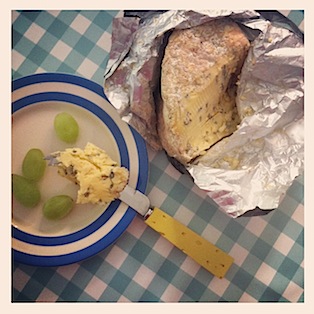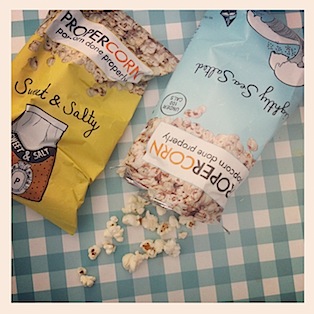 Clawson Dairy Ltd have had me weak at the knees this month with their Caxstone smooth blue cheese. It's no understatement to say this is quite possibly my favourite cheese I have ever eaten IN MY LIFE. I may cry slightly when it's all gone. I also used it in these blue cheese dauphinois potatoes. Say hi to them on Twitter @clawsondairyltd
Propercorn are helping to drive the current trend of flavoured popcorns; as well as sweet & salty and lightly sea salted the range includes sour cream & chive and Worcestershire sauce & sun dried tomato. Bags are under 100 calories and corn hand-popped in the UK. Gosh I hope that isn't painful because I always use a saucepan. Sweet and salty has been my personal favourite. Say hi to them on Twitter @propercorn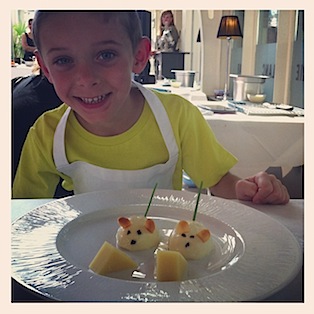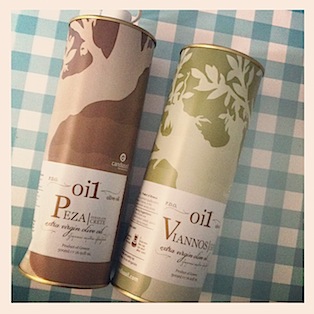 Henri Le Worm is a kids' cookery app on iOS featuring recipes by Raymond Blanc including these splendid egg mayonnaise mice. With characterful illustrations worthy of their own TV series, the app has interactive features and a story voiced by Simon Pegg. Find out what happened When Ted went cooking with Raymond Blanc over at Dinner With Crayons and say hi to Henri Le Worm on Twitter @henrileworm
Oi1 by Candiasoil is a beautifully packaged extra virgin olive oil from Crete. I tried these two varieties Peza and Viannos which will be stocked in Tesco from this autumn at £6.85 for 500ml. The printed drum container looks lovely in the cupboard and protects the oil from sunlight. Perfect for dipping with crusty bread and balsamic vinegar. I've also added some to garlic mashed potatoes and cheese and potato pie over at Dinner With Crayons.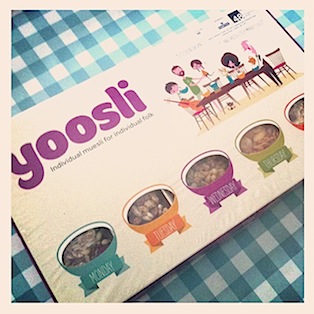 Yoosli could be the solution for anyone who gets fed up of the same cereal every day or has an aversion to any ubiquitous ingredient. For £3.50 per week Yoosli will post you a selection box of organic cereals in five fairly generous portions. Their website also lets you create your own bespoke mueslis and granola. Whether it's the most economical way to eat cereal is another question but for taste and style I give it a high five. Say hi to them on Twitter @myyoosli
Ragu have out a new range of pasta bake sauces. Flavours include tomato & herb, tomato & bacon, tuna, cheese & bacon. For vegetarians there is also tomato, garlic and chilli. Priced at £1.99 per jar, I think it's a bit pricey but if you spot them on BOGOF I'd happily stock up on a few for effortless dinners on nights you just can't be ar*ed to cook. Find out how pasta bake saved my life last Thursday over at Dinner With Crayons. Say hi to them on Twitter @RaguUK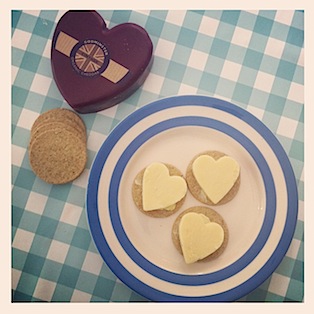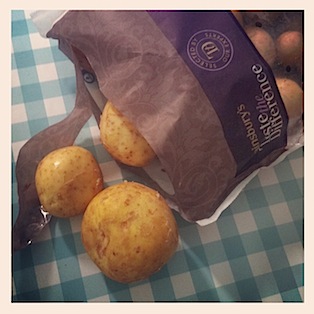 Godminster are a brand I was first introduced to at an Olympia event around 12 years ago and I was instantly won over by their purple wax truckles of cheese that I've frequently given to relatives as Christmas gifts. I made use of their cheddar heart truckle as both a lunchtime snack (shown above) and an evening speedy supper of cheese and potato pie last month on Dinner With Crayons. Say hi to them on Twitter @godminsterfarm
Sainsbury's Taste the Difference Mashing Potatoes were the most effortless to mash I can remember using. If a recipe calls for a "floury texture" potato then this is your spud. The ones in my bag were grown in the UK. I used them last month in back to school garlic mashed potatoes and blue cheese dauphinois potatoes over at Dinner With Crayons. Say hi to them on Twitter @sainsburys
With thanks to Sainsburys, Henri Le Worm, Godminster Farm, Ragu, Yoosli, Propercorn, Oi1 by Candiasoil, Clawson Dairy Ltd, Buy It Direct and Pom Bears for making our larder so entertaining this month.