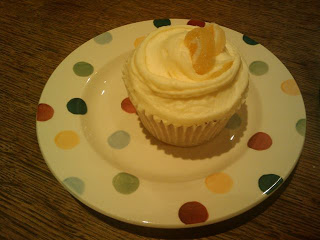 We eventually found Primrose Bakery further down Gloucester Avenue back towards Camden.  They have two shops, the one here and one in Covent Garden.  I assume from the name that the Primrose Hill shop was the first.  Their shop is a modestly sized cafe in shabby chic style with primrose yellow formica tables.  Cupcakes were a competitive £1.75 each.  I took away two in a cardboard box for my husband and I to eat for our pudding that evening.
These lemon cupcakes were topped with lemon flavoured American frosting with plain bases.  The sponge was on the dry side but the topping was delicious.
I have started following
Primrose Bakery on Twitter
but it appears that after a flurry of tweets when they first subscribed in June that they have gone very quiet.  This is a shame as their logo features a bird on top of a cupcake tweeting "sweet sweet" and I think they should make the most of this connection.  I tweeted at them at that I was visiting their shop that day so you never know, this might remind them that Twitter exists and perhaps we'll see them tweeting back soon.