Recipe: Honey and Lemon Cream Cheese Popovers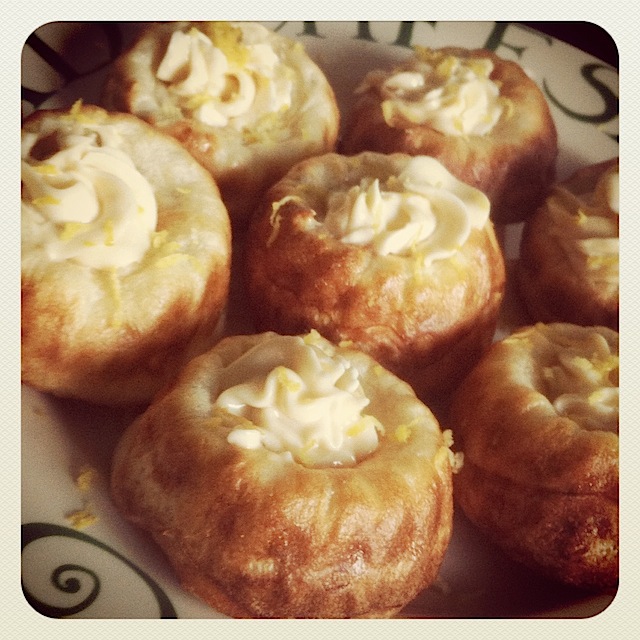 1tbsp melted butter
125g plain flour (1 cup)
½ tsp salt
2 large eggs
290ml milk (1¼ cups)
½ tsp fair trade vanilla extract
For the filling
200g Philadelphia
75g Manuka honey with lemon (or just plain old honey with a squeeze of lemon juice)
grated zest of half a lemon
Preheat the oven to 200c / gas 6.
Grease the tin or spray it with some whizzy Dr Oetker aerosol cake release spray.
Combine the flour and salt in a bowl.
Whisk the eggs, milk, melted butter and vanilla extract in a separate bowl.
Pour the wet ingredients over the flour and beat with a balloon whisk until blended and smooth-ish. Decant the batter to a jug.
Meanwhile pop the tin into the oven for a couple of minutes to heat it up.
Take the tin back out of the oven and quickly serve small pools of the batter into the 12 hole tin (ok, go on you can use a normal muffin tin if you don't fancy coming to Walthamstow Market), bake for 12-14 minutes until puffed up and golden brown. Don't open the oven during cooking but when you get them out give them a poke to see if they're cooked underneath.
Pierce each popover with a skewer to let the steam out. Allow to cool slightly before removing from the tin and arranging upside down on a plate. Meanwhile combine your honey and philly in a bowl by mashing with a fork. Spoon the mixture into a piping bag with a star nozzle (this is optional, you can just spoon it into the holes instead if you want).
Pipe Philly honey mixture into the holes. Sprinkle over grated lemon zest and serve whilst still warm.
You will need a mini ring tin like this from Walthamstow Market for £2. Last stop on north bound Victoria line. Text me if you want to meet for coffee.
Recipe by
Maison Cupcake
at https://maisoncupcake.com/recipe-honey-and-lemon-cream-cheese-popovers/