Fig, lardon and dolcelatte tart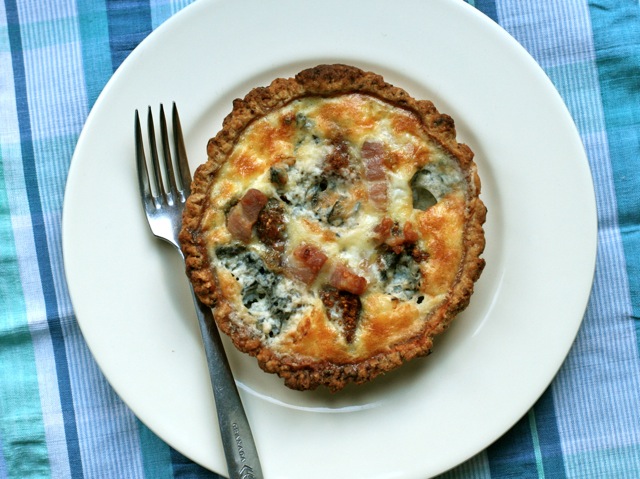 For the pastry
250g (8oz) plain flour, plus extra
for dusting
pinch of salt
75g (3oz) walnuts, finely chopped
150g (5oz) chilled unsalted butter,
cut into pieces, plus extra for
greasing
1 egg yolk
1–2 tbsp chilled water
For the filling
8 ripe figs, cut into quarters
2 tsp olive oil
100g (3.oz) lardons
150g (5oz) mascarpone cheese
2 eggs, beaten
50ml (2fl oz) milk
2 tsp chopped fresh thyme, plus
extra sprigs for garnish
150g (5oz) dolcelatte cheese,
crumbled
salt and freshly ground black
pepper
Lightly grease a 24 x 7cm (9. x 3in), 3cm (1.in) deep tart tin, or a tin
of similar dimensions.
To make the pastry, place the flour, salt and chopped walnuts in a
bowl and rub in the chilled butter until the mixture resembles fine
breadcrumbs. Stir in the egg yolk, then gradually add enough of the
chilled water until the mixture comes together to form a firm
dough – add the water a little at a time, to prevent the mixture
from becoming too sticky.
Roll the dough out on a floured surface and line the tin (see page 18).
Chill in the refrigerator for 30 minutes.
Meanwhile, preheat the oven to 200°C (fan 180°C)/400°F/gas mark 6.
Once chilled, prick the pastry all over with a fork, cover with a sheet
of greaseproof paper and fill the tin with baking beans. Blind bake for
minutes, then remove the paper and beans and bake for a further
minutes, or until the pastry begins to turn golden.
Arrange the figs in circles, to cover the base of the tart tin. Put into the
oven and cook for 10–12 minutes, or until they begin to soften. Heat
the oil in a frying pan and lightly fry the lardons until they just begin
to colour. Remove from the heat and set aside.
Place the mascarpone in a medium-sized bowl and stir to soften, then
add the beaten eggs and milk and stir until you have a smooth mixture.
Season with a little salt and pepper and add the chopped thyme.
Scatter the cooked lardons and the crumbled dolcelatte over the top
of the softened figs, then pour over the mascarpone and egg mixture.
Finally, sprinkle over some small sprigs of thyme and bake in the oven
for 20–25 minutes, or until the filling is set and golden.
I like this tart served at room temperature, with some lightly dressed
salad leaves.
Recipe by
Maison Cupcake
at https://maisoncupcake.com/eric-lanlard-recipe-fig-tart/