Reeces peanut butter cake pops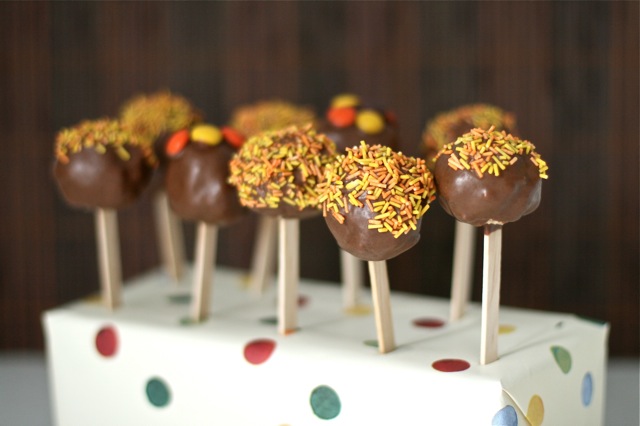 200g crumbled sponge cake
50g buttercream
50g Reeces (or Skippy) peanut butter
150g bar of milk chocolate (oh it has to be milk, none of that classy dark stuff)
Reeces pieces
Orange and yellow sprinkles
Wooden lolly sticks
In a medium size bowl, churn the crumbled sponge cake crumbs into the buttercream and peanut butter.
With your hands form golf ball size balls and place each one on a plate. Chill the cake balls for 20 minutes.
Meanwhile melt the chocolate (carefully) in the microwave - short sharp bursts with intermittent stirs rather than letting it scorch.
Let the chocolate cool so it's still dippable but no longer hot.
Dip a wooden lolly stick into the chocolate and then push into the cake balls. Then swirl upside down in the chocolate.
Rotate the stick allowing chocolate to settle over the surface; let any excess drip off.
Before the chocolate sets completely, stud the tops with whole Reeces pieces or dip into a shallow dish of the sprinkles.
Stand on the sticks in a block of florist's foam oasis covered in wrapping paper.
If you want to stud your cake pops with whole Reeces Pieces, this does work but you need to wait until the chocolate is nearly set - otherwise they slide off rather ungraciously. But what price sweetness eh?
Recipe by
Maison Cupcake
at https://maisoncupcake.com/reeces-peanut-butter-cake-pops/