Christmas tree cookies sugarcraft project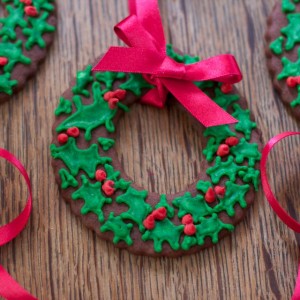 Serves:
Around 20 cookies
One batch cookie dough
extra flour for rolling (use cocoa for chocolate cookie dough)
⅓ batch royal icing
Red paste food colouring
Green paste food colouring
extra icing sugar for adjusting icing consistency
lemon juice for adjusting icing consistency
Preheat the oven to 180c / Gas mark 4.
Roll out the dough to 5mm thick, dusting the surface with a little extra flour if necessary. Cut out the larger circles then make holes in them with the smaller size cutter.
Transfer to a lined baking sheet and bake for around 10 minutes. Allow to cool slightly before transferring to a wire rack then leave to cool completely.
Meanwhile split your royal icing into coloured batches. You need 80% green icing and 20% red. (To be honest you need less red than this but I'm sure you can find something else festive to do with it). Use the paste colours to tint your royal icing.
Split the green icing in half into two containers. One batch should be flood consistency, the other soft peak or 'writing' consistency.
The red icing needs to be soft peak or 'writing' consistency.
Fill a disposable bag fitted with no2 size Tala tip with green soft peak icing. Randomly pipe little holly shapes onto the cooled chocolate cookies. Cover the surface of the cookie with the holly shapes arranging them in sprigs of 2 or 3 leaves.
Fill a disposable bag fitted with no3 size Tala tip with green flood icing. Fill each holly leaf with the flood icing and allow to dry.
When the green icing is dry, fill a disposable bag fitted with no2 size Tala tip with red soft peak icing and pipe berries onto the holly leaves. Allow to dry completely.
Using short lengths of ribbon, tie loops to hang your cookies on the Christmas tree.
The chocolate cookies do go softer being left out of a tin but it's fair to say they'll still be edible throughout the Christmas season so you can leave them hanging up beyond New Year.
Recipe by
Maison Cupcake
at https://maisoncupcake.com/christmas-tree-cookies-sugarcraft-project/