Sunflower seed bread maker recipe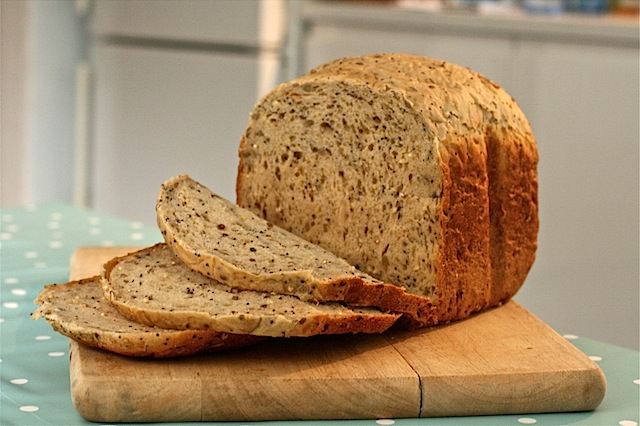 Serves:
2lb loaf of 12-14 slices
360ml (1.5 cups) water
3 tbsp skimmed milk powder
3 tbsp sunflower oil
5 tbsp dark brown soft sugar
2 tsp salt
580g (4 cups) seeded bread flour
¾ tsp fast action yeast
½ tsp vitamin C powder
50g hulled sunflower seeds (in the seed tray)
Add all the ingredients to the bread maker tin in the order shown above - putting the sunflower seeds in the top tray if your machine has one. Otherwise retain the seeds until after the first rise.
Switch on the wholemeal loaf program (see notes below for guidance which program will be best on your machine).
This loaf was made in a Morphy Richards bread maker, your model may differ. The times used by my machine on its wholemeal loaf program are:
Knead 1 - 10 mins
Rise 1 - 20 mins
Knead 2 - 20 mins (when the seed tray empties)
Rise 2 - 35 mins
Rise 3 - 70 mins
Bake - 60 mins
Total time - 3 hours 40 mins
Recipe by
Maison Cupcake
at https://maisoncupcake.com/sunflower-seed-bread-maker-recipe/