Pink grapefruit jelly – homemade low fat dessert recipe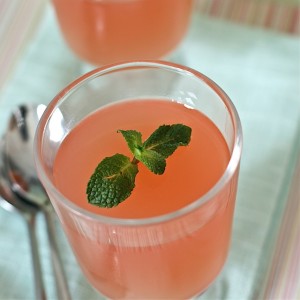 2 whole pink grapefruit
120 ml boiling water
1 sachet of powdered gelatine
200g caster sugar
You will also need a muslin cloth or clean j-cloth, a sieve and citrus juicer.
Slice the grapefruit in half and press them in the citrus juicer to extract their juice.
Boil the kettle and pour 120ml into a plastic jug. Empty over the sachet of gelatine and beat briskly with a whisk so it will dissolve fully without forming lumps. Whilst this liquid is still hot, stir in 100g of the caster sugar until this too dissolves.
Pour the grapefruit juice through a sieve into a medium size bowl to filter off the pulp.
Then pour over the gelatine solution and stir in the remaining 100g of caster sugar.
Remove the pulp from the sieve then drape the insides with a muslin cloth or clean j-cloth. Pour the whole mixture through, squeezing the fabric into a ball if necessary. Squeeze as much liquid through as you can.
Decant the pink liquid equally into glass dishes. There should be enough for 4-6 servings.
Chill the jellies overnight in the fridge.
Recipe by
Maison Cupcake
at https://maisoncupcake.com/pink-grapefruit-jelly-recipe/