Orange syllabub recipe with speculoos biscuit base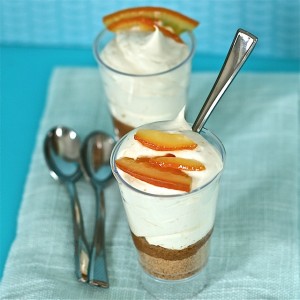 Serves:
10 shot glass sized portions
1 orange
100ml water
100g caster sugar
100g speculoos (or other biscuit such as ginger snaps or digestive) crumbs
284ml double cream (I used Elmlea reduced fat variety)
1 tbsp Grand Marnier or Cointreau orange liqueur
100g icing sugar
Cut one quarter from the orange and slice it finely into thin quarter circle slices. With the chunk that's left cut the remaining zest into shards.
Juice the remaining three quarters of the orange and set aside.
Boil a sugar syrup with 100ml water and 100g caster sugar. Let it simmer with the orange slices in it - it shouldn't go dark and caramelised, you should have a thick clear syrup.
Meanwhile, using fine grater, remove the zest from the rest of the orange and set aside.
Using the electric mixer, whip the double cream in a medium size bowl. As it thickens add the icing sugar, orange zest, orange juice and orange liqueur. Beat until thick and it holds a ribbon trail.
Turn the heat off for the orange slices in syrup.
Spoon biscuit crumbs into the individual dishes/shot glasses. Spoon over 1 tbsp of the orange syrup into each and mix a little.
Dispense some whipped cream mixture into a disposable piping bag and pipe syllabub into each serving dish/ shot glass.
Decorate with slices of sugary orange segment and serve.
Recipe by
Maison Cupcake
at https://maisoncupcake.com/orange-syllabub-recipe-speculoos-biscuit/