Chocolate coffee sugar cookies and why I'll never be a barista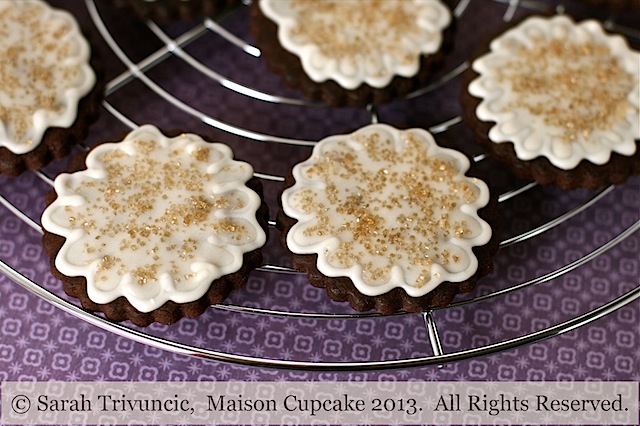 Pre-heat the oven to 180c or Gas mark 4.
Make up a batch of chocolate cookie dough but add the espresso powder in with the flour and cocoa.
Roll out the cookie dough to 5mm thickness and cut out circles with the cutter. Cocoa powder is great for dusting chocolate cookie dough so you avoid getting white marks on it.
Bake the cookies on a baking sheet lined with parchment paper for 15-18 minutes - ovens vary as does shelf height and cookie thickness.
When the cookies are baked, leave them to cool on the tin for a few minutes then transfer to a wire cooling rack to cool completely.
Meanwhile, mix the icing sugar with the egg white in a medium sized bowl. Add a little espresso until you have a thick paste consistency suitable for icing lines (i.e. not runny).
Fill one piping bag with no3 tip with a heaped tablespoon of the soft peak icing and pipe outlines on the cookies and allow to dry. The longer you leave it, the more solid the borders will be - if you fill the cookies sooner the icing you flood them with is more likely to bleed into the border icing.
After you've piped your borders, carefully add a few more drops of espresso to the royal icing so it is a gently flowing consistency.
Fill a disposable piping bag with another heaped tablespoon of the now runnier icing. No need to bother with a tip for this one, just snip a 2-3mm hole in the end.
Flood the centre of the cookie with icing and coax it into the corners using a cocktail stick.
Whilst the icing is still wet, sprinkle with demerara sugar and allow to dry completely.
You will also need two disposable piping bags, a number 3 writing icing tip and a cocktail stick. And a round cookie cutter - crinkled looks pretty but it's not essential.

Don't over fill your piping bags. A generous tablespoon at a time is fine - the bags are easier to handle if you keep the contents the size of the palm of your hand. You can always put some more in if you need to.
Serving size:
1-2 cookies per person
Recipe by
Maison Cupcake
at https://maisoncupcake.com/chocolate-coffee-sugar-cookies-and-why-ill-never-be-a-barista/