Mini doughnut recipe for pink glazed ring donuts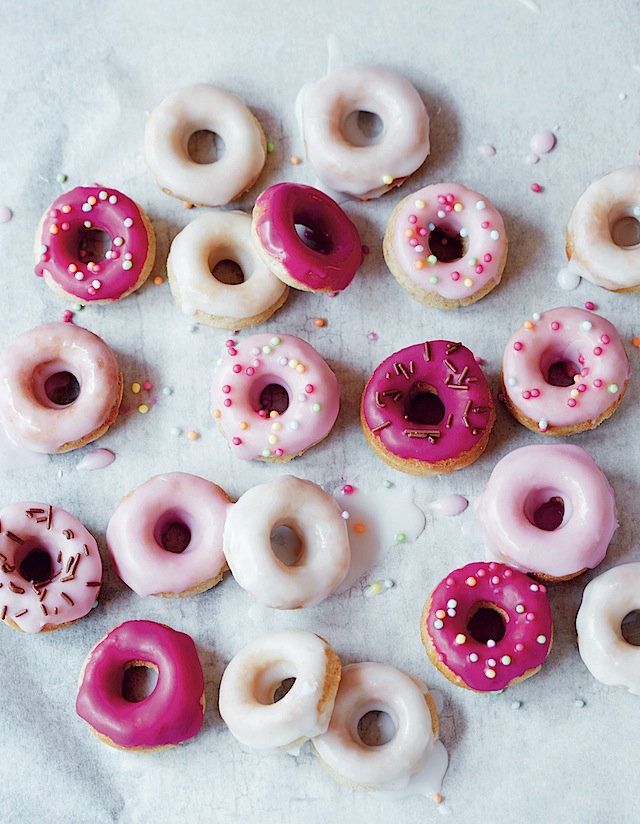 150 ml (5 fl oz) milk
1 large (US – extra large) egg
30 g (1 oz) unsalted butter, melted and cooled slightly, plus extra for greasing
½ teaspoon vanilla extract
180 g (6 oz/1 2/5 cups) plain (all-purpose) flour
75 g (2½ oz/ ⅓ cup) caster (superfine) sugar
1 teaspoon baking powder
pinch of ground nutmeg
½ teaspoon ground cinnamon
½ teaspoon salt


For the glaze
200 g (7 oz/ 1 3/5 cups) icing (confectioner's) sugar
2–3 tablespoons water
a few drops of pink food colouring
sprinkles to decorate
Preheat the oven to 180°C (350°F/gas mark 4) and lightly butter a 12-hole mini doughnut pan. Using a food processor, beat the milk, egg, butter and vanilla extract until they're well combined.
Into a clean bowl sift the flour, sugar, baking powder, nutmeg, cinnamon and salt, and stir to combine.
Add the flour mixture to the butter mixture in the food processor and whisk until it is just incorporated – do not over-mix.
This recipe makes 48 mini doughnuts, so you will need to bake them in batches. Pour the mixture into the mini doughnut pan, ensuring each ring is about half full.
Bake in the oven for 8 minutes, or until golden brown and springy to the touch.
Remove the doughnuts from the tin and allow them to cool on a wire rack. Repeat with the remaining mixture.
To make the glaze, whisk the icing sugar, water and a drop or two of food colouring in a bowl.
Dip one side of each doughnut into the glaze and shake off the excess.
Decorate with the sprinkles and leave to set on a wire rack, with some baking paper underneath to catch any drips.
Though best eaten fresh, you can store the doughnuts in a tin or an airtight container for up to 3 days.
Serving size:
2 per person
Recipe by
Maison Cupcake
at https://maisoncupcake.com/glazed-mini-ring-doughnuts-guest-recipe-by-april-carter-rhubarb-rose/