Gluten free brownies with chilli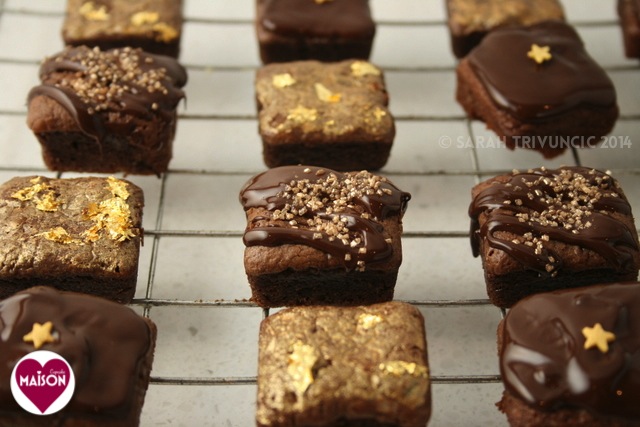 Serves:
Approx 32 bitesize brownies
125g butter
140g dark chocolate, broken into squares
2 large eggs
150g light brown sugar
100g gluten free plain flour
1 generous tbsp Gran Luchito Oaxacan smoked chilli honey
25g dessicated coconut
For the decoration
75g dark cooking chocolate
gold coloured sprinkles
edible gold lustre paste
edible gold leaf
Preheat the oven to 180c / Gas mark 4.
Using a double boiler or a heatproof bowl over simmering water, melt the butter and chocolate together. Once combined, turn off the heat and leave to cool slightly.
Meanwhile in a medium size bowl, beat the eggs, sugar and smoked honey together until smooth.
Beat the chocolate mixture into the egg mixture and then sieve over the gluten free flour and finally the dessicated coconut. Stir until combined.
Decant brownie batter into the moulds/tins and bake for around 12 minutes. The tops should crust over and raise slightly.
Allow to cool for a few minutes before pushing out of the moulds and cooling completely on a wire rack.
When the brownie bites are cooled, melt the dark cooking chocolate.
Decorate the brownies by streaking with molten chocolate and scattering with sprinkles; by topping with a single gold star; or paint with gold lustre edible paste and fleck with edible gold leaf.
Oaxan smoked chilli honey could be substituted with normal runny honey and a teaspoon of chilli paste.

For extra kick you can also add a bonus teaspoon of Oaxacan smoked chilli paste as well as the honey.

You will need a mini baking mould/tin to make a bitesize version - I used Lekue's silicone mini brownie mould but if you don't have one of these either mini muffin cases or a tray bake version could be used.
Serving size:
2 per person
Recipe by
Maison Cupcake
at https://maisoncupcake.com/hot-stuff-bitesize-brownies-with-oaxacan-smoked-chilli-honey/