Gluten Free Chocolate Cake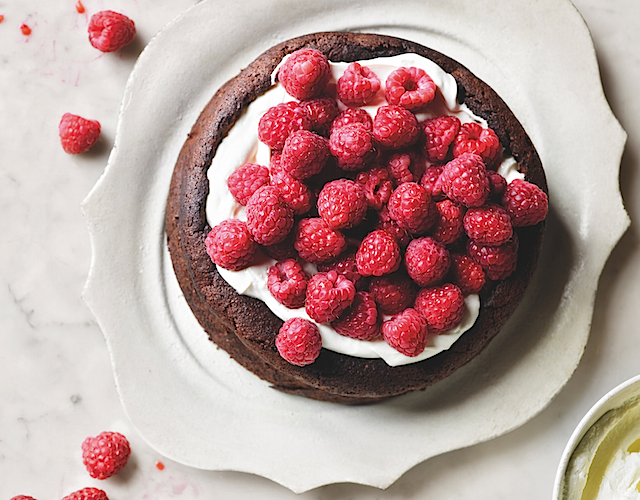 Author:
Joanne Harris & Fran Warde
butter for greasing tin
300g dark chocolate, broken into
small, even-sized pieces
200g butter
6 eggs, separated
200g unrefined caster sugar
1 tsp vanilla extract
Topping
200ml creme fraiche
225g fresh raspberries
Heat the oven to 180°C/gas mark 4. Butter a 20cm loose-bottomed non-stick cake tin and line with baking parchment.
Melt the chocolate and butter in a bain-marie. Whisk the egg whites until they are firm and stand in peaks, and then, in a separate bowl, whisk the yolks and sugar until light and creamy. Add the melted chocolate and vanilla extract and blend. Add this to the egg whites and whisk until evenly mixed.
Pour into the prepared cake tin and place in the middle of the oven for 45 minutes. Remove from the oven, cool for 5 minutes, then carefully remove the cake from the tin. (The cake may collapse and crack at this stage, but this is normal – and besides, you're going to top it with raspberries and cream.) Leave to cool completely, then casually spread the top with crème fraîche and finish with a cluster of fresh raspberries.
Recipe by
Maison Cupcake
at https://maisoncupcake.com/gluten-free-chocolate-cake-recipe-by-joanne-harris-chocolat/