Beetroot salad with freekeh whole grains recipe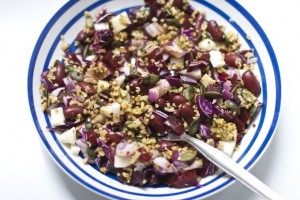 200g quick cook freekeh
¼ red onion, finely chopped
1cm slice of raw red cabbage, finely chopped
100g canned red kidney beans, drained and rinsed
1 tbsp pumpkin seeds
½ vegetable stock cube
50g haloumi, chopped into small cubes
50g pickled beetroot, chopped into small cubes
A little balsamic vinegar to serve
In a small saucepan, add the freekeh, half stock cube and water and cook the freekeh according to the pack instructions. My quick cook variety required around 10 mins simmering once brought up to the boil.
Once the water has simmered away and the freekeh soft, turn off the heat and leave to one side.
In a medium size mixing bowl, combine the onion, red cabbage, beans, pumpkin seeds, haloumi and beetroot. Fold in the cooked freekeh.
Drizzle over balsamic vinegar when ready to serve.
You can leave the freekeh to cool completely before adding the other ingredients or serve the salad slightly warm (which is very appealing in winter).
Recipe by
Maison Cupcake
at https://maisoncupcake.com/beetroot-salad-with-freekeh-whole-grains-recipe/