Steam oven pros and cons with butternut squash risotto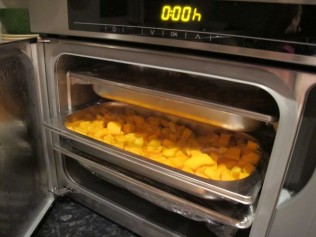 1 tbsp olive oil
1 large onion, peeled and chopped
2 garlic cloves, chopped
1 butternut squash, peeled, seeded and diced
400g risotto rice - we were given carnaroli
1600ml low salt vegetable stock
2 tbsp sun dried tomato paste
knob of butter
bunch of roughly chopped flat leaf parsley
150g freshly grated parmesan (I like my risotto very cheesy)
Stir the sun dried tomato paste into the hot stock.
Put the rice, chopped onion and garlic into a large steam oven tray and pour over the hot stock. Cover with cling film.
Steam at 100c for 30-40 minutes until all the water has been absorbed into the rice.
Meanwhile place the squash in a steam oven tray, cover with cling film. When the rice has had about 10 mins, also add the squash tray to the steam oven.
When the rice has absorbed the liquid, remove the trays and combine the squash into the rice, stir in the butter, cheese and parsley then serve.
Alternatively, for the stove top method, heat the oil in a large flat pan and cook the onion, garlic and squash for five minutes until the onion has softened. Stir in the rice. Coat the rice in the oily onion etc. Mix the sun dried tomato paste into the hot stock. Start adding the liquid a little at a time. As each glug of liquid evaporates, add a little more until it has all been absorbed. Stir regularly to prevent sticking. Cook for a further ten minutes until all liquid has been absorbed and the rice is cooked. Stir in the butter and parsley. Serve topped with Parmesan.
Recipe by
Maison Cupcake
at https://maisoncupcake.com/steam-oven-miele-review-pros-and-cons/