Staub cocotte tomato couscous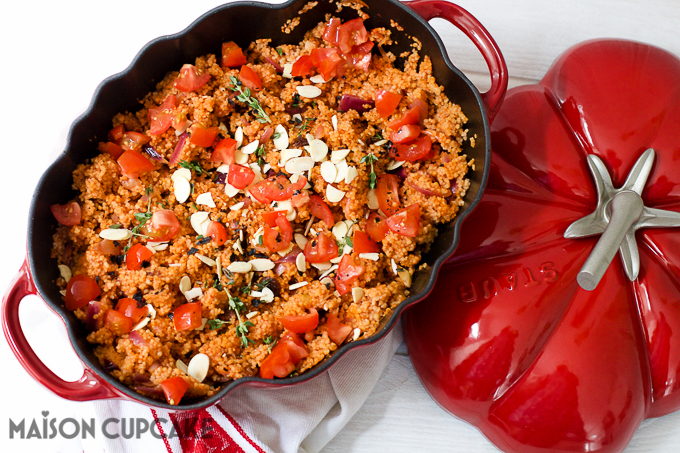 1 tbsp rapeseed oil
1 red onion, sliced into half moons
3 garlic cloves, peeled and finely chopped
600ml tomato juice
1 vegetable stock cube
½ tsp smoked paprika
200ml hot water
300g couscous
small handful toasted flaked almonds (optional)
a few sprigs of fresh thyme (or dried)
a handful of chopped cherry tomatoes
Heat the rapeseed oil in the cocotte over a medium heat.
Gently fry the red onion for several minutes then add the garlic and fry for a couple of minutes more.
When the onions and garlic are softened, stir in the tomato juice, vegetable stock cube and paprika and bring to a simmer.
Add the water and return to a simmer. Add the couscous and stir thoroughly to ensure everything is evenly mixed.
Turn off the heat and replace the cocotte lid. Leave the couscous to soak up the liquid for 10-15 minutes.
Fluff the grains with a fork before serving. Scatter over the almonds, thyme and tomato to serve.
Recipe by
Maison Cupcake
at https://maisoncupcake.com/staub-cocotte-tomato-couscous/