Chilli Mussels with Pennoni Pasta Recipe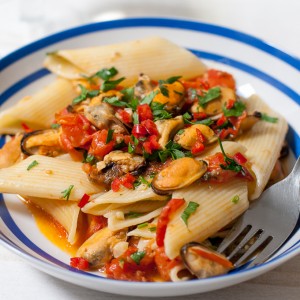 Author:
Adaptation of Jo Pratt's Pasta con le Cozze
400g Italian pasta shapes
400g frozen mussels minus shells (or 1kg fresh mussels in shells*)
Italian extra virgin olive oil
3 Cloves garlic, peeled and crushed or chopped
1 large fresh red chilli pepper, deseeded and finely chopped
(Jo's version has less chilli - a pinch of dried, crushed chilli)
Small glass dry white wine, about 125ml
Approx. 400g cherry tomatoes, halved
Salt and freshly ground black pepper
Large handful chopped flat leaf parsley
* If using fresh mussels, wash the mussels in cold water, pulling off any straggly beards. Throw away any that remain open after a few seconds when lightly tapped.
Bring a saucepan of salted water to the boil. Cook the pasta until al dente, usually for about 10 minutes though check the pack for guidance.
Heat a large lidded saucepan over a low-medium heat and add a really good glug of olive oil. Add the garlic and half of the finely chopped chilli. Gently fry for about 1 minute to soften the garlic and then add the halved cherry tomatoes, squeezing them by your hands into the pan, to release their juices.
Increase the heat to high and when the tomatoes start to soften, add the mussels and wine. Toss around in the pan then cover with a lid. Cook for a few minutes until the mussels have defrosted and cooked.
Drain the pasta, keeping back some of the cooking water. Toss the pasta into the mussels pan adding some of the cooking liquid if the sauce seems too thick. Season with salt and pepper and add the parsley. Cover with the lid and leave on a low heat for about 1 minute.
Serve in bowls and drizzle with a little extra olive oil and a scattering of the remaining fresh chilli. Buon Appetito!
Recipe by
Maison Cupcake
at https://maisoncupcake.com/chilli-mussels-with-pennoni-pasta-recipe/