Easy chocolate ganache dessert with rhubarb by Paul A Young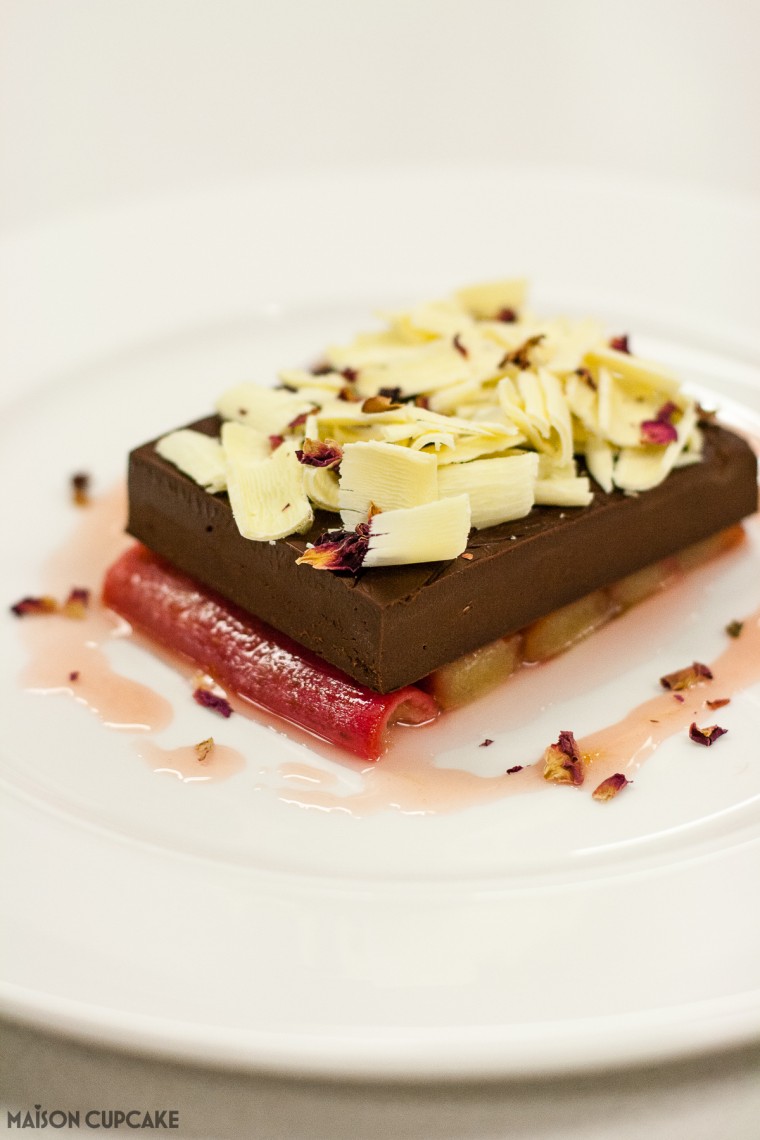 Rhubarb
500g Wakefield champagne rhubarb cut into 3 inch (7.5cm) lengths
200g Unrefined golden caster sugar
50mIs Vodka Earl Grey tea ganache
200mIs Very strong Earl Grey tea
400g 64 to 66% cocoa solids Valrhona dark chocolate
50g Unrefined golden caster sugar
Decoration
10g Dried edible rose petals
100g White chocolate bar -leave whole Gold leaf - optional
For the ganache, bring the Earl Grey tea and sugar to the simmer, pour onto the chocolate and whisk well until smooth and glossy. Pour the ganache into a 6 inch (15cm) square baking tray lined with a double layer of cling film. Refrigerate until fully set. Approx 2 hours.
For the rhubarb, place the perfectly cut rhubarb onto a baking dish, sprinkle with the sugar and vodka. Cover with foil and braise for 20 minutes at 175°C. Take out of the oven and allow to cool while still covered.
Once cold, carefully lift out the rhubarb onto 4 layers of kitchen towel to dry out slightly. Pour the cooking liquor into a saucepan and reduce slightly to a light vibrant pink syrup.
Cut the white chocolate bar with a large knife to create very thin shards and set aside. Place 7 to 8 pieces of rhubarb on to a flat white round plate.
Take the ganache from the fridge and carefully turn out onto parchment paper. Remove the cling film and cut the ganache with a hot knife to the same size as the rhubarb rectangle.
Cover the top of the ganache rectangle with white chocolate shards. Place the ganache rectangle gently onto the rhubarb with a palette knife. Now place rose petals onto the white chocolate decoration.
Spoon the vibrant pink liquor around the dessert and finish with small pieces of gold leaf between the rose petals.
Recipe by
Maison Cupcake
at https://maisoncupcake.com/easy-chocolate-ganache-dessert/