Bramley Apple and Sage Popovers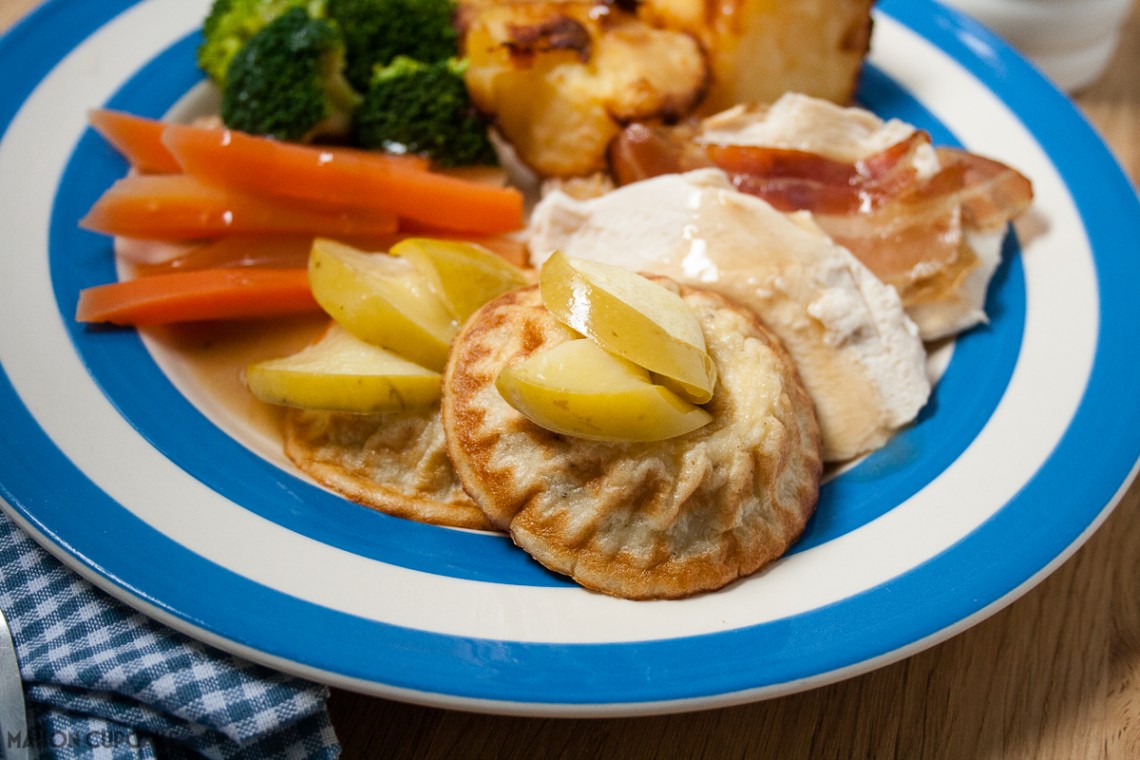 1 large Bramley apple
1 tsp rapeseed or groundnut oil
1tbsp melted butter plus extra for greasing the tin
2 large eggs
290ml milk (1¼ cups)
1 tsp dried sage (or finely chopped fresh if you have it)
125g plain flour (1 cup)
½ tsp salt
seasoning
Preheat the oven to 200c / gas 6.
Cut the Bramley apple into 1cm slices. In a small bowl, coat the apple slices with oil and arrange on a baking sheet lined with parchment paper. Season and bake for 5 minutes until soft but not collapsing. Remove from the oven and set aside.
Grease the tin liberally or spray with cake release spray.
Combine the flour, salt and sage in a medium bowl.
Whisk the eggs, milk, melted butter and cooked Bramley apple in a separate bowl.
Pour the wet ingredients over the flour and beat with a balloon whisk until blended and smooth-ish. Decant the batter to a jug. If you are worried the apple is too lumpy you can fix this with a very quick blitz with a stick blender.
Meanwhile pop the tin into the oven for a couple of minutes to heat it up.
Take the tin back out of the oven and quickly serve small pools of the batter into the tin and bake for 12-14 minutes until puffed up and golden brown. Don't open the oven during cooking but when you get them out give them a poke to see if they're cooked underneath.
Allow to cool slightly before removing from the tin and arranging upside down. Serve with additional baked Bramley apple slices on top.
Recipe by
Maison Cupcake
at https://maisoncupcake.com/bramley-apple-sage-popovers-roast-chicken/