Robert Welch Knives - Chopped Salad with Rice Noodles and Salsa Verde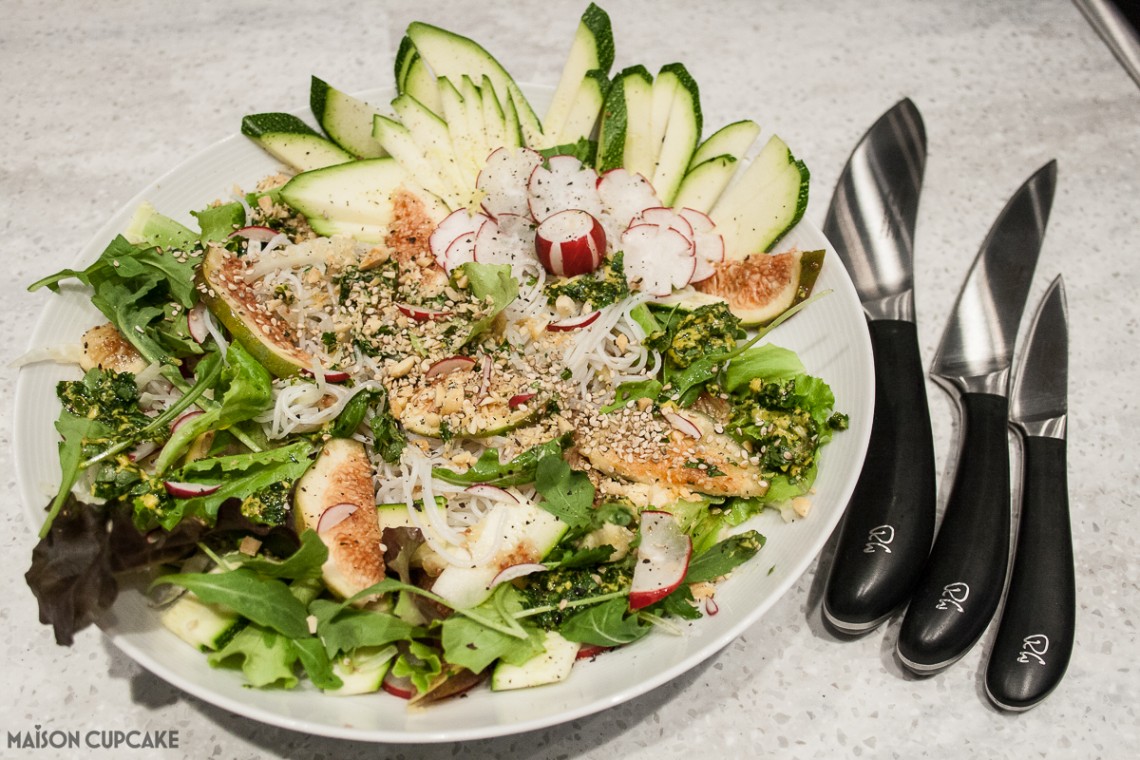 1 courgette
1 fennel bulb
80g rice noodles
60g radishes
50g mixed salad leaves
2 figs
1 tsp sesame seeds
1 tsp peanuts
Juice of I lemon
Drizzle of sesame oil
For the dressing:
Half a small bunch of mint
Half a small bunch of coriander
4 tbsp olive oil
Salt and pepper
Half clove garlic, minced
1 tsp Dijon mustard
Juice of 1 lime
Cook the noodles according to the packet instructions, drain, rinse and transfer into a large bowl. Coat the noodles with the sesame oil to stop them sticking together.
Slice the fennel bulb thinly with a sharp knife and thoroughly coat in the lemon juice to stop it from going brown, add to the bowl with the noodles.
Ribbon half the courgette with a peeler or paring knife and add to the bowl.
Slice the radishes thinly and add to the bowl.
Next make the dressing by finely chopping the mint, coriander and garlic before whisking together with all of the other dressing ingredients.
Transfer the noodle, fennel, courgette and radish mixture to a serving dish. Scatter the salad leaves over and mix through.
Quarter the figs and arrange over the salad.
Chop the peanuts and sprinkle over the salad with the sesame seeds.
Finally dress the salad just before serving.
Recipe by
Maison Cupcake
at https://maisoncupcake.com/robert-welch-knives-chopped-salad/