Veggie Balls with Warm Couscous Salad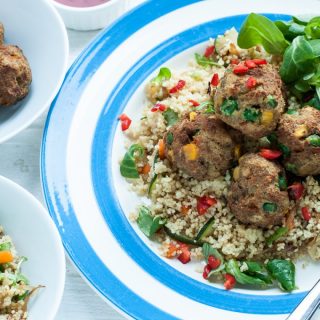 1 tbsp groundnut or rapeseed oil
1 good size onion, finely sliced
½ large courgette sliced into thin half moon pieces
2 cloves garlic, finely sliced
250g couscous
400ml vegetable stock
2 generous handfuls Florette Duo Lambs Lettuce & Rocket
400g chickpeas (preferably home soaked and cooked ones)
50g cooked peas
50g cooked carrot, finely diced
50g canned sweetcorn, drained
1 large egg
1 tbsp garam masala
50g dried breadcrumbs
large pinch cracked seasalt
chopped red chilli to garnish
Preheat the oven to Gas 6 / 200c.
Heat the oil in a large saucepan and fry the onions and garlic until lightly brown. Set aside and fry the courgette until lightly brown too.
Return the onions to the pan and add the couscous and stock. Stir until combined and reduce the heat continuing to cook with the lid on for 3-5 minutes. Then turn off the heat and leave to steam inside the pan whilst you deal with the veggie balls.
To make the veggie balls place the cooked chickpeas in a large bowl with the peas, diced carrot, sweetcorn, egg, breadcrumbs and spices.
Mash the mixture lightly and when combined form it into small balls. Lay these on a baking sheet lined with baking parchment paper and bake for 15 minutes until their surface is crisp. After this time turn the balls over and return to the oven to bake on the other side for 5 minutes.
When you are ready to serve, roughly chop the Florette salad and fold this into the couscous mix.
Serve the veggie balls on top of the couscous with a scattering of red chilli (optional) and extra Florette salad on the side.
In place of garam masala you could use ras al-hanout or za'atar or any mild spice blend of your choice.
Recipe by
Maison Cupcake
at https://maisoncupcake.com/veggie-balls-warm-couscous-salad/