We Bake Autumn Chocolate Cupcakes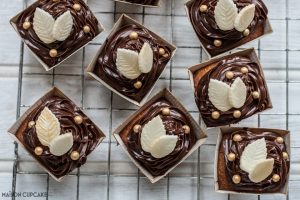 Ingredients
125g caster sugar
125g softened butter
2 large eggs
½ tsp vanilla extract
125g self raising flour
1 pouch Dr Oetker Easy Fill Cake Centres Rich Chocolate
1 canister Dr Oetker chocolate icing
50g white sugarpaste
Dr Oetker gold shimmer spray
Chocolate balls for decoration
You will need 12 cupcake boxes or cases and two leaf cutters
Preheat the oven to 190c / gas mark 5. In a large mixing bowl, beat the butter and sugar until fluffy. Beat in the eggs and vanilla extract until smooth then quickly fold in the flour until just combined.
Spoon the batter into the cupcake boxes or cases and bake for around 15-18 minutes until risen and golden.
Leave the cupcake bases to cool for a few minutes and then inject the easy fill cake centres; leave to cool completely.
Meanwhile, roll out the white sugar paste and stamp out leaf shapes. Lay these on a sheet of baking paper and spray with the gold decorating spray.
When the cakes are cooled completely, cover the tops with swirls of chocolate icing.
Affix the gold leaf shapes to the chocolate icing, dot over chocolate balls and serve.
Recipe by
Maison Cupcake
at https://maisoncupcake.com/bake-autumn-chocolate-cupcakes/