Salmon Filo Quiches (with British Lion Eggs)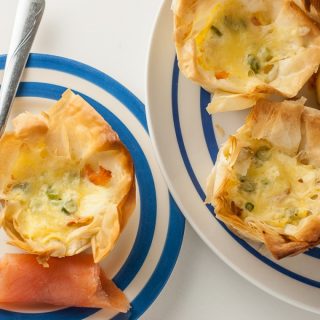 12 sheets filo pastry
250g butter, melted
4 large British Lion Eggs
2 tbsp half fat creme fraiche
3 spring onions, finely sliced into rings
100g smoked salmon, torn into strips
75g grated cheddar cheese
Greased 12 hole bun tin
Preheat the oven to gas 6 / 200c.
Paint each sheet of filo with butter and fold into quarters, trim to a square shape and set the off cuts aside.
Mould each square of filo into the hole of a well greased 12 bun tin and carry on painting as you go.
Arrange the sliced spring onions in the filo cases with a strip of smoked salmon.
In a jug beat the 4 British Lion Eggs with 2 tablespoons of half fat creme fraiche until smooth.
Pour the egg and creme fraiche mix into the filo pastry cases.
Bake at gas 6 / 200c for 7 minutes. After this time briefly remove them from the oven, scatter a little grated cheese over each case and loosely cover with foil to stop the pastry scorching during the remaining cooking time. Return to the oven for another 6-7 minutes until the egg filling has firmed up.
You can serve these salmon filo quiches immediately whilst still warm but they are equally tasty when cold.
Recipe by
Maison Cupcake
at https://maisoncupcake.com/salmon-filo-quiches-british-lion-eggs/