Halloween cookies recipe for trick or treat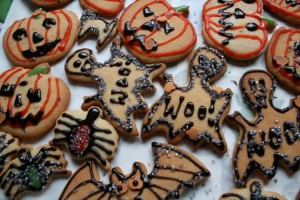 Serves:
20-30 Halloween cookies per half batch of dough (40-60 in total)
175g (6oz) soft unsalted butter
200g (7oz) caster sugar
2 large eggs (US extra large), beaten
1 tsp vanilla extract
1 tsp baking powder
1 tsp salt
500g (1lb 1.5oz) plain (all purpose) flour plus extra for rolling out
Cream the butter and sugar together until pale, then beat in the eggs and vanilla. In another bowl combine the flour, baking powder and salt. Add the dry ingredients to the creamed mixture and mix gently. Be wary of adding too much flour at this stage as you will add more when you roll the biscuits out and you don't want it to be too dry.
Halve the dough and form fat discs. Wrap with cling film and refridgerate for at least one hour. The dough freezes very well if you want to save half for another occasion.
Whilst the dough is in the fridge, preheat the oven to 180C/350F/Gas 4.
Sprinkle your work surface with flour, place a disc of dough on it, and sprinkle a little more flour on top. Roll out to a thickness of about 5mm. Cut out your shapes and space well apart on the baking sheets.
Bake for 8-12 minutes, by which time the Halloween cookies will be lightly golden around the edges. Cool on a rack and continue with the rest of the dough. Small biscuits will cook quicker so use this time as a guide.
Decorate! Today I used a kit of ready made icing gels and sprinkles but you can make your own royal or glace icing.
You will also need one or more baking sheets lined with parchment paper.
Serving size:
1-2 cookies per person
Recipe by
Maison Cupcake
at https://maisoncupcake.com/halloween-cookies-walthamstow-village/