Kiflice recipe (Serbian cheese rolls)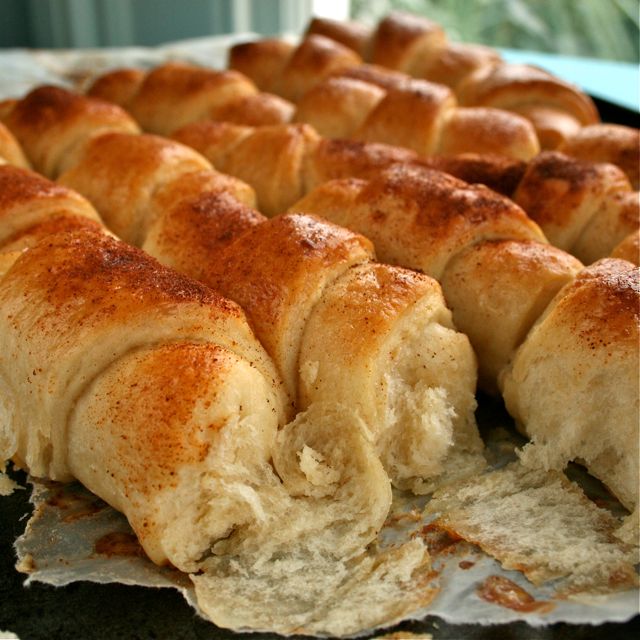 For the dough:
500 g all purpose flour
1 tsp salt
20 g fresh yeast (2 tsp instant yeast or 2.5 tsp active dry yeast)
1 tsp sugar
250 ml milk
75 ml sunflower oil
1 egg
For the filling:
200-250 g feta cheese
1 egg white
2 cloves garlic, very finely chopped
1 small green chilli, deseeded and very finely chopped
For the glaze:
1 egg yolk
1 tbsp milk
100 g butter
2 tsp paprika
Crush the cheese using a fork and stir in the egg white, chopped green chilli and garlic. The filling shouldn't be runny, but thick and compact, thicker than the cream cheese, and pretty salty.
To make the starter - warm 50-60mls of the milk until it is lukewarm and dissolve the yeast in it with a teaspoon of sugar and a tablespoon of flour, stir to get smooth batter. Set aside in a warmish place to give the yeast time to activate and bubble up filling the cup.
Sift the flour and salt. Add the frothy yeast mixture, egg, oil and milk, then combine using a wooden spoon to get smooth dough. Your dough should start to separate from the bowl, and form a ball. It is not necessary to knead the dough by hand. Grease some cling film with oil and cover the bowl setting aside for at least an hour in a warm place until the dough doubles in size.
After this time as passed, knead the dough a little. On a floured work surface, divide into 5 equal balls. Each ball will yield 8 rolls, giving 40 rolls in total to be lined up in 5x8 formation on a baking sheet.
To create the rolls, you need to roll a series of dough circles which are then cut into 8 segments; flatten each ball by hand on the floury work surface, then roll into a circular shape 0.5cm thick.
Cut the circle into 8 triangular segments. Take one triangle, stretch it gently with your hands so that it becomes long and pointy (around 20cm long and very thin toward the end). Put a generous teaspoon of filling at the triangle base, then fold the edges of the base inwards before rolling the triangle up into a crescent sausage shape. Continue and line up the rolls in 5 x 8 formation, fairly close together.
When you are half way through forming your rolls, preheat the oven to 180c or gas mark 4.
For the glaze, beat the egg yolk with the milk and brush the top of each roll with the mixture. Sprinkle the rolls with paprika.
Finally, dot the butter in knobs placed in the gaps between the rolls, do not avoid this step since it fries the rolls in the oven and is essential for the flavour and texture. Bake for 18-20 minutes taking care not to over do and dry out. The kiflice are at their most desirable warm but take care to give the cheese filling chance to cool before you tuck in. They are just as nice cooled down but like many bakes, they are even more delightful when fresh from the oven.
Recipe by
Maison Cupcake
at https://maisoncupcake.com/kiflice-serbian-cheese-rolls/