Couscous with dried apricots and butternut squash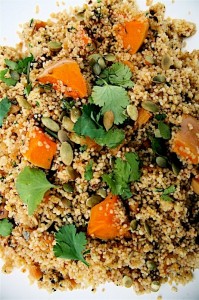 1 large onion, thinly sliced
6 tbsp olive oil
50g dried apricots
1 small butternut squash (about 450g) peeled, seeded and cut into 2cm dice
250g cous cous
400ml chicken or vegetable stock
a pinch of saffron strands
3 tbsp roughly chopped tarragon
3 tbsp roughly chopped mint
3 tbsp roughly chopped parsley
1½ tsp ground cinnamon
grated zest of half a lemon
coarse sea salt and black pepper
Optional - I also sprinkled over some pumpkin seeds which were not part of the original recipe. You can see these in the photo.
The original recipe text is available in Ottolenghi The Cookbook.
Take a look at other Ottolenghi recipes previously featured on this site.
Recipe by
Maison Cupcake
at https://maisoncupcake.com/ottolenghi-cous-cous-recipe-apricots-butternut-squash/