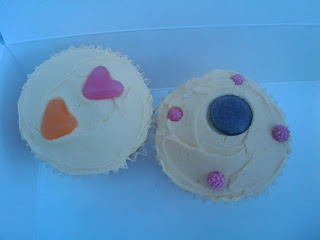 Now I don't want you to eat seventeen of these cupcakes, it is the name of the shop they came from.  My local deli is called Eat17 since we live in the postcode East 17. Quite a few of my friends have been asking whether I've tried the cupcakes in Eat17 so I have been looking out for them.  I think the person who makes them must have been on holiday lately as it is several weeks since I saw any on display.
Today they were in there on a swirly wire cupcake stand so given we'd missed out on Hummingbird Bakery earlier in the day, due to the horrendous queue, I bought two cupcakes for our Saturday night pudding.
Cheaper than average at £1.30 (though people here deem this overpriced), these were pretty bog standard I thought.  The sponge was dry so I don't know how long they'd been sitting there, the buttercream was fine but not flavoured at all.  What really let them down was the unimaginative decorations.  The one on the left had two jellybean style sweets which stuck your teeth together for ages and the one on the right had a grey object which turned out to be a faded minstrel (?!) and four rock hard sugar things that were frankly inedible.  Others on display featured a single twisted marshmallow on top. Yawn!
Who makes these I wonder?  They should try harder.