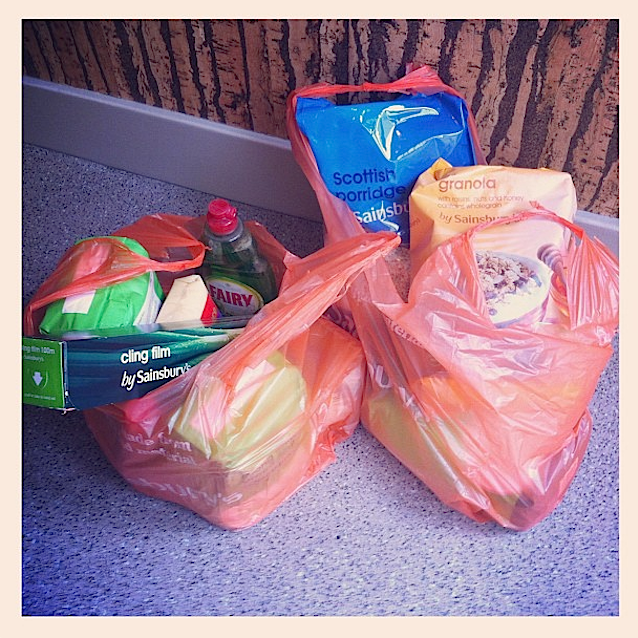 Have you ever been desperate for some grocery item and not been able to, or not had time to go out and fetch it yourself?
Quite often when I'm working on a big project, I'll be up against a deadline and realise I need one more trip to the supermarket to get something I've run out of. Whilst working on photo shoots for my book I was forever sending out for yet more eggs or yet more sugar – and was desperately short of time to fetch things, even from close by.
If the local shop didn't have something, getting to the bigger store further away easily meant losing 90 minutes plus work time with the knock on effect of working late into the night.
Or imagine you're in bed sick. And you wish you had a skivvy to send to Boots to fetch Lemsip, tissues and other stuff to make you feel better.
Or you're home alone with a small child who has just gone to bed so you can't go out. And you realise you desperately need something mundane but essential like nappies or tampons?
New start up delivery service Pocketshop aims to bridge the gap between organisation and desperation. Normally grocery deliveries require 2-3 days planning (or more) but PocketShop say they can bring items from your nearest "major Sainsbury's" to your door within the hour. Tesco, M&S and Boots are to be offered soon.
They're pricey – for their convenient home delivery at short notice you'll pay a premium on the shelf price and incur a delivery charge.
Prices are generally around 25% higher than you'll pay in a large supermarket (more if the item would otherwise be on offer) – comparable with a Sainsbury's Local or Tesco Express rather than larger stores. So you need to weigh up whether the delivery charge on top of these premium prices still renders home delivery preferable to less lazily legging it around the corner.
A few pricing comparisons:
Sainsbury's own brand 4 pints semi skimmed milk: Pocketshop £1.72, Sainsbury's online price, £1.29
24 Weetabix Cereal, Pocketshop £3.18, Sainsbury's online price £2.39
16 Andrex Classic White Toilet Rolls, Pocketshop £9.96, Sainsbury's online price £7.49.
Teething problems
They only offered a two hour delivery time rather than the one hour promoted but the delivery did arrive bang on 60 minutes later. They're not widely available yet and wouldn't deliver to me in London Zone 3 (My delivery went to my husband's office). There's a £20 minimum threshold for orders – with a sliding scale charge for 1, 2 or 3 hour deliveries.
A mysterious bulk volume limit is placed on orders. Random limits on items fluctuate if you reduce the quantity of other items. Whether this is to reduce likelihood of a small vehicle being inefficiently packed to the gills with toilet rolls and crisps I don't know. The system seems glitchy at the moment, I struggled to order more than one of anything – even though the previous day 4 bags of flour hadn't been a problem. Since there's a £20 minimum spend, many users will try to bump their total over by adding an extra thing of something in the basket – only to find it annoyingly won't let you.
The delivery was missing one item – they'll make substitutions if appropriate, in my case of Brabantia bin liners it wasn't. It is a good thing they didn't palm me off with any old bin liner that wouldn't fit although I'd have preferred an opportunity to pick my own substitution. Your shopping is brought by the person who bought it so the next step would be to offer this option by phone. If you've added a few things to bump the order value over £20, it's galling if something priced £4-5 didn't show up. Frankly I think you should have the option to cancel if they can't deliver exactly what you needed.
Pocketshop fulfils a need for cash rich time poor individuals. Or anyone inside the circle line confined to their bed with raging period pain and no sanitary protection. I suspect speedy home delivery of over the counter medication and sundries (such as items from Boots) and may prove to be Pocketshop's biggest market.
Verdict
If they extend their delivery zone, manage to deliver within the hour as promoted and operate reliably up until 11pm (preferably beyond), Pocketshop would be a good call if you can't leave the house and are willing to pay a premium price.

With thanks to Pocketshop for offering me a free trial of the service.