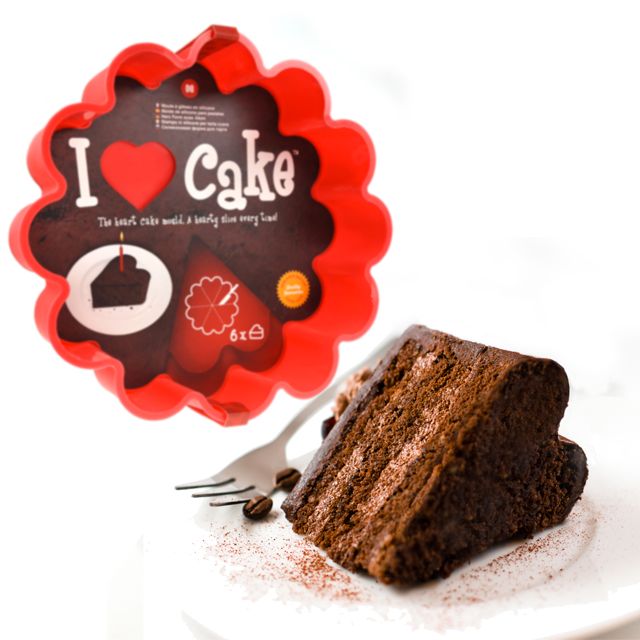 I know it's not Valentine's but this heart themed silicone cake mould from Mustard caught my eye this week.
The brilliant part about it is that six people each get a slice of heart shaped cake. How cute is that?
Because if you think about it, a heart shaped cake is pretty awkward to cut up. The perfectionist in me is pained by wonky slices of cake. It's way better (at least for anyone with OCD) to be able to deliver six identically sized slices to their cakey guests.
I am totally thinking about how awesome this would look as a layered red velvet cake. It would be like a giant version of the red velvet hearts recipe created for my book and currently enjoying another airing over at Stitch Craft Create.
Would you like to win one? I have two to give away.
Giveaway: 2 x I Heart Cake silicone moulds

How to Enter

Complete the Rafflecopter form below to confirm entries made via blog comments, Twitter, Pinterest, Facebook etc.
Closing date: 16th July 2013.
Read the "Terms and Conditions" link at bottom of Rafflecopter form.
Winners are contacted by email and announced on the Rafflecopter form below once they claim their prize.

Tips for entrants 


No form showing? Hit refresh and it should appear (your computer needs to be running Javascript)
New to Rafflecopter? Watch this short video How Rafflecopter works
Complete the Rafflecopter form – otherwise your entries cannot go into the draw.
Entries are verified and all cheats' entries disqualified.
Complete mandatory entries first – usually to answer a question by leaving a blog comment below the post. Comments from new visitors are approved manually so your comment may not be visible immediately. Return to the Rafflecopter form to confirm you've left a comment and this will unlock other entry options even if your comment is still awaiting approval.

For how to find the URL of your tweet read this helpful post here.
Want more chances to win? Bookmark https://maisoncupcake.com/giveaways and come back daily to register bonus entries!
Viewing this giveaway via email newsletter? Click through to to site to enter.

Good luck!