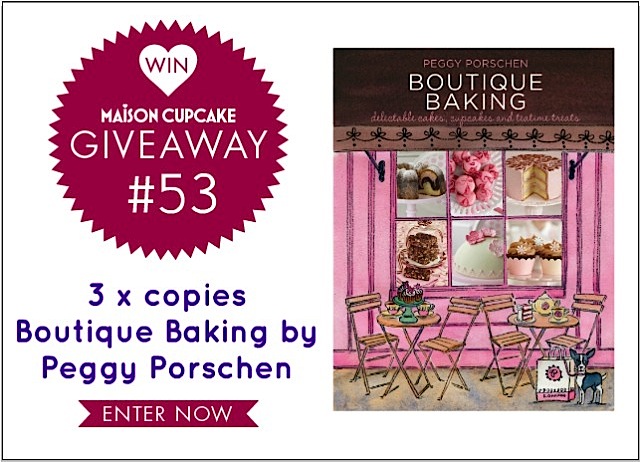 Peggy Porschen's new book Boutique Baking is a departure from her previous titles – rather than high end sugarcraft creations and celebrity style wedding cakes, the cakes in her new title are based on those sold in the Peggy Porschen Parlour.
The bakes are as exquisite as ever, Peggy is a baker who sets trends rather than follow them but there is plenty inside Boutique Baking for the less experienced baker to enjoy making without feeling intimidated.
There are tricks to vary things you may be baking already; Peggy's tribute to the cake pop is served in an ice cream cone rather than on a stick, her macarons are cleverly feathered with food colouring streaked inside the piping tip. Cupcakes are obviously a huge seller in her parlour, my personal favourites here are the chic banoffee cupcakes with matching dark brown cases and blossoms and the Cosmo cupcakes based on the cocktail made with Cointreau.
Show stopper chapter has to be "luscious layer cakes" – Peggy presents a series of three layered cakes in an elegant 6 inch size. The piping on the Glorious Victoria Cake is effortlessly simple – I saw her demonstrate icing this cake at the Squires Sugarcraft Show where the room was packed full 45 minutes before the start time, such is her popularity amongst baking fans.
My standout cakes in the book are the raspberry and rose dome cake – I predict we'll be seeing a lot more cakes this shape soon, the white chocolate passion cake decorated with birthday candles and triple berry cheesecakes. The whole thing is topped off with recipes for drinks from the parlour such as pink lemonade (it has to be pink if it's at Peggy's) and hot white chocolate with vanilla. With the recent hot weather I am especially desperate to try her summer berry ice tea.
Some recipes in the book use Peggy's own jam range as ingredients although you could substitute with others. You could always though, if you're near London, use it as an excuse to drop by the Parlour and buy some.
I baked a cake from Boutique Bakes last week and will be blogging it soon – needless to say I could do with some more Peggy Porschen classes as my buttercream was nowhere near as slickly applied as hers but I am looking forward to practicing some more!
Giveaway #53: Win Boutique Baking by Peggy Porschen (three copies, EU wide)

HOW TO ENTER

Complete the Rafflecopter form below to confirm your entries made via blog comments, Twitter, Facebook etc.
This giveaway is currently set to run until 15th July 2012 however it may close early or be extended without notice.
Read the rules below. Entries are verified so please no fibbing.
Winners are announced on the Rafflecopter form after they have claimed their prizes.

No form showing? Hit refresh and it should appear
Complete the form – or your entries will not go into the draw
Mandatory entries to be completed first; i.e. leave a blog comment
Want more chances to win? Bookmark https://maisoncupcake.com/giveaway and come back daily to register your bonus entries!
Viewing this by email? You need to click through to enter.

Good luck!

RULES:

1. Open to UK and EU residents over the age of 18.

2. The prize is a copy of Peggy Porschen's new book Boutique Baking published by Quadrille. We have 3 copies to giveaway.

3. Instructions form part of the terms and conditions.

4. No fibs: each winner's tweet entries and subscriptions etc are cross checked, cheats will have ALL entries disqualified.

5. This giveaway is hosted on behalf of prize sponsor Quadrille who will deliver the prize(s) following confirmation of winners' contact details.

6. The prize sponsor's decision is final and binding on entrants; no further correspondence will be entered into.

7. There is no cash or alternative to the prize stated.

8. The prize is selected in good faith, however the prize sponsor may substitute with one similar value/type if original one is unavailable.

9.Winners are picked by Rafflecopter using random.org and the site owner contacts them by the email.

10. Failure to claim prizes within 7 days will result in a replacement winner being chosen.
With thanks to Quadrille