This giveaway is now closed. The winner was Helen Watson, Norfolk.
Sharp elbows were needed to grab tickets to the mummy bloggers' must-go event of the season, the British Mummy Bloggers' Christmas Party. Having initially missed out, when BMB Blog announced places had become available, I quickly, and successfully, pounced on Cafe Bebe , gatekeeper of the Who's In list.

The 3 course lunch for 57 varieties of mummy blogger (small babies not compulsory but they're so in right now) took place in the totally stylish and not remotely spooky crypt gallery under St Martins in the Fields church, Trafalgar Square.

With the event sponsored by Heinz Secret Ingredient , twinkly red baubles hinted which mystery Heinz product was lurking in our meal. Hmmm Heinz…. Red…. Ummm…. I can't think for the life of me.

The mighty kings of ketchup were good enough to supply me with a hamper for my series of 12 Days of Christmas Giveaways. It comprises a picnic basket, apron, oven gloves, chopping board, wooden spoon and a giant bottle of ketchup. Find out how to enter at the bottom of this post.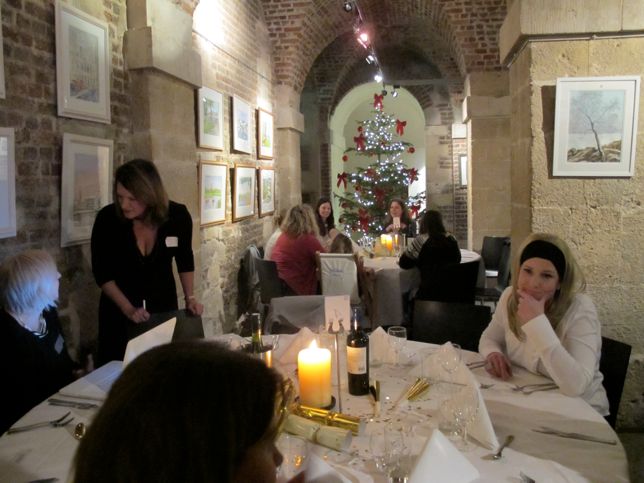 Six months after Cybermummy, it was an opportunity to get back together with many mummy bloggers I'd met back in the summer including Maggy at Red Ted Art, Hannah at Muddling Along, Karin at Cafe Bebe, Jax at Making It Up and Jay from Mocha Bean Mummy.
I also chatted for the first time with Mari of Mari's World, Mummy's Little Monkey AKA Jax2000 from Twitter, Sabina of Mummy Matters, Victoria of She Was Not At All Domestic, Natalie of Bambino Goodies, Anna of The Beauty Glo, and I'm really sorry if I've missed anyone.
I was gutted to miss out on chatting with Cherished by Me whose blog is a regular in my RSS reader but we didn't realise until after each other were there. It was also a shame a few others like Rachael of Tales from the Village and Julie at The Sardine Tin couldn't make it.
Thanks very much to the organisers Susanna, Jen and Karin for running such a successful event.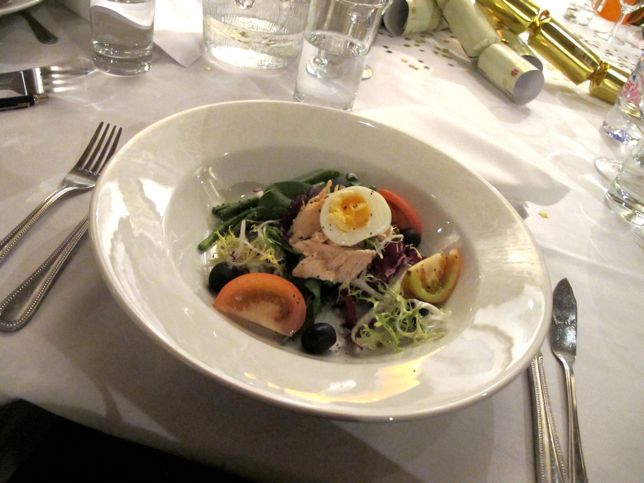 So what about that secret ingredient?
Lunch was served. Our starter was:
Flaked fresh salmon niçoise, with green beans, black olives, boiled egg on a bed of mixed leaves and baby spinach with a roasted lemon, whiskey and Heinz tomato sauce mayonnaise
I forgot to photograph my neighbour's vegetarian starter, in fact I forgot to take many photographs at all. Possibly because I didn't know that many people face to face and felt a bit awkward running around in my usual papparazzi mode.
The vegetarian main course was:
Field mushroom and roasted plum tomato with Heinz tomato sauce, baked with fresh parmesan and served with a garlic rubbed ciabatta
And the standard main course was
Turkey, Roasted new potatoes, Assorted seasonal vegetables, Apricot, Prune and Heinz tomato sauce pork stuffing, Chipolatas and smoked streaky bacon and a Rich port reduction
I didn't manage to photograph my pudding but it was:
An individual Christmas pudding stuffed with Heinz Baked Beans and covered with hot custard made with Heinz Tomato Soup
I jest. There were no Heinz products in the pudding. But it will sort out who's been paying attention. On with the giveaway….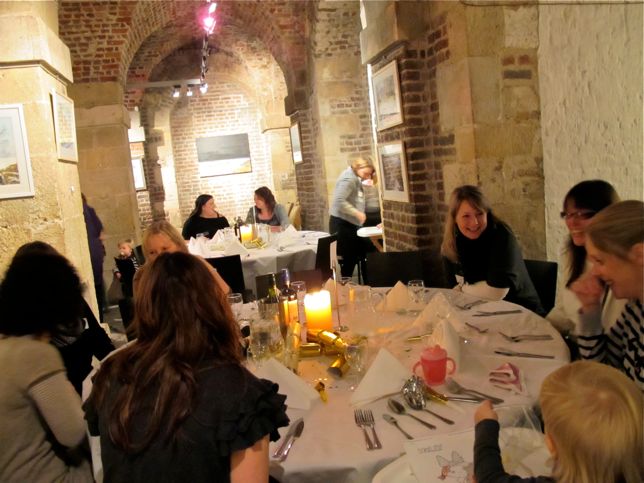 Heinz Secret Ingredient Hamper giveaway:

There is one mandatory way to enter and several ways to get bonus entries.

This giveaway is open to readers with UK mailing addresses. Readers from overseas are welcome to enter provided they can give the UK mailing address of a friend to receive the gift on their behalf with any onward delivery being at their own cost.

The winner will be chosen using an online randomiser and announced in a subsequent post on this blog – the winners of several of the 12 giveaways will be will announced together across 2-3 posts according to their closing dates.

To win:

1. Mandatory. Concoct an imaginary bizarre pudding made with Heinz products and share it with me below.

2. Second chance to win, tweet a link to this giveaway as follows: "Join Ketchup Monsters Anonymous @maisoncupcake" WITH A LINK TO THIS POST as it may no longer be the home page item if you enter later this week. Then leave a second comment saying you've done so telling me your Twitter ID.

3. For a third chance to win, visit and "Like" the Heinz Secret Ingredient Facebook page then leave a comment below saying you have done so..

You must leave a further separate comment for each bonus entry otherwise they cannot be selected in the draw.

Closing date: midnight GMT on Thursday December 16th 2010.




The winner will be notified by email. If the winner does not reply within 48 hours, a new winner will be drawn.

Good luck everyone!

With thanks to Heinz
Also up for grabs during the Maison Cupcake 12 Days of Christmas Giveaways:
Waitrose Christmas goodies RRP £35 Closes Dec 12
Green & Black's Ultimate Chocolate Chef gift set Closes Dec 13
Nigella Living Collection Measuring Cups Closes Jan 16 (bloggers' competition, international)
Alex Polizzi's Little Black Book of Hotels Closes Dec 14
Sainsbury's Different by Design cookware Closes Dec 15
Interflora Christmas Hamper RRP £100 RRP £100
Eric Lanlard's "Home Bake" from Octopus Books
Cookware from Jamie Oliver and Mum et Moi
Chocolate from Matcha Chocolat
Spices from Steenbergs
and more!
Don't forget to come back tomorrow to see which prize is next!