This giveaway is now closed. The winner was Nickie Chapman, North London.
Today's Christmas Giveaway is for an amazing Interflora Essential Christmas Hamper RRP £100. Find out what's inside and how to enter at the bottom of this post.

But first here are some Christmassy photos from a December trip to Belgium.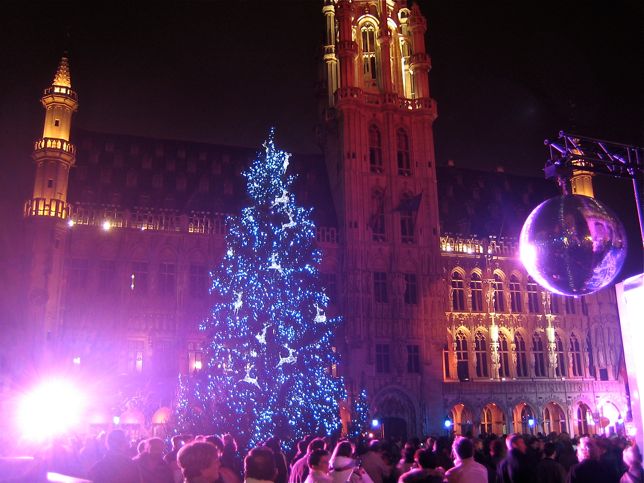 The great thing about a weekend getaway to Brussels is that the hotels are such good value.
As the centre of the European Parliament, the hotels are expensive during the week when all the bureaucrats are about. Come Saturday night they've all gone home and the hotels are selling off their rooms very cheaply.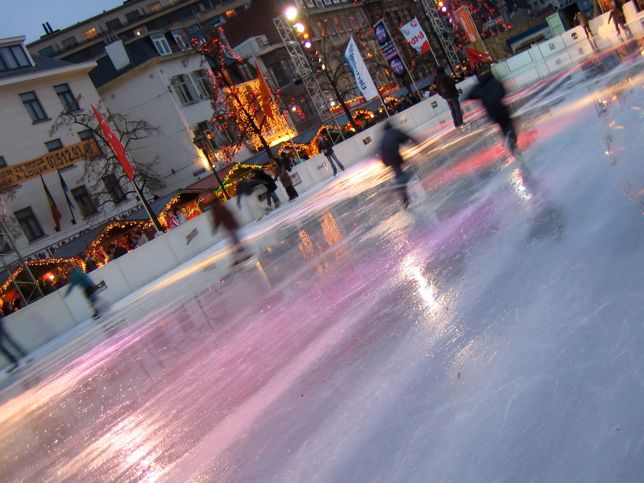 That's not to say Brussels isn't a place for tourists, December especially sees the streets surrounding the Grand Place filled with atmospheric Christmas Markets.
You can get a very good four star hotel room in the centre of Brussels for under £100 per night including breakfast, we booked Hotel Windsor using lastminute.com. We had driven from the UK and parked overnight in an underground car park near the Grand Place for around 12 euros.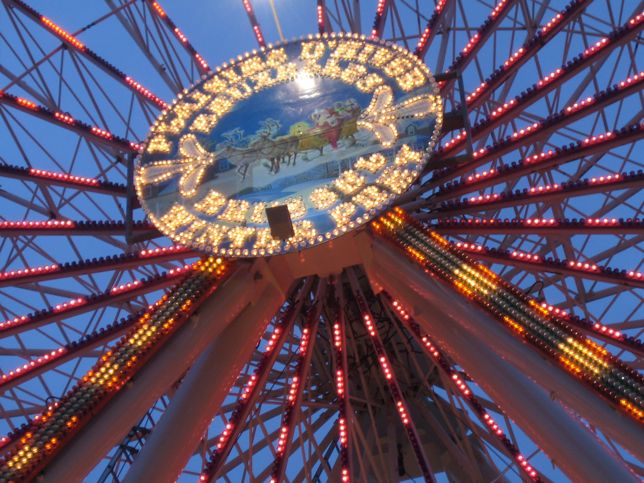 This was 4 years ago now but I have been researching trips to Belgium more recently and know this hotel at weekend would be phenomenally good value even now. Bruges on the other hand, is very pricey, very difficult to book at weekends near Christmas since its proximity to Calais makes it very busy for "booze cruisers".
Brussels is worth the extra hour's drive. We were able to leave Brussels at around 4pm on Sunday and using Eurotunnel still be home for a reasonable 9pm and not be too tired for work the following day.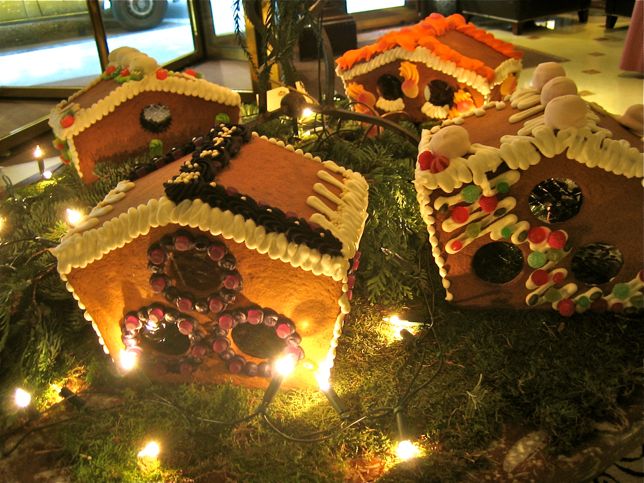 In the hotel lobby, we were captivated by this village of gingerbread houses. I vowed to make one myself but to this day have not yet managed to do so.
Aren't they gorgeous?
The lobby was filled with smell of gingerbread, it was so welcoming. I think these are the best gingerbread houses I have ever seen.
As a food blogger, taking this many pictures would be normal but this was a long time before so that gives you an idea what an impression they made on me!
Time now to enter the Interflora Essential Christmas Hamper giveaway…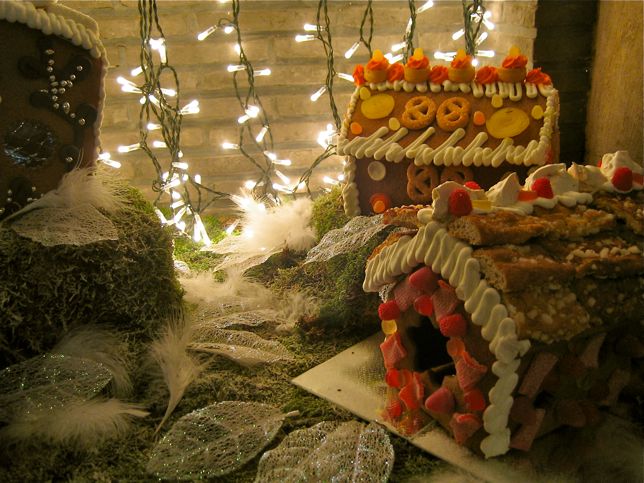 Interflora Essential Christmas Hamper RRP £100 Giveaway

Interflora Hampers make ideal last minute gifts for far away relatives and friends. They vary in price from around £25 to £200 for all budgets and all tastes.

We have an Interflora Essential Christmas Hamper to give away to one lucky reader and it contains the following treats for the festive season and beyond:

Presented in a Wicker Hamper
Robin Reed Handmade Concerto Musical Crackers x 8
Pinot Grigio Il Papavero Italy 2008 75cl
Primitivo Il Papavero Italy 2007 75cl
Warres Warrior Special Reserve Port 37.5cl
Waterthins Crunchy Sourdough Poppy & Cracked Pepper Cheese Twists 110g
Chocca Mocca Real Raspberries Dipped in Fine Dark Chocolate 100g
Sally Williams Soft Nougat Pieces with Roasted Almonds 150g
Walkers Luxury Milk Chocolate Orange Royal Shortbread 125g
Thursday Cottage Handmade Blood Orange Marmalade 340g
Twinings Coffee Blends Intense & Enlivening Coffee 227g
The Jolly Good Pickle Company Poachers Chutney 200g
The Jolly Good Pickle Company Cranberry Sauce 200g
Thursday Cottage Handmade Raspberry Jam 340g
Farmhouse Biscuits Assorted Butter Biscuits 400g
Walkers Luxury Miniature Mincemeat Tarts 225g
Just Chocolates Fine Chocolate Selection 125g
Gold Crown Delicious Christmas Pudding 454g
Olives Et Al Sesame Nuts 200g

There is one mandatory way to enter and several ways to get bonus entries.

This giveaway is only open to readers based in the UK. With other giveaways I've said you can still enter if you are overseas provided you have a friend with a UK mailing address and forward the parcel on yourself at your own cost. This prize will weigh A TON. You would be nuts to try and mail this to yourself overseas. Therefore, I suggest you sit this one out! Sorry guys!

The winner will be chosen using an online randomiser and announced in a subsequent post on this blog – the winners of several of the 12 giveaways will be will announced together across 2-3 posts according to their closing dates.

To win:

1. Mandatory. Leave a comment below telling me what your essential foodie Christmas item is.

2. Second chance to win, follow this blog using the Google Friend Connect widget in the right hand side bar and leave a second comment saying you have done so.

3. Third chance to win, tweet a link to this giveaway as follows: "Win @interflorauk Essential Christmas Hamper RRP £100 @maisoncupcake" WITH A LINK TO THIS POST as it may no longer be the home page item if you enter later this week. Then leave another comment saying you've done so telling me your Twitter ID.

I'll also throw in extra entries if you leave comments to say you are following @interflorauk on Twitter.

You must leave a further separate comment for each bonus entry otherwise they cannot be selected in the draw.

Closing date: midnight GMT on Sunday December 19th 2010.




The winner will be notified by email. If the winner does not reply within 48 hours, a new winner will be drawn. Please reply promptly to increase the likelihood of you receiving your prize before Christmas.

Good luck everyone!

Prize sponsored by Interflora
Also up for grabs during the Maison Cupcake 12 Days of Christmas Giveaways:
Waitrose Christmas goodies RRP £35 Closed
Green & Black's Ultimate Chocolate Chef gift set Closed
Nigella Living Collection Measuring Cups Closes Jan 16 (bloggers' competition, international)
Alex Polizzi's Little Black Book of Hotels Closes Dec 14
Sainsbury's Different by Design cookware Closes Dec 15
Chai Caramels from Matcha Chocolat INTERNATIONAL Closes Dec 16
Eric Lanlard's "Home Bake" from Octopus Books
Cookware from Jamie Oliver and Mum et Moi
Don't forget to come back tomorrow to see which prize is next!