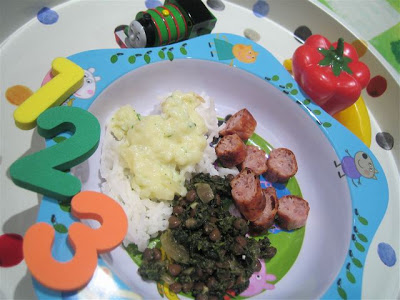 Rice and "curry": a Ted-shaped milestone
Two things have been different for me since New Year; blogging more regularly and Ted going to preschool twice a week – see how the two are connected?
Last week, the week where I was exhausted after the three charity cupcake sales, was half term and although Ted is not yet at school, his preschool and most of the things I take him too shut down. Having got used to a bit of long awaited me-time recently, this came as a bit of a shock to our routines.  We had plans for various day trips which meant that I wasn't at home much to cook new things for the blog.  Furthermore I still have some charity cupcake orders to deliver on for Cake A Difference.
So this week, Ted is back at preschool having a lovely time and I'm clearing up a trail of destruction around my house and bracing myself for this month's Daring Bakers, a birthday cake delivery, a trip to Cambridge to visit a friend and dinner out with Michelle from Greedy Gourmet all happening on the same day. I could have planned this better….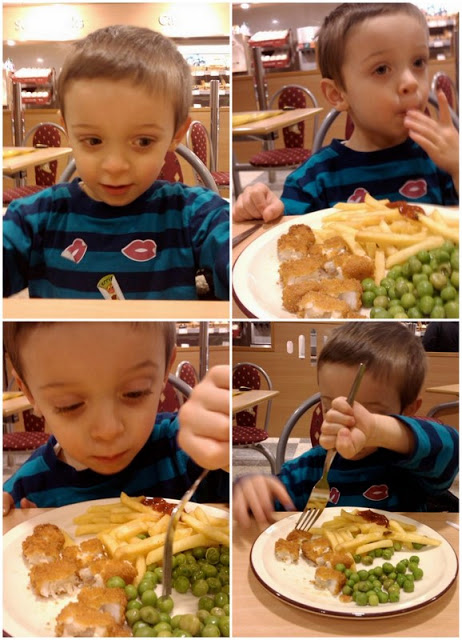 Well ok, he probably does prefer fish fingers and chips…
(The lips are Bliss Kiss it Better stickers from the cupcake sales)
The meal you see at the top of this post was something of a milestone for us. Ted likes his food very much these days as you can see him here eating fish fingers and chips in a cafe.  But it wasn't always like that.  Twelve months ago I still couldn't get him beyond yukky slop in jars – he either rejected stuff I made or was sick afterwards.  I wanted to wring Annabel Karmel's neck until I discovered her chilled meals for toddlers in the supermarket which were one of the first real meals Ted would eat.
So it was with some delight recently that I finally got him eating RICE, albeit smothered in an onion sauce.  Since doing Ten in Ten, one of my goals has been to eat my evening meals with Ted rather than later on with my husband after Ted has gone to bed. This has meant I've been more likely to feed him little bits of stuff I'm eating that either wouldn't be practical to give him on his own or he had rejected in the past.  My husband and I eat a lot of curry so on this particular evening I prepared the spinach and lentils simply with garlic (which Ted loves) and got my heat kick from some spicy chicken whilst Ted enjoyed chopped up chipolatas.  He gobbled it all up and we were both very happy.
In case you are wondering, the Ted meal I photographed was assembled the next day from left overs. It would be a very bad food blogger indeed that kept a two year old waiting for their dinner whilst it was being photographed!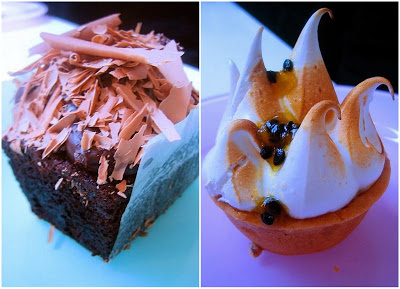 Then on Saturday, Ted was packed off to Gourmet Burger Kitchen with my husband and I met up with Mowie from Mowielicious for lunch at Ottolenghi in Notting Hill. I recently bought the Ottolenghi book but apart from the chocolate macarons, have not had chance to cook anything from it yet. At their counter I saw all sorts of familiar dishes that have been cooked by my blogging friends; broccoli as made by Deeba at Passionate About Baking, aubergine salad with saffron yogurt as seen on Meeta's What's For Lunch Honey?  
I ordered a delicious sweet potato salad and skipped home hoping to find the recipe but alas, it was not in there. Never fear, I hear there is a second Ottolenghi book due out this summer so perhaps my salad will be in there.
The desserts you see above are my chocolate, Baileys and mascarpone cake and Mowie's passionfruit meringue tarts.  

Jeanne at Cook Sister , in association with Blogger Aid, has organised an online raffle to raise money for the earthquake victims of Haiti.  It is a week long event ending on Sunday 28th February with lots of brilliant prizes donated by food bloggers.
For tickets and further information click through to Jeanne's post at Cook Sister.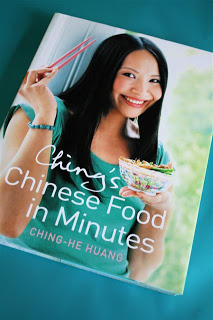 It seems a bit pithy to mention my book giveaway after telling you about the Haiti raffle but if you've not entered already and would like to then you still have until midnight on Friday 26th February to
comment on this post
and enter to win a copy of Ching-he Huang's Chinese Food in Minutes.