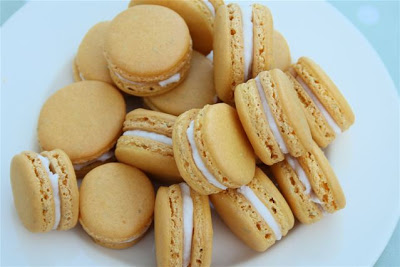 The theme of this month's Mactweets Macaron Challenge was "spring flowers". I have deviated from this a little and taken my inspiration from what spring means to me, it's Mother's Day and my mother's birthday always follows shortly afterwards.  My mother's name is Rosemarie so I decided to make this month's macarons using rosemary paired with lemon.
I have been very fortunate to have my mother visiting this Mother's Day weekend. She lives 100 miles away on her boat and I look forward greatly to her trips to London.
100th Post Coming Up Soon…
It will shortly be my 100th post. Do you have any burning questions you would like me to answer?  About food, blogs, France or even shopping with the Lakeland catalogue? Just leave a your question in the comments below and I shall do my best to answer.
I recently received an invitation to review a Mother's Day gift from Interflora, their "Luxury Breakfast Tray" including smoked salmon, bucks fizz and more. Now, if like me, you thought Interflora only sent flowers, let me enlighten you that they will also spirit chocolates, alcohol and foodie gifts to your loved ones.
First the positive points; it's always exciting to receive presents by post. The brands of the jams, tea and coffee are all good quality. I do not usually drink tea but I found the Duchy Originals tea very pleasant. The salmon tasted fresh and the two champagne flutes were a pretty shape.  There were a couple of substitutions from the published list of contents; pain au chocolat instead of crossiants and two small jars of Tiptree jam instead of one larger Duerr's one but these changes were acceptable.
I was not a fan of the bucks fizz. Made from perry and orange juice, the perry flavour was too strong compared with the more usual sparkling white wine mix.
For grandparents or relatives who are tricky to buy for, especially those living further away, I can see the attraction of sending a present like this by post.
Is the gift good value for money? The profit margin on the contents of these sorts of gift sets is often swung in the favour of the retailer and whatever the gift is presented in, be it a bag, a box or in this case a tray, make all the difference whether the package is worth buying. So the wooden tray, which was neither white nor stained, let this gift down. This is a shame since the other items were all nice enough.
Am I expecting too much? Should I bothered about the tray? Or is it just that thirty pounds doesn't buy you that much these days?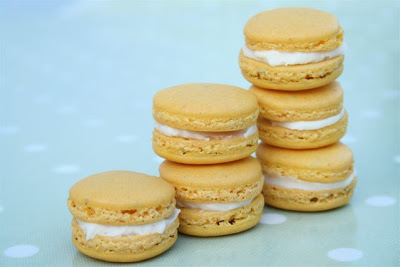 Anyway… here is the macaron recipe…
Lemon and Rosemary Macarons
Ingredients:
The ingredients for the shells have been adapted from
Ottolenghi, The Cookbook
, "Lime and Basil Macarons" although my method departs from theirs in that I'm from the "beat it to death" school rather than softly softly. The buttercream was leftover lemon cupcake frosting. This quantity of buttercream makes enough to cover 12 cupcakes so you will need to scale the amounts down if you only want a small amount to fill macaron shells.

I have used dried rosemary here simply because I could not buy fresh in my local shop (darn you Spar… You let me down!) and had hoped that I could "steal" some from my neighbour's front hedge but unfortunately she'd given it a thorough pruning and I had to rely on dried rosemary instead.  Naturally I would use fresh rosemary were it available to me.
110g icing sugar
50g ground almonds
1 tsp dried rosemary finely ground (I use a coffee grinder reserved for nuts/seeds etc)
Finely grated zest of a lemon
1/2 tsp natural lemon flavouring
2 free range egg whites (60g worth), left to age for 2 days
40g caster sugar
A touch of yellow gel food colouring (optional)

for the lemon buttercream – blend the following:
80g butter
250g icing sugar
40ml milk
1 tbsp lemon juice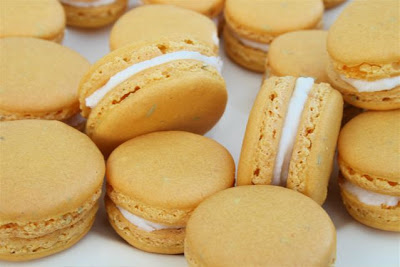 Method: 1. Sift the icing sugar, almonds and rosemary into the food processor and blitz to give yourself an even finer powder.
2. In a large mixing bowl, whisk the egg whites to a foam using an electric mixer then add the caster sugar gradually and continue beating until you have a meringue that stands in soft peaks. Add the gel food colouring on the end of a cocktail stick and then continue beating once more until you get stiff peaks and the colour has been mixed throughout.
3. Tip all the icing sugar, almonds and rosemary on top. Using a silicon spatula, sweep around the bowl in a circle and then cut sideways strokes with the thin blade of the spatula through the centre backwards and forwards ten times. Repeat sweeping around the edge of the bowl and doing your ten strokes five times so that you've done fifty strokes.  Your batter should be roughly ready by this point, you are looking for a flowing lava effect. If it is too stiff continue sweeping around the edge of the bowl and doing another ten strokes until you are happy with the flow. (This recipe seemed to require a  lot more strokes than usual… Maybe 80… I'm not sure why this happened today)
4. Fix parchment paper to your baking sheet with a blob of meringue batter in each corner.  Fill piping bags with the batter, I use disposable ones with around 1.5cm width snipped of the end.
5. Pipe discs in a circular movement around the size of a two pound coin. Allow a similar distance between the piped circles incase they spread. Pick the tray up with both hands and rap on the table firmly to make the circles settle.
6. Preheat the oven to 150c.  Leave the piped circles near a radiator for twenty minutes to dry out (winter only). In summer, leave for 30 minutes (apparently, I haven't done this properly in summer yet but this is what everyone else says).  The surface of the circles should dry out so that they are no longer sticky to the touch.  The feet develop as the surface has toughened before the centre has cooked, the pressure that builds up under heating forces the top of the macaron to rise, then you should get feet.
7. Bake for 12-18 minutes depending on size. The length of time really is trial and error.  I put mine on the lowest oven shelf but again you will need to experiment.
8. Hopefully, if you've cooked them enough but not too much, you'll have that happy medium of a surface that peels beautifully off the baking parchment but a meringue which remains soft and gooey like a truffle inside. If you are having trouble removing them from the paper, some drops of water sprinkled under the parchment whilst still warm will help steam the macarons off. But I find that they come off best when completely cool and don't need this. So don't be impatient!
9. When cool, spread your filling on the flat side of a shell and sandwich with another, squeezing gently.  Allow to set for a couple of hours. I find they keep in an airtight tin for a week. If you can resist them.