Side shows of shisha smoking and belly dancing, to my knowledge, are not available in Walthamstow. But they're all part of the exotic experience offered by Mamounia Lounge in London's Knightsbridge.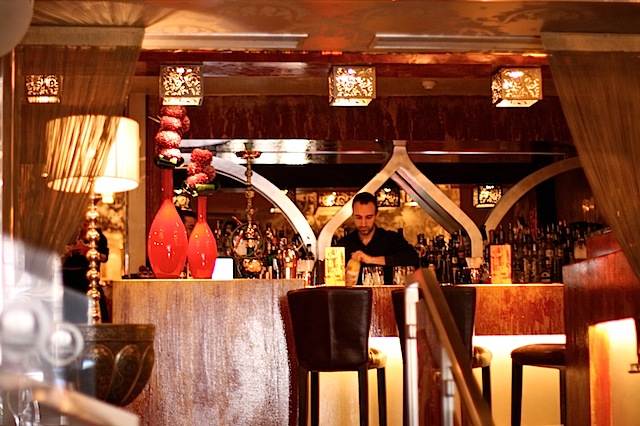 Having recently served my own Moroccan themed menu at home, I was delighted to go to authentic Middle Eastern restaurant and see how the experience compared.
I went to Mamounia Lounge Knightsbridge for a weekend lunch alongside friends Michelle, Jeanne and Margot. The belly dancers aren't there in the day however we could well imagine the shisha fogged den of inquity Mamounia Lounge might be come nightfall.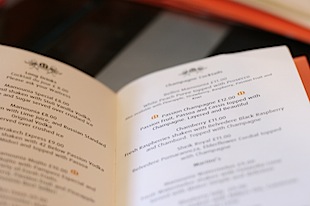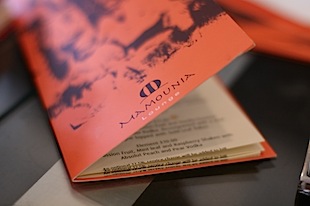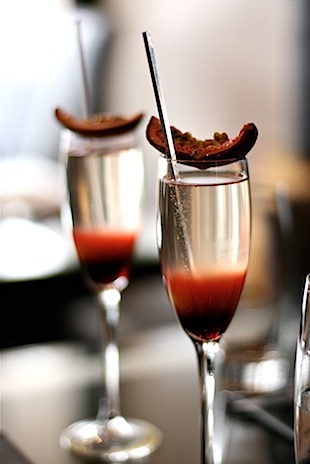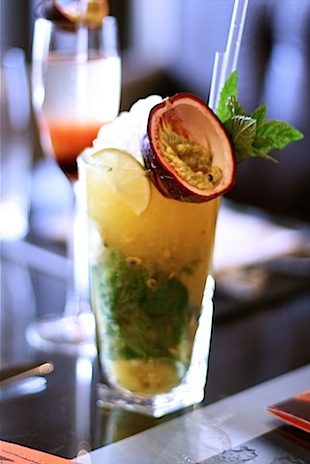 Our Middle Eastern lunch got off to a great start with striking looking champagne cocktails.
My red layered passion champagne (£12) came with passion fruit, Passoa (a passion fruit liqueur) and cassis. A divine drink with good looks to match.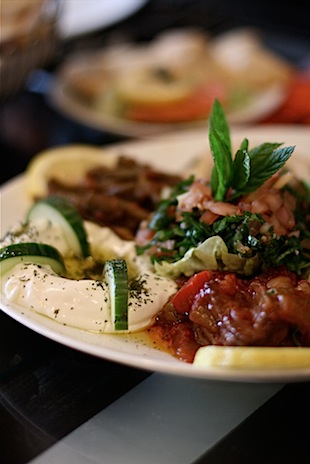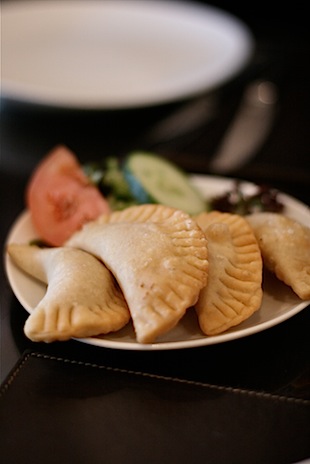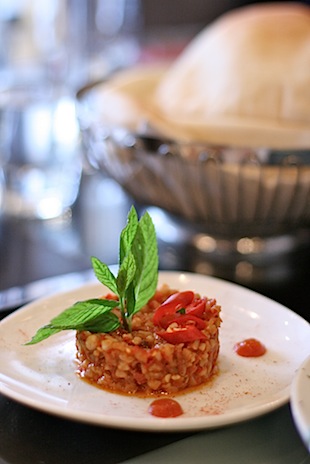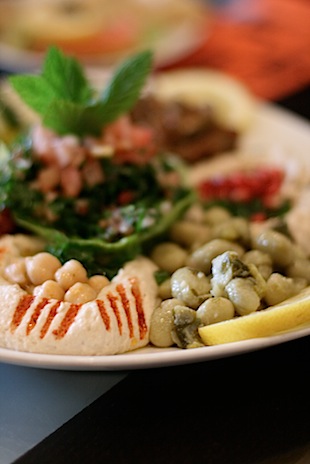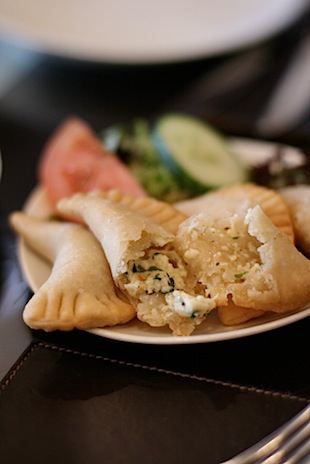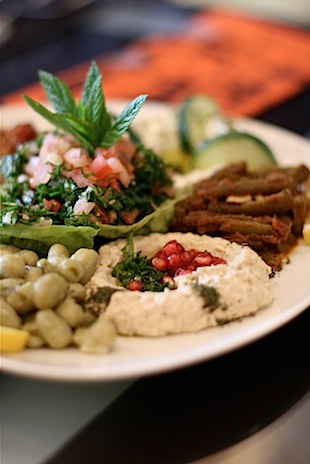 We shared a Lebanese mezze platter (£12.50) and two types of hot mezze: lamb sambosek (£6) and cheese sambosek (£6).  The platter was similar to ones served in chain Comptoir Libanais with pools of hummus, moutabal (aubergine dip), herby tabbouleh and broad beans.
Considering the Comptoir Libanais version costs around £9 and serves only 2 people, the Mamounia Lounge equivalent with its greater number of mezze dishes was excellent value. The sambosek pastries were tasty although good rather than outstanding.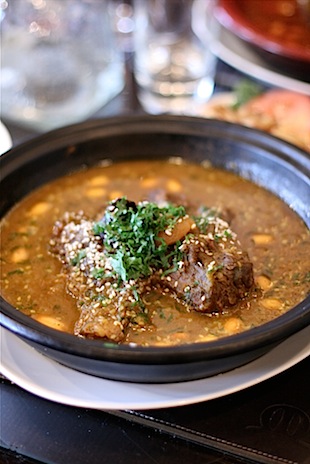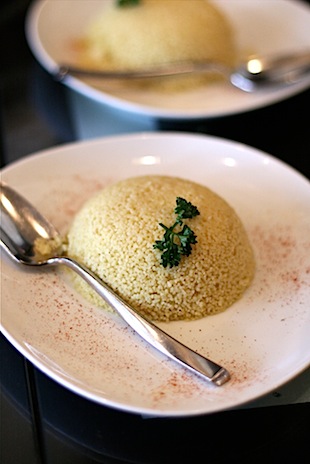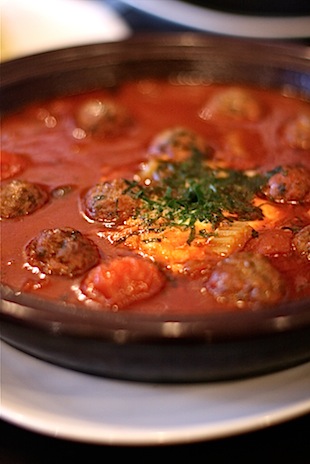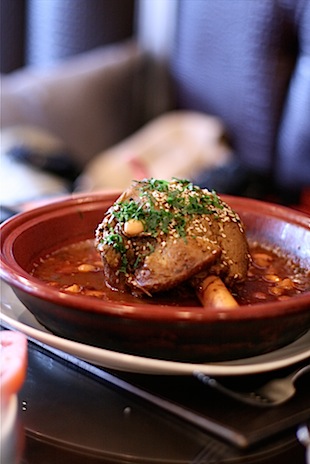 For main course we each ordered 'authentic tagines' with cous cous. Margot had a seasonal vegetable (£16) one, Jeanne the slow-braised lamb shank (£19.50) and Michelle lamb tagine (£19.50) – made from lamb shoulder – and myself the kafta tagine (£19.50) with lamb meatballs and optional extra poached egg.
Incidentally, if you fancy making your own tagine recipe I highly recommend Jeanne's moroccan chicken tagine or her delicious lamb shank tagine.
Sizzling in the traditional Middle Eastern coned ceramic dish, the tagines were indeed cooked inside rather than merely served for presentation's sake. My meatballs bubbled in a thick tomato sauce with a poached egg in the centre.
With the initial theatrical appearance over, I found my dish to be so-so but lacking in any exciting flavour. The meatballs appeared homemade with herbs but their texture very uniform and uninteresting. The poached egg, with yolk soaked up into spoonfuls of accompanying plain cous cous became the star of a lacklustre show.
So if you go, don't order my dish as your main course. At £19.50 it's an expensive version of something you could easily recreate at home. And far less better value than the lamb shank or lamb shoulder tagines each containing generous quantities of non-minced meat.
Michelle and Jeanne's two spiced lamb tagine stews dotted with whole almonds were way more exciting. That sinking feeling that you've ordered the dud dish at the table, yes that.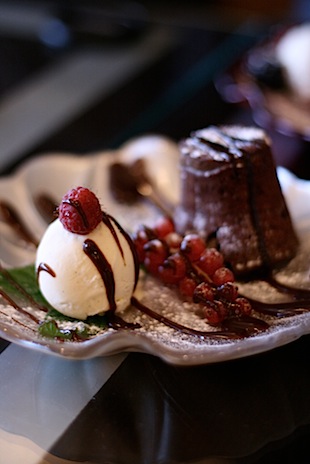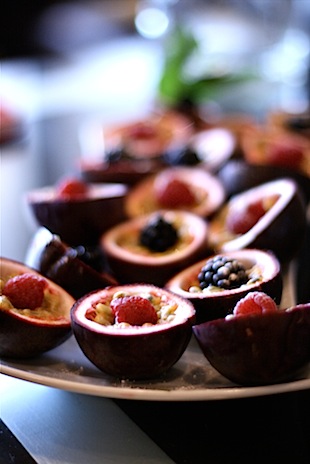 Dessert didn't salvage things completely. My pleasingly squidgy chocolate fondant (£9.50) was beautifully presented with a fancy plate, red currants and a scoop of vanilla ice cream. Surprisingly though, the pud, made with low-grade chocolate, was a disappointment. Conversely the smooth textured homemade vanilla ice cream was joy to eat. My dessert was over priced; had I been served two scoops of their wonderful ice cream dusted with chopped pistachios with a lower price tag, I might have raved about dessert. Instead, the £9.50 price tag was an annoyance.
The others meanwhile had a fruit platter, fig tart and baklava. Read their reviews to see what they thought about the whole meal:
Michelle – to follow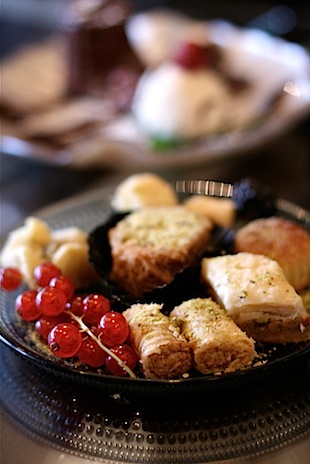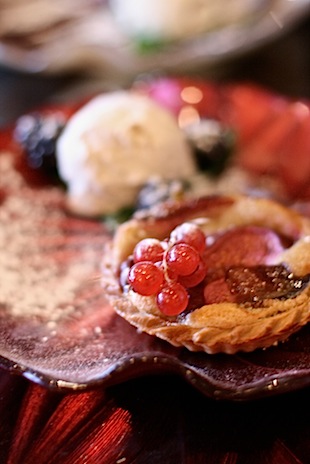 If you're a wealthy tourist, business person or local resident then Mamounia Lounge would be a decent enough place to visit in Knightsbridge. The service is friendly, food mostly good, the clientele smart, the décor suitably flashy and the loos amusingly opulent. Fringed booths to the rear offer privacy should you require it.
Whether Mamounia Lounge is worth crossing town specifically to visit is another matter. Drink up the cocktails, inhale the shisha (if that's your thing) and you may have a very good time indeed – you just need to pick the right dishes on the menu.
With a large group Mamounia Lounge could be atmospheric and memorable.  However the incongruous choice of daytime music (surging from gangster rap to Tom Jones) spoiled this effect during our daytime visit.  Most likely the belly dancers at night dance to something a little more traditional…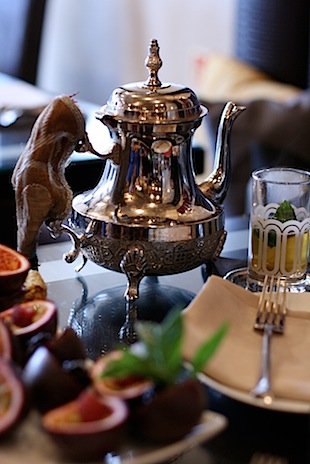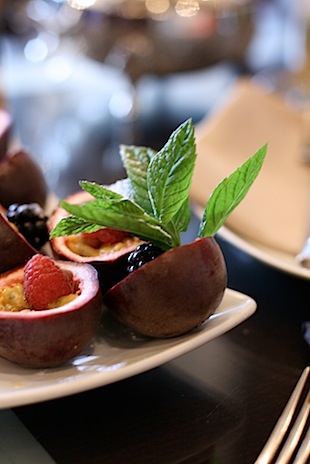 With thanks to Mamounia Lounge, Knightsbridge.
Mamounia Lounge Knightsbridge