Mary Berry lemon drizzle cake traybake mix is the shortcut to lemon drizzle cake nirvana. But what would Paul Hollywood say?
Mary Berry is best known these days as a judge on The Great British Bake Off.
But here are a couple of Mary Berry facts you may not know:
a) Despite rumours she's NOT Nicholas Parsons' sister – confused readers aged under 35 should google "Sale of the Century"
b) Mary Berry written an astounding 70 cookbooks – that's one for every year of her life (assuming she started at the age of five).
c) Mary Berry sells packet cake mix.
d) Mary Berry sells bottled sauces in Waitrose and National Trust properties across the country.
e) How old is Mary Berry?
People are obsessed with finding this out so it's a question worth answering here.  At the time of writing Mary Berry is 77 and has probably written at least 2 more books since I originally wrote this post in 2011.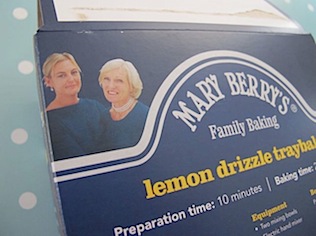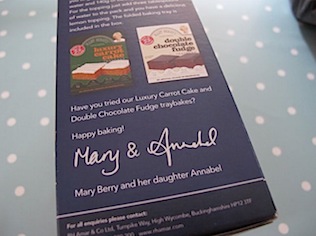 Mary Berry lemon drizzle cake traybake mix
Since it's kind of at odds with her role as Bake Off judge, I was curious to find out more about Mary Berry lemon drizzle cake traybake mix.
Mary Berry's twenty year old bottled sauce empire is co-managed by her daughter Annabel (pictured above in matching tabard outfit). You may be familiar with the tall navy and racing green bottles emblazoned "Mary Berry and Daughter". Alongside those labelled "Paul Newman", they hover in my peripheral vision at the supermarket, the culinary equivalent of Marks & Spencer polyester trousers, beloved by many but not something I intend to buy myself yet.
The packet cake mixes are a more recent addition to the range. Amused by the retro styling on the box, I agreed to try one out.
So what might fellow Bake Off presenter Paul Hollywood think, if you had the gaul to pass off Mary Berry's family baking lemon drizzle traybake as your own handiwork in a Great British Bake Off audition? Would Paul Hollywood spit it out?
Let's find out.
The Mary Berry lemon drizzle cake traybake mix box is huge, containing a fold out disposable baking tray. Yes folks, this product is for those of you so ovenly-challenged that you don't own a baking tin. (Baked and Delicious readers spring to mind).
Also inside you'll find a white pack of dry ingredients and blue pack of sugary lemon icing mix. The packaging boasts this Mary Berry lemon drizzle cake traybake mix will yield 15 servings, take 10 minutes to prepare and 20-25 minutes to bake with the mere addition of 2 eggs, water and 140g butter.
Using a hand mixer the Mary Berry lemon drizzle cake mix came together very easily although I was sceptical it would fill the large tray provided. Spreading the batter thinly to the edge I was braced for disappointment. Surprisingly the cake spread and rose perfectly well.
Unfortunately it smelled of very little either before or after baking.
The box announces there are no artificial colours or preservatives but the "delicious lemon topping" mix has a distinctly chemical taste.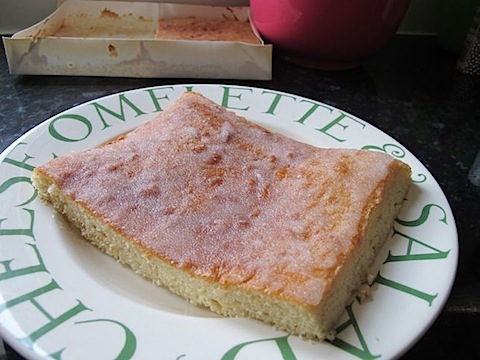 Mary Berry lemon drizzle cake packet cake mix – results
The finished product does look just like the one on the box. Unfortunately it is like eating latex mattress laced with Jif lemon juice. Hardly one's "signature bake".
And you've got to laugh at whoever decided to call the carrot cake version "luxury". It's about as luxury as Cup-a-Soup.
So, I do not recommend passing this Mary Berry lemon drizzle cake traybake mix off as your own at next year's Great British Bake Off auditions. Eyebrows will be raised and you'll be kicked out. Mel and Sue will take the mick.
To keep things balanced I should point out that Paul Hollywood sells a range of breads in Waitrose. Sadly these are real loaves and not out of sachets otherwise I'd review them too.
With thanks for the review box Mary Berry Lemon Drizzle Cake Traybake mix.