A pinch a punch, first day of the month, white rabbits and all that.  February is here and I am secretly cursing that Valentines is not after Shrove Tuesday this year because we are brimming over with Mardi Gras madness here at Maison Cupcake but have not yet done an iota of preparation towards Valentines which takes place on the preceding Sunday. 
But why is this so inconvenient you cry? The reason is that supermarket chain Morrisons were hosting a food bloggers seasonal pancake challenge recently asked me if I would dream up some seasonal inspiration for their website readers for a pancake special.  It's the middle of January! I'm on a diet! Of course I'll do it!
Today I bring you two of the four recipes; Pancakes topped with Hot Maple Fudge Sauce and Hazelnuts and secondly a savoury dish, Pancake Rolls with Sweet Spicy Pork and Rhubarb.  The clementine and pink grapefruit recipes will follow later this month.
But you have to see the recipes first.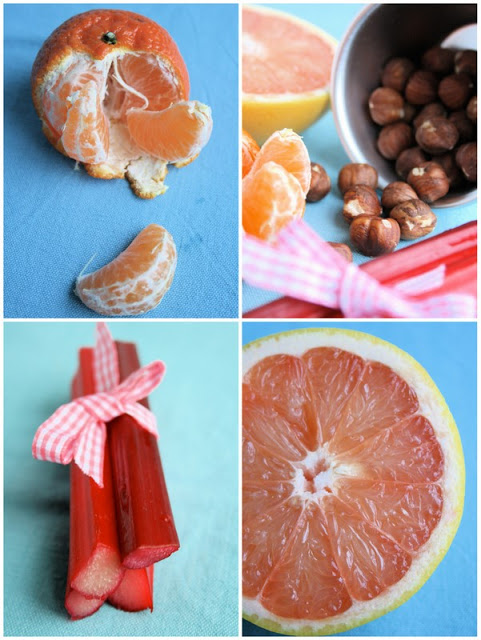 Myself and three other food bloggers were each asked to come up with pancake recipes using four seasonal ingredients. Their identities were initially a secret but the Twitter-vine and a meeting with other food bloggers at Royal China Club unmasked both Nic from Cherrapeno and Jeanne from Cook Sister! and now that the recipes have gone live on the Morrison's site I can reveal that the fourth pancaking blogger is Fran at The Graphic Foodie. Check out their sites to see their pancakes using leeks, pears and celeriac as well as my four ingredients which were:  
Hazelnuts

Rhubarb

Clementines 

Pink Grapefruit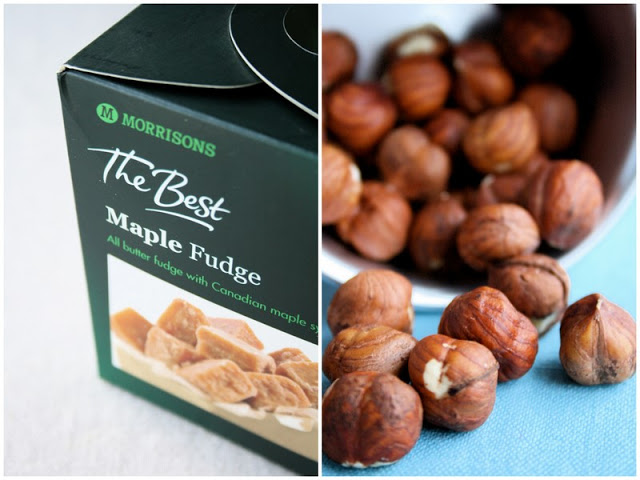 I love maple syrup on pancakes and was delighted to discover some Maple Fudge amongst Morrisons' own brand products.  I have also been raving about Morrison's Food Fusions Cinnamon Paste which I have used with the rhubarb.
First a reminder of your basic crepe style pancake recipe….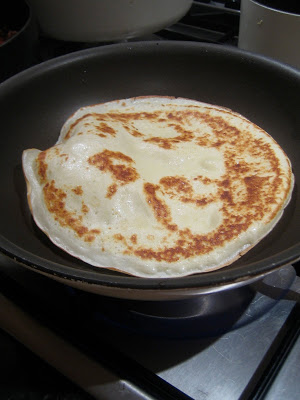 Basic Crepe Style Pancake Recipe
Makes approx 6-8 crepe style pancakes
250ml semi-skimmed or full fat milk
1. Sift the flour and salt into a bowl. I sift mine directly onto the bowl on scales to save on washing up.
2. Pour the milk into a hand blender beaker. Beat in the egg. Melt the butter in a small saucepan, pour this into the milk and egg mixture and stir quickly to stop butter solidifying in the cold milk.  Scrape in your flour and salt and beat in with a fork.
3. Make the batter smoother by giving it a quick whisk with the hand blender. Decant the mixture into a plastic jug for ease of pouring onto your frying pan.
4. Melt a small knob of butter onto a non-stick frying pan over a moderate to high heat. Use a silicon brush to wipe the butter all over the surface of the pan.  When the pan is hot and covered in the melted butter, pour over some batter, around the same amount equivalent to the diameter of a grapefruit. Quickly swirl the batter towards the edge of the pan to make your pancake wider and thinner.
5. Allow to cook for 30-45 seconds.  Ease a silicon spatula under the edge of the pancake and gradually as the pancake cooks, ease the spatula all the way underneath to check it is loose enough to turn over. 
6. It should take 60-90 seconds before you can flip the pancake over. Toss if you wish but I find I can flip it easily with the spatula if it isn't too thin.  Allow to cook on the other side for around 60 seconds. You can peep underneath to see how brown it is, aim for a speckled effect akin to leopard's spots.
7. Crepe style pancakes are best served immediately although you can keep them in the fridge for 2-3 days and reheat in the microwave.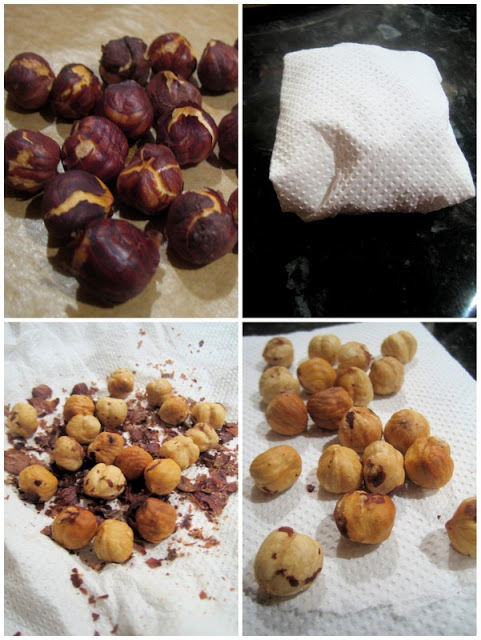 Skinning your hazelnuts takes around ten minutes but is well worth the effort.
Pancakes topped with Hot Maple Fudge Sauce and Hazelnuts
Hazelnut skins taste quite bitter, it may seem a bind but I promise you these nuts taste infinitely better if you allow a short time to remove their skins. This fudge sauce is incredibly easy.
12 chunks of Morrisons "The Best" Maple Fudge
Crepe style pancakes, 2-3 per person. See recipe above.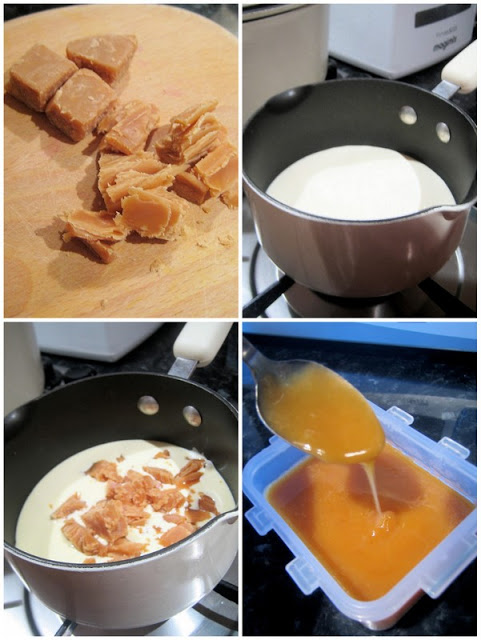 Making the Maple Fudge sauce couldn't be easier. Just melt fudge into the cream.
1. Preheat the oven to gas mark 4 or 180c.  Lay the hazelnuts on a baking sheet lined with parchment paper. When the oven is up to temperature, toast the nuts in the oven for around 10 minutes.
2. Meanwhile heat your double cream on a medium heat in a small saucepan.  Chop up your chunks of fudge and tip them into the warm cream.  Stirring with a wooden spoon until molten, bring the cream almost to the boil and then reduce to a simmer for around 10 minutes.
3. Remove your hazelnuts from the oven. Tip them onto some sheets of kitchen paper and wrap into a little bundle inside which the shells will steam off.  Leave for 2-3 minutes and then open up the bundle. Rub the nuts with the kitchen paper to loosen the shells. You may need to scratch the nuts gently to remove some of the shell. When the shells are mostly removed, chop the nuts coarsely. This will take a few minutes but worth the effort.
4. Make your pancakes if you haven't already done so.  Fold 2-3 pancakes per person in half on a plate overlapping them slightly. Pour over some hot maple fudge sauce and sprinkle over some chopped hazelnuts. Serve immediately.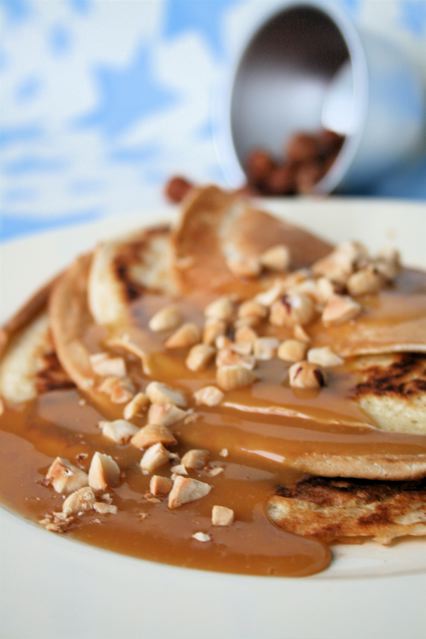 Secondly today we have a savoury pancake recipe using minced pork and rhubarb.
Rhubarb is often paired with ginger.  This recipe takes this flavour a step further with a pork based pancake dish that can be served as a main course. It is both sweet and spicy with a similar flavour to Chinese hoi sin sauce.
Pancakes filled with Sweet and Spicy Pork with Rhubarb
100g rhubarb cut into 3" batons
1 tbsp Morrisons "Food Fusions" Orange Flavour Water (optional)
100g soft dark brown sugar
1 small finely chopped onion
2 cloves of crushed garlic
1 small finely chopped and de-seeded red chilli
2 globes of stem ginger in syrup, chopped finely
2 tsp Morrison's "Food Fusions" Cinnamon Paste
½ tsp ground black pepper
Crepe style pancakes – 2-3 per person, see recipe above.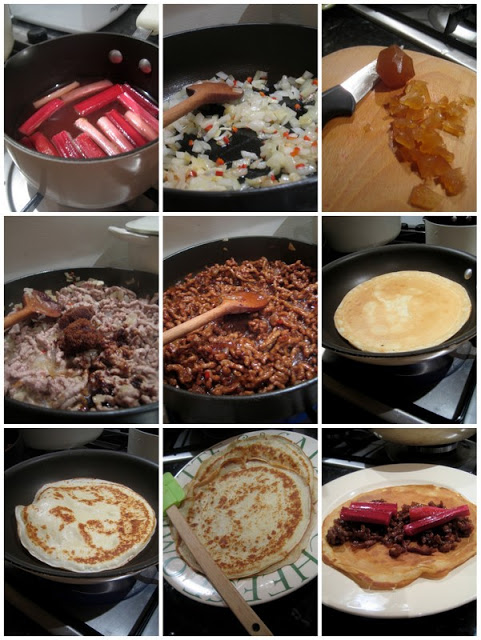 1. In a small saucepan over a medium heat, poach the rhubarb batons gently in the water, 50g of the soft brown sugar and the Orange Flavour water if you are using it. Do not allow to boil as the rhubarb will disintegrate into threads and you want it to stay intact. Keep on a gentle simmer whilst you cook the pork.
2. Meanwhile heat the nut oil in a large frying pan. Fry the chopped onion until soft and then add the garlic and chopped chilli and stem ginger for a further 3-4 minutes.  Add the mince pork, breaking it up into chunks with a wooden spoon. Fry until the mince is cooked.
3. When cooked, stir in the remaining 50g of soft dark brown sugar, cinnamon paste, ground black pepper. The sugar will caramelize on the white pork giving it a darker more appealing colour. Season to taste.
4. Cook your pancakes if you haven't already. Allow 2-3 pancakes per person. Spoon a line of the cooked pork and a couple of rhubarb batons down the centre of each pancake and roll into a sausage shape.  Drizzle some rhubarb syrup and more rhubarb batons on top.  Serve immediately.
Finally, as I promised, here are details of this week's pancake related giveaway.  Morrisons have kindly given Maison Cupcake a box of pancake related cooking paraphrenalia to keep someone busy on Shrove Tuesday.  The contents of the box, pictured below are:
Kitchen Scales

Large frying pan

Small frying pan

Whisk

Ladle

Turner

Morrisons Bag for Life
The contents of the box has a retail value of over £25.
This giveaway is open to readers with addresses in the mainland UK only.  (Sorry to people abroad but this one is toooo heavy to go Air Mail until I have deeper pockets!)
To enter, please leave a comment at the bottom of this post telling me what your favourite pancake filling or topping is.  I mean any pancake filling, I'm not restricting you to rhubarb and nuts!  If you are abroad you can still comment on how lovely the pancakes are but say you are not eligible for the giveaway.
I will draw a winner from all comments left by midnight on Friday 5th February, using the random number generator thingy that everyone else uses.  I will then contact the winner seeking their mailing address and all being well that person will get their box nicely in time for pancake day.
Good luck and happy flipping!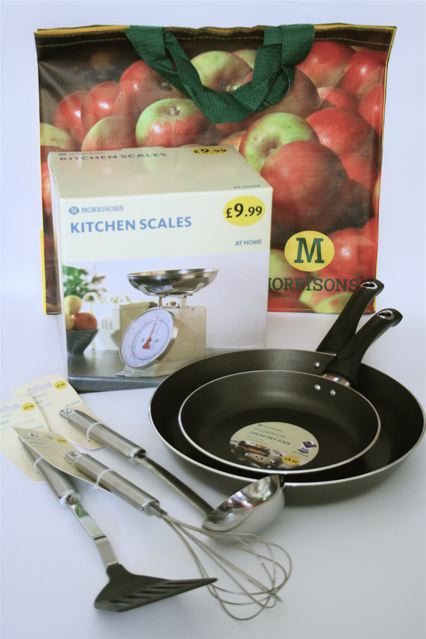 One last look at that Maple Fudge sauce. Mmmm. Nice.  I only tasted a teaspoon of it you know. I have lost ten pounds now. No pancakes and their fudgy sauces are going to fox me and my Ten in 10 diet.  But I did eat the spicy rhubarb and pork for my dinner.