I always imagined I'd plan a special trip for our tenth wedding anniversary. "Do you think we'll go back to…" has been a frequent conversation between myself and my husband. We'd mentally earmarked going back to a very nice hotel in Aix-en-Provence where we spent the first two nights of our honeymoon.
Come the actual anniversary and being August bank holiday weekend it falls on the second day of our 48 hour drive back from our family caravan holiday in the south of France. Car bound with a seven year old and my dad bickering on the backseat is not how we'd imagined we'd spend our tenth wedding anniversary. But since school holidays dictate the family holiday and it wasn't practical to get away on our own since, we feel we still need to celebrate this milestone by ourselves at some point.
So when I was asked to try out Amadeus.net, a holiday planning website, I knew exactly which trip I had in mind.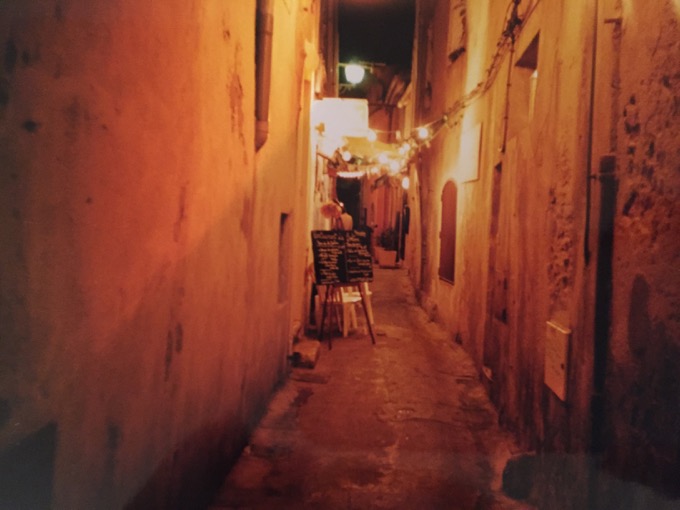 Reality now biting, the beautiful five star hotel in Aix is frankly out of our budget. Not somewhere we can justify paying for when we're tied to taking family holidays in peak season when schools are off. Two nights there would cost as much as a week in our usual caravan budget. So we need somewhere with budget flights and a modest hotel but still a touch of glamour. Maybe a return to another one of our honeymoon destinations – St Tropez.
St Tropez's dazzling image belies that it's a tiny little village on a remote rocky peninsula of the Cote D'Azur. For such a small place it buzzes with activity and is marvellous for people watching. The harbour is stuffed with yachts and you can grab a front row seat to gawk at the super rich for the price of a coffee in a bar on the water's edge.
Away from the designer boutiques and swanky bars, there are surprisingly down to earth restaurants in little alleyways. We visited St Tropez a couple of times before we were married and being creatures of habit we would head straight to our old haunts. This little cut through boasted several tiny and inexpensive restaurants tucked out the way of the crowds.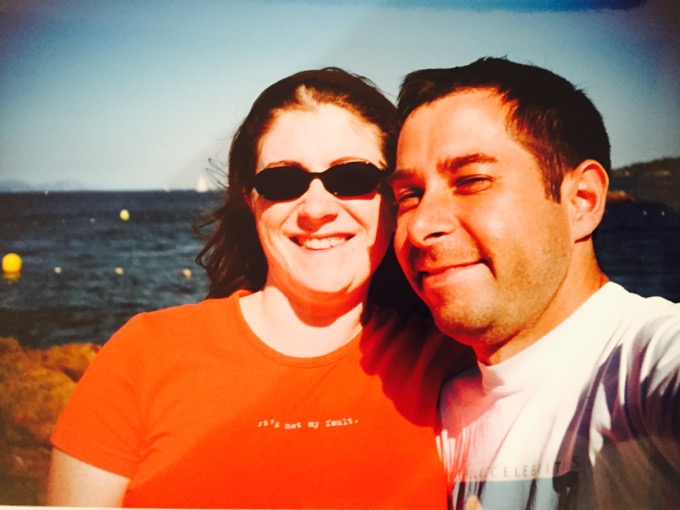 These pictures were taken before the age of digital photography so excuse the quality – they look more like they were taken in the 1970s than the late 90s.
This is my husband and I posing for a joint selfie (we were ahead of our time) on the water's edge in the St Tropez gulf.
Ideally you need a car to get to St Tropez, it's around 45 minutes' drive from the motorway and a further 45 minutes from Nice International Airport. On this trip above we had found our way there by bus which takes even longer. Hotels in St Tropez with parking spaces are relatively few although I can recommend Lou Cagnard which is only ten minutes' walk from the harbour area.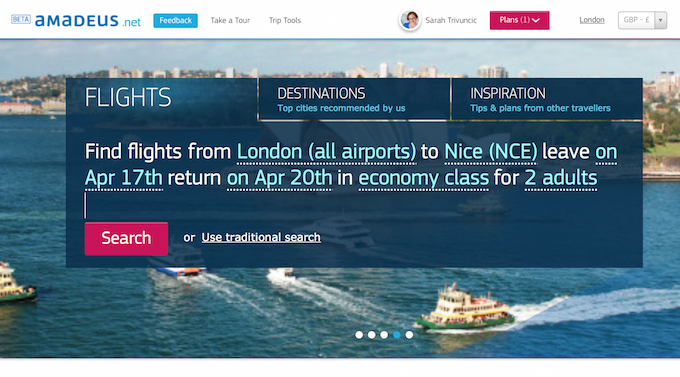 Amadeus isn't actually where you book your flight but helps you plan your trip by showing flight comparisons (across sites such as Opodo or Ebookers) and the means to save the results of speculative trips. You can also use Amadeus trip tools check the time and weather in your destination.
For my planned trip there was a good choice of flights from London to Nice, mostly from London City or Gatwick Airports. There are several Easyjet flights a day but the evening flight was cheaper and meant my husband could head to Gatwick after work meaning only one full day off would be required.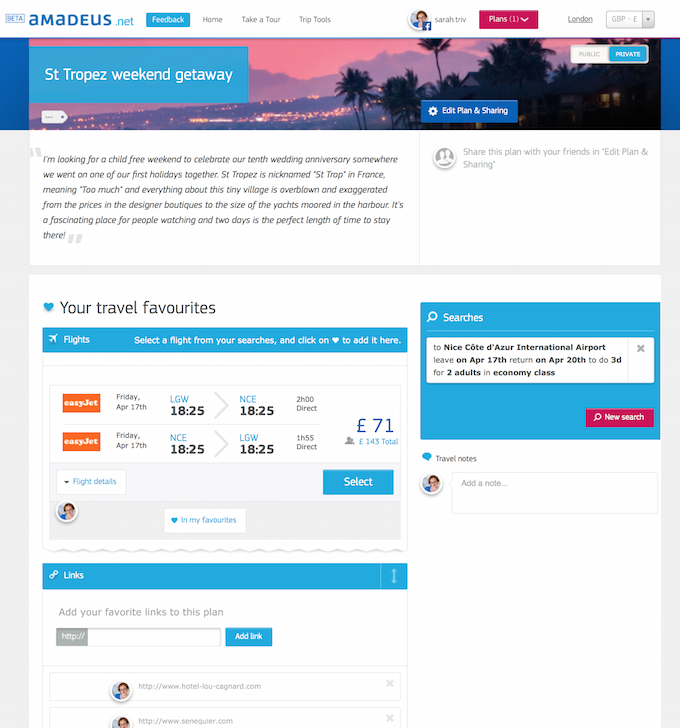 You can also share your trip plans with friends or browse other people's trips for inspiration.
I created an Amadeus trip plan showing a long weekend with flights to Nice after Easter. I shared the details with my husband via email. (I like distracting him whilst he's at work!). As you can see there are flights available from £71 return per person and I have added in some useful links of possible hotels and bars to visit.
I think the main benefit of using Amadeus is that it gives you a place to store speculative travel plans and share them with whoever you are travelling. Certainly when I plan trips, I compare a heck of a lot of flights on different dates, different airports and times of day. I baffle the husband with "if we do this, if we do that" and so the prospect of him getting this information shared directly is very appealing.
I reckon £71 return for flights with the husband only needing one day off work is a bargain. Now all I need to convince one of Ted's grandparents to come and babysit!
Which trip would you like to plan next? Why not hop on over to Amadeus to have a play and create a trip plan of your own.
 Post sponsored by Amadeus.net