"Postcard from" is my series of weekend non-recipe posts. Usually these are from places or events but today is unusual, it is from myself to a lot of people I'm about to meet in two weeks' time.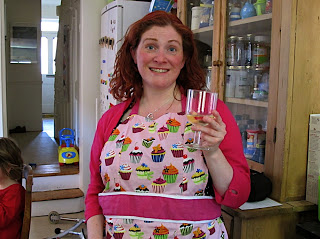 Stones are killing birds left right and centre in this late night weekend post.  If I've been quiet on the Twitter machine today and not published a recipe for more than 48 hours then it's because I've been recovering from Ted's 3rd birthday party and doing my homework before attending the enormous mummy blogging conference
Cybermummy
on 3rd July.
Today's post is fulfilling two things to introduce myself to other Cybermummy attendees:
I was going to squeeze in my entry to the Sticky Fingers' "Gallery" photography competition (pictures from Ted's party) but I'll hold back on that for a couple of days because it's 1.30am already and I am caving into both weakness and sleep soon.
Name: Sarah Trivuncic
Blog ID: Maison Cupcake
Twitter: @maisoncupcake
Height: 5′ 2″
Eyes: Very blue
Hair: Very red
Likes: taking too many photos, Lost, France, Emma Bridgewater plates, chocolate ice cream
Matcha Chocolate Giveaway – There's still time to enter!
Before I give you my writing workshop entry, there's time to tell you that UK readers can still enter the Matcha Chocolate Giveaway from my Turkish Delight chocolate cake post up until midnight BST Sunday 20th June. Good luck!
Writing Workshop: On "feeling unwelcome"
With more past lives than a repeatedly re-incarnated cat, I was briefly a BA fashion student.  I knew they didn't want me before I got there, they had turned me down initially but six weeks later telephoned to say the course intake had been increased and I'd been on the shortlist.
Halls of residence were on a leafy campus hidden 1.5 miles inside a country park on the edge of north London. It was too far to walk out to the outside and in any case we had been warned to always take the college shuttle bus as there had been some attempted abductions of female students recently.
On the first morning starting the fashion degree I missed the shuttle bus and had to wait an extra 25 minutes until the next one.  I arrived in the studio on the third floor breathless and 15 minutes late.  It was empty.  Everyone from the course had been sent to collect some tables to carry back upstairs. I twiddled my thumbs for five minutes and then everyone came shunting in bumping furniture into door frames, ice nicely broken, cliques formed already thank you very much.
The studio was divided into sections each for the 1st, 2nd and 3rd year students. We were given a tour, finishing up in the 3rd year students' area. They didn't look like students, they looked like they were at work. I looked around the workstations decorated with professional looking mood boards and fabric samples. I'm never going to have a desk in there I thought. I'd been there ten minutes and I already knew it was all a horrible mistake.
Later that morning a course leader addressed us all brusquely.
"There are too many of you," she sniffed, "It was out of our control due to central funding but let me tell you this, six of you will leave."
Three were gone by Christmas. Two more by the end of the first semester.
I clung on, surviving repeated nights without sleep (hey – nothing changes does it) and even the group critique of my first semester project in which a savage panel who would make TV reality shows look kind, tore not just my work but my personality and appearance apart.  I was too defensive apparently. Didn't fit in. Had my own opinions probably.
"You have an evident love of fashion," they conceded, "but the best bits of your sketch books are always the words."
To stay on the course I had to retake the first semester at the same time as all the sleepless nights working for the second. It was like being halfway through a marathon and someone makes you run the rest of it with lead boots on. The saving grace was that I didn't need to do any sewing for the re-take, I was allowed to submit a written project.  I submitted a thesis length essay on Camille Paglia's analysis of Princess Diana as a cultural icon (bearing in mind she was still alive then) written in the style of Julie Burchill. I wish I still had a copy but I destroyed it in celebration later on.
"Are you still here?" they said when I handed it in, "We thought you'd gone," and then "it's really rather good actually," when they'd read it. "We'll let you have your first semester back," they said, "and your second semester, although not great, was good enough to pass."
So I'd scraped through. I could stay, finish the course. But I couldn't face going through this every semester, especially when I didn't have any friends on the course either. I knew my way round Bond Street and the spreads of Vogue but this fashion design stuff clearly didn't come easy. I was better at shopping.
They did me a favour really, I wasn't meant to be there in the first place but it was just a stepping stone to get me where I went next; to live with friends from halls during my new course, to have 12 hours of lectures a week and 4-5 essays a term instead of 24/7 fashion insanity and no life outside it.  I was also free to really live like a student and it's those memories which I look back on now rather than that gruelling first year.
So why do I mention this now?  Well I'm a bit worried Cybermummy will be a bit like that first arrival in the fashion studio. I'm not part of the mummy blogging scene, I take photographs of food and talk about about cake. They have a definite "scene", they'll all have heard of each other but are unlikely to know about me.  I'll probably get a lot of "So… you blog about… er… cupcakes?"
Hopefully those that visit me via these two blogs will get a better picture!
Visit
Sleep is for the Weak
for more writing on this and other subjects. It's a great blogging event for creative writing although I doubt I'll have time to do it very often as like I say, I'm really a food blogger.