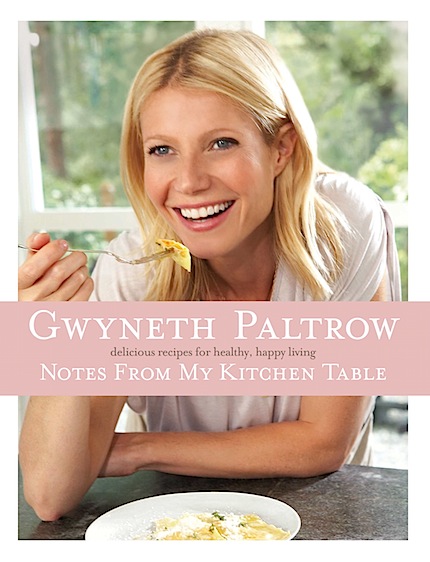 Skinny blondes telling us what to eat beware. Sophie Dahl was largely scorned by the Twittersphere as her cookery series was aired.
The mistake Ms Dahl made and should take heed from Gywneth Paltrow's Notes From My Kitchen Table, is that readers need to believe you really eat this food.
With a such a strong reputation for prissy GOOP newsletters, austere eating and punishing exercise regimes, I wasn't sure what to expect from Notes From My Kitchen Table.
Macrobiotic tendancies might have meant an uphill battle for Gwyneth to persuade people it's not a book full of punishment. She's being taken seriously though – NFMKT has a feature with several recipes in this week's Observer.
I've been struck by how appealing the food looks, I want to eat most of it although I'm having to check whether I can find all the ingredients.
Most of her store cupboard kit would be available from health stores or supermarkets but might struggle with hemp milk, Vegenaise (imported vegan mayo), "duck bacon", white or whole spelt flours. I might start a campaign to get people to ask for these in Waitrose, Vegenaise would do wonders for my cholesterol levels and duck bacon sounds fantastic.
The book opens with a tribute to her father Bruce Paltrow who died of throat cancer. His untimely death made Gwyneth determined to eat more healthily; she went for local organic food and "eliminated dairy, sugar, meat, alcohol, gluten" but admits she sometimes craved martinis and cake.
A few years later and feeding a young family, Gwyneth has brought back occasional dairy products and stuff from the supermarket "without going down some kind of hippie shame spiral."
It's this mindset that brings us to NFMKT. Rather than preaching a particular way of eating, there's a practical list of substitutions you can make "If you haven't had time to go to the health food or gourmet store".
Moses and Apple are present via discreet photographs and endearing quotes in boxes. Husband Chris Martin is predictably absent – although he does look a lot like her dad in younger years. Make of that what you will.
There are tips for cooking with and feeding children, cute at a glance graphics to indicate which recipes need to be made ahead or are quick, vegetarian or one pot meals. There are also tips with some recipes how to "make it vegan" or "make it kid friendly".
I've made two recipes from this book which I'll blog shortly but here are some more on my "must try list":
Lee's home-made sriracha (red chilli sauce)
White bean soup
Chive vinaigrette
Hot nicoise salad
Tuna and ginger burgers
Duck and rosemary burgers with plum ketchup
Duck ragu (slight theme here)
Maple-Dijon roasted winter vegetables
Spiced apple crumb muffins
Fudgy chocolate brownies
One bit of this book that irked me on first reading was the rattled off list of celebrity and aristocratic dinner party companions in the dedication. On doing some research via Entertainment Weekly, it's probably more an in joke between Gwyneth and her friends. Some of the names probably refer to Beyonce, Christy Turlington and possibly even Madonna.
Verdict: Plenty of yummy pictures and food you'd like to try. Slightly challenging to find ingredients but mostly feasible if you're a foodie tending to seek out obscure stuff anyway.
Finally look here if you want to know where to buy duck bacon (Damn! She imports it) or how to make duck bacon. I must try both some time…
For a chance to win one of 3 copies of Notes From My Kitchen Table, come back tomorrow.
With thanks for the review copy.