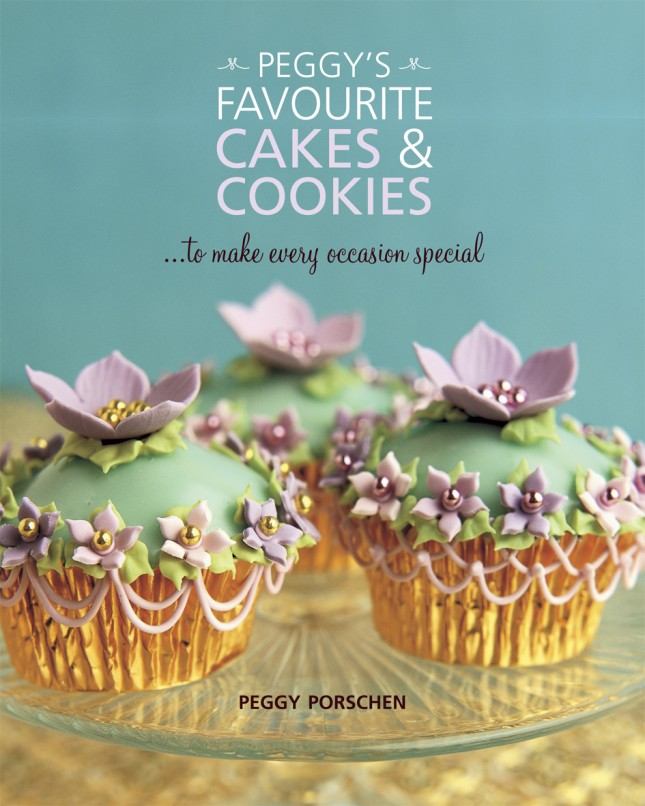 Peggy's Favourite Cakes & Cookies is a paperback compilation of Peggy's favourite designs previously featured in her first two hardback books, Pretty Party Cakes and Romantic Cakes.
This isn't therefore new material but for those readers who first discovered Peggy through her popular book, Cake Chic, it's an opportunity to see the best of her work from the earlier books without needing to buy both of them.
Although cakes and cookies are mentioned in the title, the book also features more specifically a lot of cupcakes and fondant fancies, all decorated in Peggy's distinctive feminine style.
The first chapter covers cookies; the flower basket design opening the book with six colours of icing and detailed piping work is probably the most difficult cookie featured. Further on in the chapter are designs that beginners could manage without feeling intimidated; the mini heart cookies for wedding favours are very simple as are the butterflies. In between there are "brides" and "grooms" and heart shaped place cards to mark your guest's seat at the dinner table with a cookie showing their name.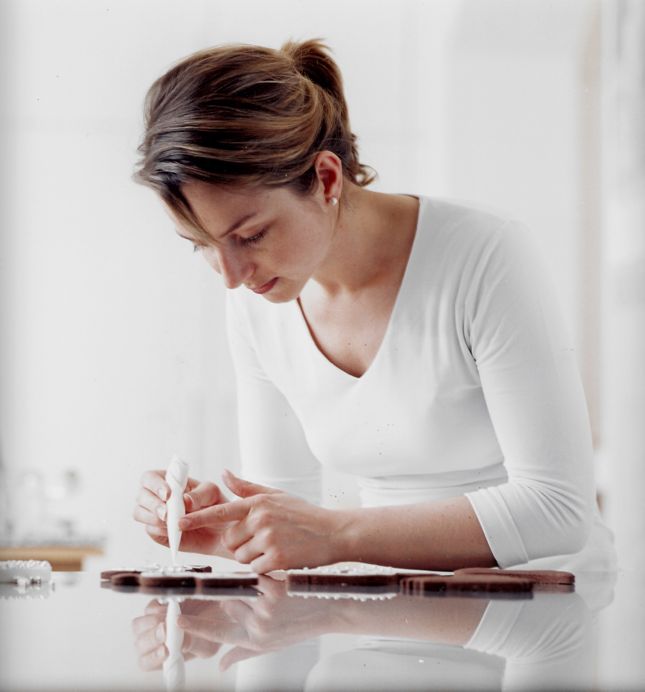 The core part of Peggy's business is wedding related and that is reflected in the contents of this book. Alongside a dozen or so large cakes suitable for weddings, there are also towers of miniature cakes and various cookie designs themed for wedding favours or hen parties.
Most of the cupcakes and fancies feature quite ornate flowers and piping, the easiest to replicate at home would be the dipped cupcakes with sugar paste roses although most others are at a medium to advanced level.
The mini cakes chapter is my favourite, from miniature candy striped cakes to little hearts that look like they've come out of a chocolate box. White spring posies cake in this chapter is simple but creative looking like a small bouquet of snowdrops. Peggy admits they are time consuming to make in proportion to their size but they look less tricky than others.
My personal show stoppers in the large cakes chapter are the black and white striped "My Fair Lady Cake" and chintz flowered "Homage to Cath Kidston" which was inspired by the fabric and home ware designer's fabrics and wallpapers.
Peggy's speciality is highly realistic looking flowers; from the lilac blossoms with piped swags seen on the cover above to pansies in little sugar pots, delicate fondant daisies, snowdrops, hand piped daffodils and of course, the show stopping roses that adorn so many of her larger wedding cakes.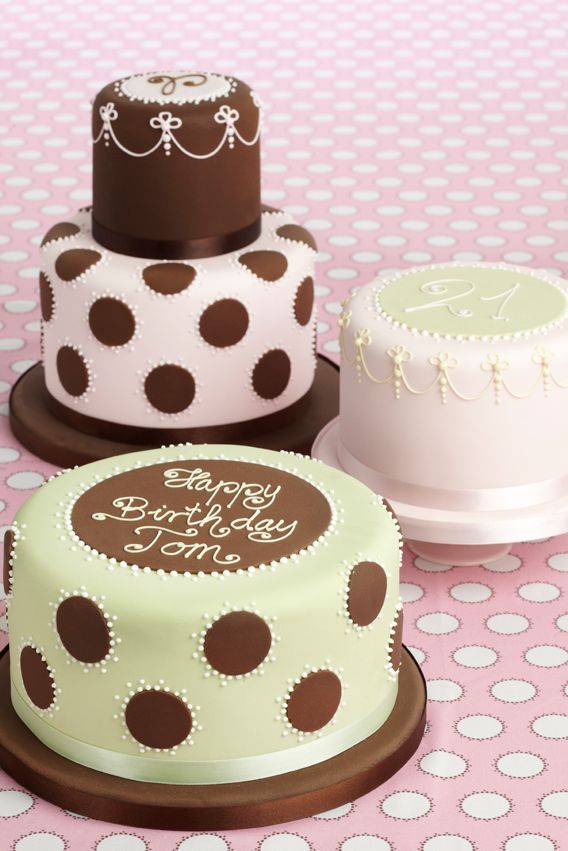 Also unique to Peggy's piping work is are her signature designs used to edge cakes, cookies and fondant shapes on larger cakes. Like handwriting, perfectly spaced little swags and dots punctuate her work. Pink and brown are a favourite colour scheme seen through her range from monogrammed cookies, the Neapolitan cake (similar to those above) and also merchandise in her shop.
Probably only the most experienced of cake decorators will attempt to replicate much of what is seen here. Although techniques are broken down and depicted with detailed how to guides, designs are labour intensive and not the sort of thing you knock up on a Sunday afternoon at home.
The real pleasure from this book comes from admiring Peggy's designs and technique, in the way one might with haute couture dresses in Vogue. We can all get a needle and thread out but few of us can make it look like Dior. This is not a book for complete beginners but there is a huge amount of inspiration to be had.
If you'd like to read more about Peggy Porschen and her work, see my other posts earlier this week on the Peggy Porschen Parlour and how I got on learning how to make sugar roses and covering a two tier wedding cake at the Peggy Porschen Academy.
Peggy's Favourite Cakes & Cookies by Peggy Porschen is published by Quadrille from June 6th 2011.
Until 12th June 2011 I also have three copies of Peggy's Favourite Cakes and Cookies to giveaway. Click here to enter.