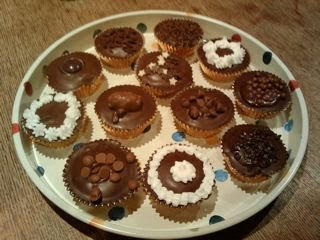 Today's batch are for my Big Lunch girlfriends who are coming round tonight to celebrate our successful Big Lunch Street Party on 19th July.
These cakes have a chocolate base and are presented in gold foil cases.  On the top I have used Silver Spoon Milk Chocolate Cake Covering.  It doesn't taste so good as real chocolate, it is probably the cheapest cooking chocolate by weight but it is easy to work with.  On the top I have had my first go experimenting with readymade Dr Oetker white icing.  This comes in a tube with a selection of three nozzles; rose, ribbon, writing.  I manage to pipe some rose piping  and rosettes on the top of several cakes.  I definitely need practise.  The white icing is not very satisfactory against the milk chocolate.  It is quite hard to pipe individual roses as the icing will not "break" when you need to move onto your next flower.  Chains around the edge of a cupcake are easier.  I suppose it is like learning to write again so I shouldn't expect too much at first.
Other toppings used here are:
Kinder bear (the fat one)
Chocolate coated toffee baubles
Chocolate sprinkles (flat dark chocolate ones)
Cadbury's Milk Chocolate Buttons
Asda Baking Milk Chocolate drops
Minstrels
Dr Oetker Milk and White Chocolate Stars
Shavings of Silver Spoon Milk Chocolate Cake Covering (I like this one but you cannot see it very well as it's at the back of the tray).