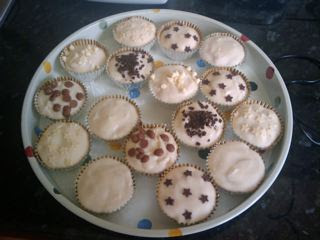 More of the same here except I have used Silver Spoon White Chocolate Cake Covering instead of either ordinary white chocolate or Silver Spoon Milk Chocolate Cake Covering.
I like topping cakes with chocolate as you don't have to faff about getting the consistency of icing correct.  So it is nice and quick for practising decorating.  You don't get such a flat surface though.
These cakes are for my friends Jo, Jen and Marie who are visiting tomorrow.  Between us we will have seven children so I hope this will be enough cake!
Toppings used here are:
Dr Oetker Milk and White Chocolate Stars (separated out)
Cadbury's Mini Milk Chocolate Buttons
White chocolate drops from shaker canister things with 4 sprinkles in it.