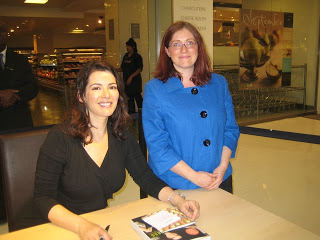 Most of my friends will know that I am a huge fan of Nigella Lawson.  I used to read her cookery columns for Vogue in the mid nineties and bought her first book "How to Eat", the second it hit the shelves.
She also resided in deepest darkest Shepherd's Bush at the same time as myself.  I used to hang off the edge of my sofa during episodes of her early tv series "Nigella Bites", mainly to watch the brief clips in between recipes that were filmed locally – our scruffy market, Goldhawk Road, the Bush Bar & Grill to name a few.  We never bumped into each other shopping.  Whilst Nigella collected juicy meat orders from Lidgate's of Holland Park, I was pushing a metal basket along the floor with my foot in our grotty branch of Safeway.  (Incidentally, my husband and I used to snort at the prospect of a Waitrose being opened in W12… back when Westfield White City was still a paintball venue).
I heard that The Domestic Goddess would be doing a book signing for the paperback release of "Nigella Express" a few weeks ago and given that I have no fixed commitments in the daytime right now, decided to go along.  The thing is, I already own a hardback copy of "Nigella Express", I bought it the month it came out so I was racking my brains who to buy a paperback copy for. Meanwhile, fellow blogger Morwenna of Bluebells & Butterflies had posted that she was bereft because she wanted to go but couldn't take the time off work and were any of her readers planning to go?  Seeing an opportunity to justify my trip, I emailed Morwenna and offered to pick up a signed copy of the book on her behalf.
This was my first attendance at a book signing – unless you count walking past Gok Wan in Waterstones at Bluewater.I wasn't sure what to expect.Nigella was sat signing books at a table infront of the food hall and there was a big queue snaking around the fine china and glassware. I overheard two members of staff saying that they'd already sold over 140 copies of the book that afternoon.  I was poorly prepared; I had meant to buy chocolate buttons and a carton of orange juice with a bendy plastic straw to keep my 2 year old son quiet but in my haste to get there on time I had forgotten and on seeing the queue, realised it would be risky to take the time to leave the shop and come back.  Fortunately Ted fell asleep once he'd exhausted the entertainment opportunities of some leaflets I'd folded up in the style of very very bad origami so at least my visions of him squawking the place down the closer I got to the front of the queue did not come true.
The disadvantage of this was that Ted missed out on an opportunity to flirt with Nigella.  He would have batted his big blue eyes at her I'm sure giving us a conversation point but instead I was all alone and very uncool-ly tongue-tied.  People ahead of me seemed to have struck up full scale debates about recipes were discussing the essay they'd asked her to copy into the book. Beyond remarking that I'd found the book very useful when Ted was a baby I didn't know what on earth to say.  This is quite ridiculous as I managed an entirely sensible conversation with David Cameron in front of a camera crew shortly after giving birth so a brief exchange about how wonderful the Nigella Express Quesidillas were should have been a piece of cake.  Instead I had the copy of the book signed, a nice photo taken and scurried away! This isn't really like me so I must have been really nervous.
My fondness for Nigella is not without criticism. I roll my eyes when I read references about being able to buy mizuna in "some supermarkets" when this probably means I might find it Waitrose in Belgravia when there's an R in the month.  A clip in "Nigella Express" showing her drink pea soup from a thermos flask on public transport felt artificial. I've found her cookery range "Living Collection" to be of mixed quality.  My mugs looked very tatty after six months and the cream ceramic ware shows scratches from rings and cutlery really badly.  I watched her short-lived daytime show (that I've forgotten the name of) mostly through my fingers as it was so dire – although I would say this was down to poor production rather than her performance in it.
After a couple of quiet years, during which she was widowed by her first husband journalist John Diamond, and later married her second, advertising guru, Charles Saatchi, Nigella returned to our screens in 2006, this time on the BBC and in a new house in a far plusher location than Shepherd's Bush.  The new shows, initially a short Christmas series and then a whole series to accompany "Nigella Express" have returned to the format of her original Channel 4 show I had enjoyed so much.Like Jamie Oliver's early "Naked Chef" shows, Nigella is often shown cooking for friends and family.Whereas Jamie's shows smack of hired extras acting out being his friends, Nigella's tv guests genuinely are her friends and family.I first noticed this in an episode where she served friends some battered bounty bars – actors would have happily consumed the calories for money – her friends could barely hide recoiling at the prospect of their broken diets.We've also seen through different series how her children have grown up. Her son, daughter and step daughter often feature in the clips between recipes but never in a way that feels exploitative.No episode of Nigella's tv shows would be complete either without the bit at the end where she tucks into the leftovers in the fridge in her pyjamas.
Long after a TV series ends, you are left the wonderful books.  It is for these that I love Nigella's writing and her recipes so much. "How to Eat", published in 1999, filled over 500 pages and was entirely without pictures. The prose is so descriptive that photographs would almost be a distraction.  "How to be a Domestic Goddess" is of similar weight but with many photographs.  "Nigella Bites" which accompanied her first Channel 4 series of the same name, is her shortest book, padded out with blank pages supposedly to write your own notes on.  It was probably put out in a hurry to coincide with the show going to air.  Nevertheless, "Nigella Bites" contains many of my favourite recipes and some memorable ones such as Ham in Coca Cola.  A further Channel 4 series saw the arrival of "Forever Summer" which is a more substantial book than "Nigella Bites" yet lacked the same quirkiness.  "Feast: Food that Celebrates Life" is a chunky, almost a coffee table book covering an incredible range of life events and religious festivals and their associated dishes.
The hardback edition of "Nigella Express" appeared in late 2007 alongside Delia Smith's "How to Cheat at Cooking".  Whereas Delia was widely criticised for publishing a book that used convenience foods as ingredients, "Nigella Express" seemed to escape this.  Perhaps because we are used to her presenting slightly trashy ingredients such as chocolate Maryland cookies (in the purple packets no less) to make a cheesecake base and the aforementioned ham in Coca Cola, that the media were more accepting.  We've had Delia tell us how to boil eggs but hearing how Nigella makes marmite sandwiches for children's birthday parties is way more exciting.
Having covered Christmas in several chapters across at least three previous books, you could be forgiven for thinking that Nigella had little more to fill an entire book with Christmas recipes. Yet for late 2008, sooner than I would have expected another book, "Nigella Christmas: Food, Family, Friends, Festivities" was published. Given that this book is aimed at a particular time of year and often features rich ingredients, so far I have used it less than the others.  I intend to make a point of using it more this December and beyond.
My favourite Nigella Lawson recipes (in no particular order):
Gooey chocolate puddings (How to Eat)
Halloumi with chilli (Nigella Bites)
Ham in coca cola (Nigella Bites)
Asian spiced kedgeree (Nigella Bites)
Yellow thai curry with prawns and butternut squash (Nigella Bites)
Rack of lamb with cinnamon and chilli (How to Eat)
Chocolate and orange storecupboard cake (Domestic Goddess)
Mirin glazed salmon (Nigella Express)
Haddock and cannelini beans (Nigella Express)
Quesadillas (Nigella Express)
Turkey and prune stew (cannot remember exact name – from "Feast")
Pumpkin and goats cheese lasagne (Nigella Christmas)