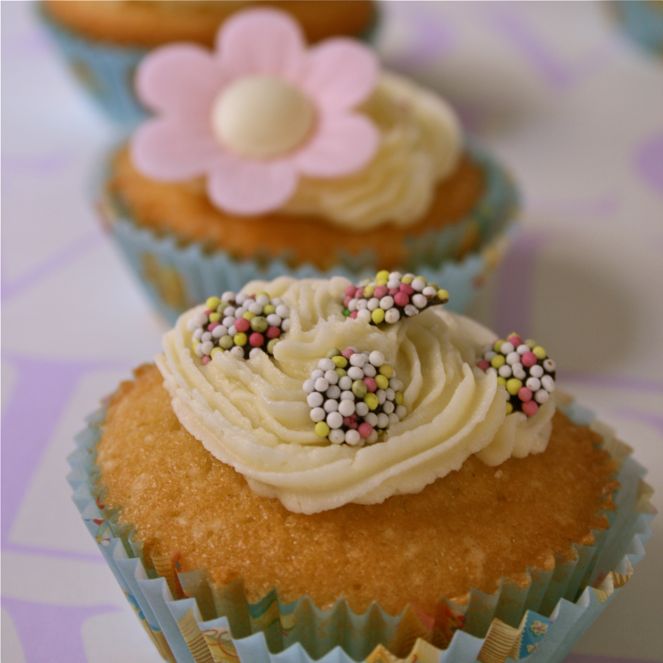 First, let me give an explanation for the lack of posts in the past week. For the past 8 days I have virtually been running a hotel with no less than 3 sets of guests to put up and entertain back to back; first my dad for 3 nights, then my best friend and her husband visiting from Australia stayed 3 nights, one night off when I had to go out on serious blog business (of which there will be more details soon) and finally an overnight visit from my mum. Phew!
Despite my fantasy of drip feeding ready to publish posts, this is rarely the case so please excuse this hiatus. By way of an apology I have a little cupcake related giveaway below.
I'm still clearing the decks of Blogger posts that didn't get published before I switched to WordPress, so today I'm sharing some cupcakes and a birthday cake that I made over the summer. On reviewing these photos I decided these specimens look more like fairy cakes but I am still calling them cupcakes as hardly anyone calls them fairy cakes lately.
Fairy cakes are more delicate, with less icing and more suited to children's parties. Those buttercream heavy beasts sold in the West End would start sheer sugar warfare at the average toddler's get together. When I make cupcakes, I usually lop off the tops and give a flat surface of buttercream… although a hybrid between the two, I'd call them cupcakes not fairy cakes. Yet here I left sponge showing… that to me, is the thing that marks these out as fairy cakes.
They were to accompany a birthday cake for Ted's friend Archie.
"He's adamant what he wants," said his mum, "He wants a pink round cake. With a train."  No amount of persuading would convince Archie to have a boyish blue cake or one actually shaped like a train. Suggestions of a Thomas cake or Chuggington cake were met with "I'd like a pink round cake. With a train." No point arguing really.
I was initially nervous about taking on cupcakes as well as a cake since Ted's baptism was the following day and we were having a big family party. So we agreed to keep things quick and easy with vanilla cupcakes and piped vanilla buttercream. That week I'd received some samples of Dr Oetker products and these were ideal to decorate vanilla cupcakes in a hurry.
The sprinkles from the Dr Oetker Tea Party range included giant wafer daisies, "mini jazzies" which are like chocolate buttons covered in hundreds and thousands – I expect you remember similar sweets in the pick and mix bags of your youth (at least if you grew up in the 80s – I cannot vouch for their presence more recently) and mini chocolate hearts, moons and stars. You can easily pay £3.00 for a dozen wafer daisies so this kind, currently retailing at £1.09 in UK supermarkets, are good value in comparison. The jazzies were my favourites!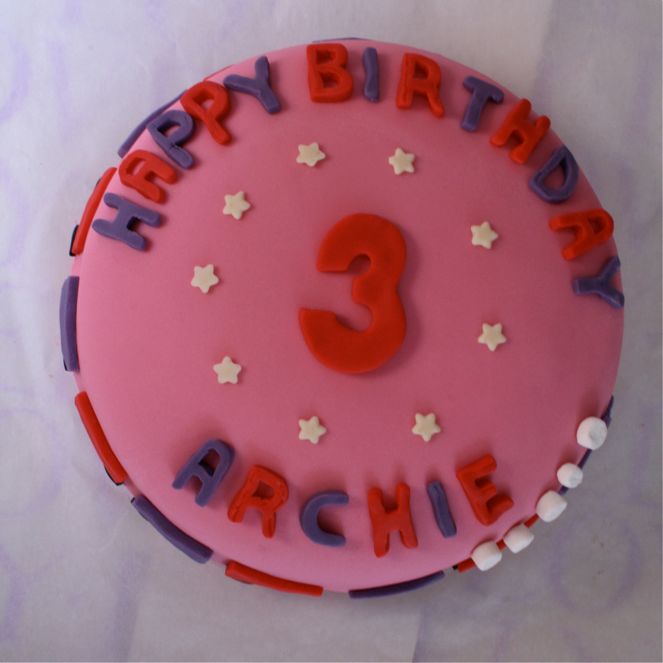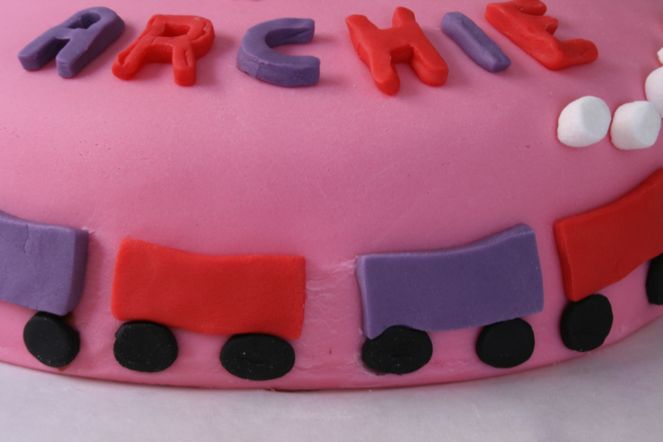 Here is Archie's pink round cake. As ever, I was pushed for time when it came to taking pictures before collection and missed off the front of the train here!  The marshmallows you see are puffs of smoke coming out of the engine. I had initially intended to use sweets or licorice all sorts to make the wheels but when it came to it, they wouldn't stick properly and became black fondant balls instead. I cut the letters out using my Nigella Lawson Living Collection alphabet cookie cutters. If you look at the reviews on Amazon for these cutters you'll see people bemoaning that they're too small to make cookies. I think people are missing the point,they're ideal for spelling words out on cakes.
The retro cupcake cases are by Rex International, not currently on Amazon but available from Gifts From Handpicked. I am on a high horse about cases recently – these ones are standard bun size rather than large muffin size. They soak up grease so they look best if you double them up.
As you may recall from previous cake decorating posts, I am not especially satisfied with my skills covering cakes with fondant icing. I did find the July heat made it easier to manipulate the fondant giving a smoother cover but there were still rough patches and a bit of cracking. Nevertheless Archie's mum was delighted with it and it was gobbled up in quick time at the party.
Cupcake Sprinkles Giveaway!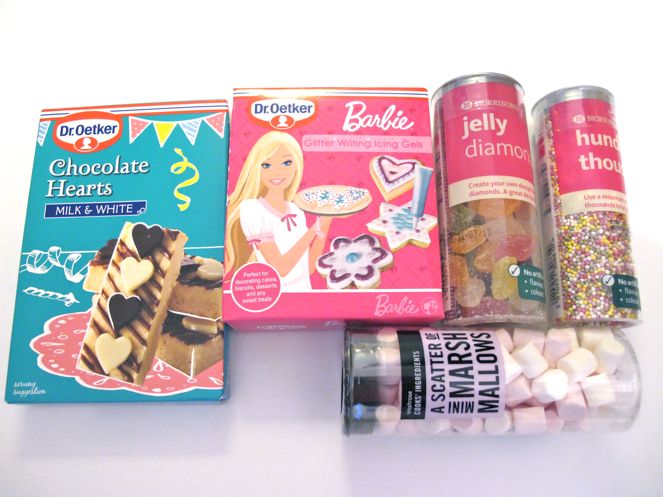 I have had a little clear out of my vast cupcake sprinkle supplies and come up with a selection of items to give away.
A couple of them are Best Before the end of this month and dare I say it, the jelly diamonds were best before the end of July 2010 although to my knowledge noone has ever been poisoned by jelly sweets that were 2-3 months past their date. Anyway, it's unlikely I will get to use these in the immediate future so I thought I'd pass them to a new home and have also thrown in a few other goodies that have several months left before they explode or whatever.
The selection comprises:
Dr Oetker Chocolate Hearts
Dr Oetker Barbie Glitter Writing Icing Gels
Morrison's Jelly Diamonds
Morrison's Hundreds and Thousands
Waitrose Cooks' Ingredients "A Scatter of Mini Marshmallows"
Rules

This giveaway is open to all readers with a UK mailing address. International readers are also welcome to comment on the post however a new name will be selected until a UK reader has been drawn.  The winner will be chosen using an online randomiser and announced in a subsequent post on this blog.

Closing date: midnight BST on Sunday October 10th.

Just one way to enter today, simply leave a comment on the bottom of this post telling me once and for all, Are they cupcakes or fairy cakes? Does anyone really care?

Good luck!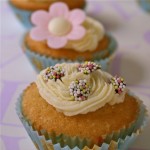 I deliberated over providing such a basic cake recipe here but for posterity's sake I thought it would be a useful point of reference when giving recipes for cupcake variations in future posts. I've also provide some personal cupcake making tips discovered along the way.
Basic Vanilla Cupcakes with Buttercream Icing

Time required:
90 minutes including cooling time and decorating

Serves:
12 large muffin size cakes or 18 standard bun size or 24 mini muffin size

Ingredients
For the cupcake bases

125g self raising flour
125g caster sugar
125g softened butter
2 large eggs
1 tsp vanilla extract
2 tablespoons milk

For the buttercream

250g icing sugar
80g softened butter
30-50ml milk
1 tsp vanilla extract

You will also need…
12 hole muffin tin and paper cases – or more smaller ones according to size desired (see above).

Directions

1. Preheat oven to 190c or gas mark 5. Simply quickly blitz all ingredients for the bases except the milk together in the food processor. Drizzle the milk in last through the funnel before pulsing a few times to a smooth batter. Do not over mix.

2. Spoon the batter into large muffin cases in a 12 hole muffin tray so that they are around two thirds full. Bake for around 15-18 minutes. For 12 large cupcakes  I set the timer for 12 minutes, turn them around on the shelf and leave for another 6 minutes.  For standard cupcake size and mini muffin size I set the timer for 10 minutes, turn around then give them a further couple of minutes until done.

3. The centres may erupt like little volcanoes but that's ok, you can lop off these peaks if you want to ice them flat or pipe icing in a spiral to emphasis their shape!

4. When the cakes are done, a cocktail stick will just about come out dry.  With practice you get the confidence to know how early this is, leaving them even a couple of minutes beyond this point will make your sponge too dry.

5. Leave to cool in the tins for a few minutes before transferring to a wire rack.  Allow to cool completely before covering with icing.

6. For the buttercream, beat the softened butter and milk with an electric hand mixer or free standing mixer until very soft and fluffy.  Sift on the icing sugar several table spoons at a time and incorporate.  The more you do at once the more it gets wafted round the kitchen covering everything so it's best to go slow.  When all the icing sugar is mixed in, add another tablespoon of milk if you think it's still too stiff. Beat the buttercream with the mixer for several minutes, it will go fluffier and lighter. Remember that although it will be soft and squidgy now, the surface of the buttercream will go harder when it's had a couple of hours to dry out on the surface of a cake.

7. Paste your buttercream over the cupcake bases using a small palette knife.

8. If colouring your buttercream, divide it into as many bowls you would like colours. Dip a cocktail stick into your gel food colouring and swirl around in the buttercream. Mix thoroughly with a small palette knife. Add further food colouring with a clean cocktail stick for a deeper colour.

Tips

Get to know your oven. You may need a higher or lower cooking temperature than me.

You can bake the cakes at 180c or gas mark 4 for slightly longer if you wish. This may help avoid the volcanic peaks.

Piping your batter into the paper cases is a way of avoiding getting mess on the sides of the cases (and unsightly burnt bits) but it's time consuming and I find using a couple of spoons best.

Making buttercream in the food processor instead of with an electric hand mixer stops your kitchen getting covered in a cloud of icing sugar.

I've stipulated butter in the ingredients but actually I find baking margarine perfectly good for the cake bases. Don't use it for the buttercream though!

Cupcake recipe recommendations:

Vanilla Fairy Cakes (Coffee and Vanilla)

Raspberry and white chocolate cupcakes (Cooksister)

Carrot cupcakes (Greedy Gourmet)