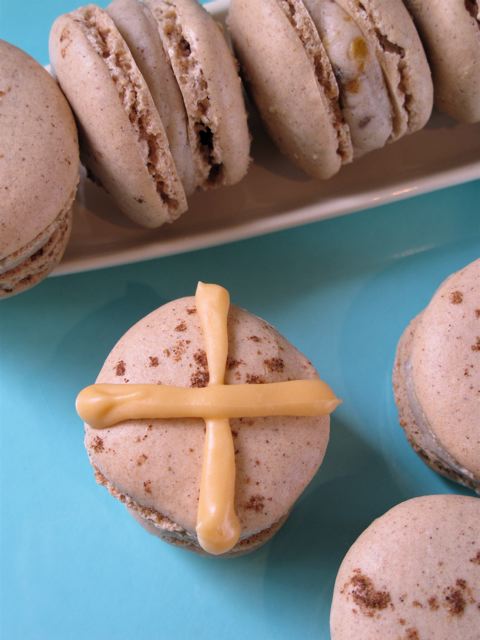 Mac Attack 6 is underway at MacTweets, hosted by Deeba and Jamie, this month's theme is April holidays. Although we had a range of possibilities; April Fool's Day, Passover, St George's Day and more, I have opted for the obvious, Easter and made this month's macarons in homage to that eternal favourite, the hot cross bun.  I had intended to pipe crosses on top of all of them but my "ivory" gel food colouring in fact went orange and so I opted for "less is more".

I am, as I sit in my back bedroom typing, freezing. It has been chucking down a monsoon outside and despite our having been away last weekend, my husband has the day before Good Friday booked off work as we intended to go somewhere for Easter. Like Bruges for instance. As it happens, the preparations for last weekend's muffins and cupcakes distracted me from booking anywhere and as the day got nearer and the weather reports got more hideous, paying to go away and hover around wet in a cagoule seemed even more crazy than doing it at home.

I've been doing some research on BBC Weather. It really is raining everywhere in Europe this Easter weekend. Apart from Berlin which is apparently sunny. Only I don't believe them as every other city in Germany is raining like everywhere else. It's not just rain either, it's heavy rain and thundery showers. Seriously the only places where it is not raining for five days on the trot are Malaga and Marrakech.

Looking back, my husband and I have had this problem every Easter, with the exception of 2000 when we flew to Provence for 2 nights, we've spent each time climbing the walls. Why do I have this amnesia about arranging anything concrete to do at Easter? Chocolate must numb the brain.

So, dear readers, how are you entertaining yourself this Easter? And are you keeping dry?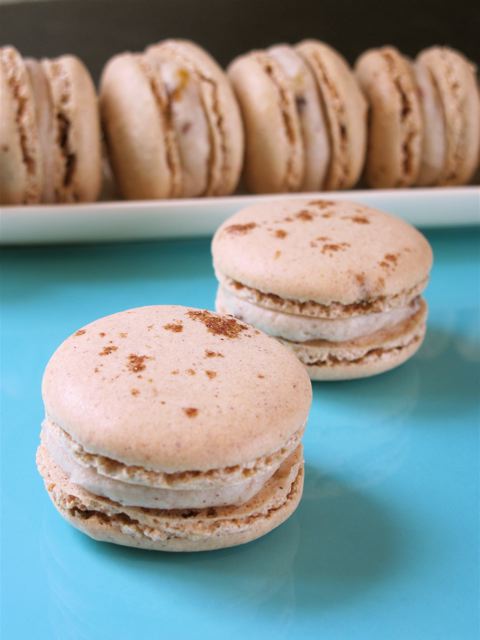 Hot Cross Bun Macarons with Fruited and Spiced Buttercream

for the shells
110g icing sugar
50g ground almonds
1/2 tsp ground cinnamon
1/2 tsp mixed spice
The seeds of 3 cardamom pods
2 free range egg whites (60g worth), left to age for 2 days
40g caster sugar

for the fruited and spiced buttercream – blend the following:
80g butter, softened
250g icing sugar, sifted
50ml milk
1/2 tsp ground cinnamon
1/2 tsp mixed spice
1 tbsp sultanas
1/2 tbsp candied peel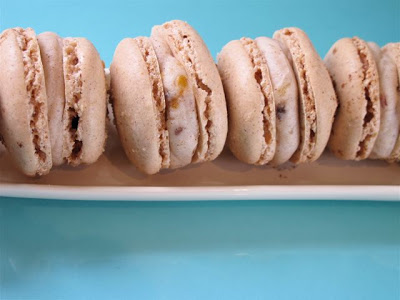 Method:
1. Sift the icing sugar, almonds and spices into the food processor and blitz to give yourself an even finer powder.
2. In a large mixing bowl, whisk the egg whites to a foam using an electric mixer then add the caster sugar gradually and continue beating until you have a meringue that stands in soft peaks.
3. Tip the dry ingredients on top. Using a silicon spatula, sweep around the bowl in a circle and then cut sideways strokes with the thin blade of the spatula through the centre backwards and forwards ten times. Repeat sweeping around the edge of the bowl and doing your ten strokes five times so that you've done fifty strokes.  Your batter should be roughly ready by this point, you are looking for a flowing lava effect. If it is too stiff continue sweeping around the edge of the bowl and doing another ten strokes until you are happy with the flow.
4. Fix parchment paper to your baking sheet with a blob of meringue batter in each corner.  Fill piping bags with the batter, I use disposable ones with around 1.5cm width snipped of the end.
5. Pipe discs in a circular movement around the size of a two pound coin. Allow a similar distance between the piped circles incase they spread. Pick the tray up with both hands and rap on the table firmly to make the circles settle.
6. Preheat the oven to 150c.  Leave the piped circles near a radiator for twenty minutes to dry out (winter only). In summer, leave for 30 minutes (apparently, I haven't done this properly in summer yet but this is what everyone else says).  The surface of the circles should dry out so that they are no longer sticky to the touch.  The feet develop as the surface has toughened before the centre has cooked, the pressure that builds up under heating forces the top of the macaron to rise, then you should get feet.
7. Bake for 12-18 minutes depending on size. The length of time really is trial and error.  I put mine on the lowest oven shelf but again you will need to experiment.
8. Hopefully, if you've cooked them enough but not too much, you'll have that happy medium of a surface that peels beautifully off the baking parchment but a meringue which remains soft and gooey like a truffle inside. If you are having trouble removing them from the paper, some drops of water sprinkled under the parchment whilst still warm will help steam the macarons off. But I find that they come off best when completely cool and don't need this. So don't be impatient!
9. For the buttercream, blend the butter, icing sugar, milk and spices in the food processor. When combined, sweep around the edge with a silicon spatula to make sure all ingredients incorporated, throw in the sultanas and candied peel and pulse again a few times until the fruit has been chopped into the buttercream in small pieces.
10. When the shells are cool, spread or pipe your filling on the flat side of a shell and sandwich with another, squeezing gently.  Allow to set for a couple of hours. I find the texture softer when they've been filled and kept in a tin overnight. They keep in an airtight tin for a week. If you can resist them.