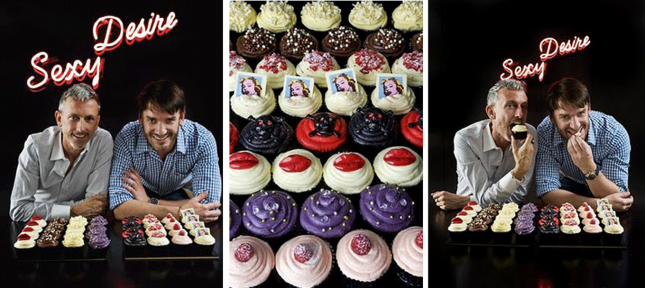 Fancy a touch of the Raymond Revue bar in your kitchen? Cox Cookies & Cake is the book based on the Soho cupcake bakery created by UK based French patissier Eric Lanlard and fashion designer Patrick Cox.
The 75 recipes are predominantly cupcakes with two chapters on cookies, bars and biscuits. Reading is like stepping through a narrow alley off Brewer Street, it's dark with neon graphics. Glitter balls and leather feature as props.
The soft cover gives the impression of shiny PVC, the graphics are reminiscent of Soft Cell's Non Stop Erotic Cabaret album. Endpapers show pictures from seedy venues and their shop – it's up to the reader to discern which is which.
This isn't a book that takes itself seriously. Presumably it's the first cookery book ever to feature the word "semen" in lights (page 36, it's actually a cropped photo of sign saying "basement"). I fear to google the phrase "cock rings" but suspect that the adornment on top of "crown cupcakes" looks like one.
Like Marc Almond's eyeliner and bangles invading a Top of the Pops episode otherwise filled with Shaking Stevens and Buck's Fizz, Cox Cookies and Cake is an antidote to any notion that baking books need be saccharine.
The styling chapter gets surprisingly involved with sugarcraft; "cheeky" cupcakes present an opportunity to paint a thong on edible paste bottoms; chocolate gets moulded into skulls.
Two cupcakes on the front cover are not featured inside; Andy Warhol Marilyns and bicep curling arms. Presumably the former are printed with edible ink. Having seen a similar technique on Bakerella, I was hoping to see how to make them. The latter look very similar to "man cakes" but this should be spelled out.
Lust list:
Cola cupcakes indented with perkily erect cola bottle sweets, luscious cherry topped Black Forest cupcakes; gluten free Provencal orange cupcakes are oozing with appeal. "Summer Flowers" cupcakes are arty and the Nanaimo bars are positively seductive.
Sex bombed out:
The hedgehog cupcakes forsake cuteness for cartoonish headlamp staring fear. They look really weird. Likewise, bunnies devoid of any Playboy reference, splattered eyeballs and holly seem out of place and shoe horned in to tick boxes of Easter, Hallowe'en and Christmas. The cookies lack the glamour attempted elsewhere. Titty cupcakes look like something out of Benny Hill.
Verdict:
Definitely different but some of the kid focused and healthy options don't sit comfortably with the concept. There are a number of recipes I'd like to try although the presentation of the book is distractingly similar to a Smash Hits Annual circa 1982. Still, if I ever require a cupcake decorated with someone's bum I'll know where to look.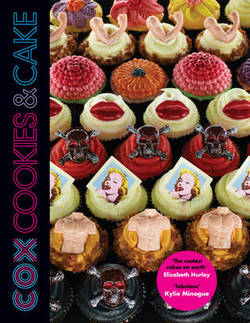 Cox Cookies & Cakes by Eric Lanlard & Patrick Cox is published by Mitchell Beazley, priced 16.99 and available from July 11th 2011. With thanks to Octopus Books for the review copy.