Walnuts are the most common nuts used in brownies however my favourite nuts are almonds so I present to you almond brownies.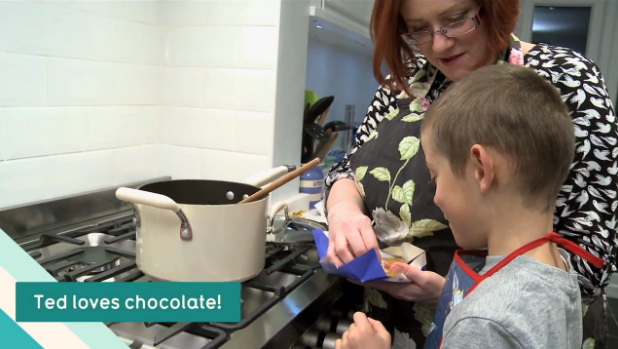 Well it's a showbiz cliche never to work with animals or children but when it's your own child you can't really say no can you?
The Organic Milk people asked me to make them a snack suitable to leave out for Santa with a glass of milk and being a brownie fiend brownies were my choice. Can you believe that although I'd featured blondies a few times, I'd never blogged any brownies on here before?
Well technically I still won't have done since the almond brownies recipe and video are over at the Organic Milk website however you can watch Ted and I making them in this cute video embedded below.
What you won't see is what Ted actually said when we were dusting them with icing sugar.
Me (enthusiastically): Mmmmmm. I think Father Christmas will like these brownies.
Ted (matter of fact): He might throw them away.
Ted, I regret was not a massive fan of my nutty almond brownies but that's ok, they were aimed at grown ups after all. You don't want a Santa snack that the children gobble up before he comes do you?
Even so, I'm not sure I dare make these again on the 24th. If Santa comes by our house with a plateful of these around he may not leave and I wouldn't like to be held responsible.
What would you leave out for Santa?