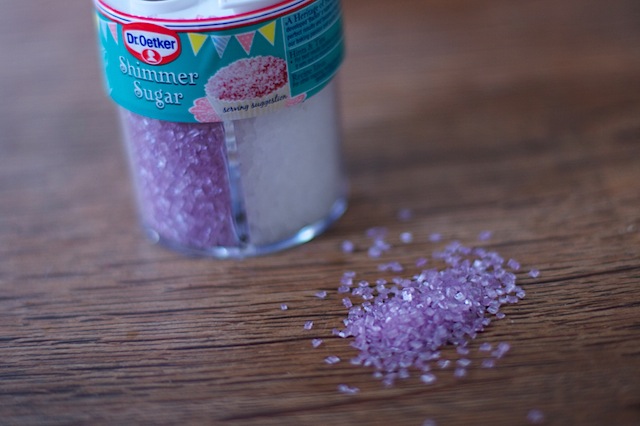 I have a new lens for my camera. This possibly not the most obvious way to introduce you to it but I am still getting to "know" it and experimenting taking pictures of my latest cake decorating booty seems a good plan!
Dr Oetker Shimmer Sugar
First up, various Dr Oetker products; this canister of shimmer sugar is great for sprinkling on top of cupcakes or dipping wet edges of cookies in… the crystals are quite big like demerara sugar rather than sanding sugar.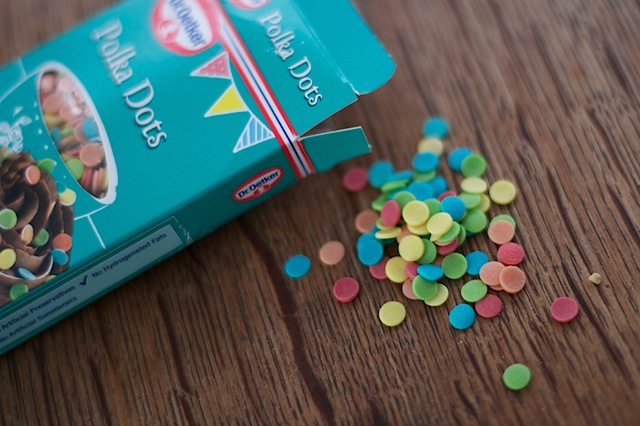 Dr Oetker polka dot sprinkles
Next up are these Dr Oetker polka dot sprinkles. I LOVE these. They smell wonderful and I can envisage loads of uses for them with cake pops. My one bug bear with them is that they come in a fiddly little bag inside a cardboard box and once you open them the bag is easily torn and doesn't stuff back inside the cardboard box easily.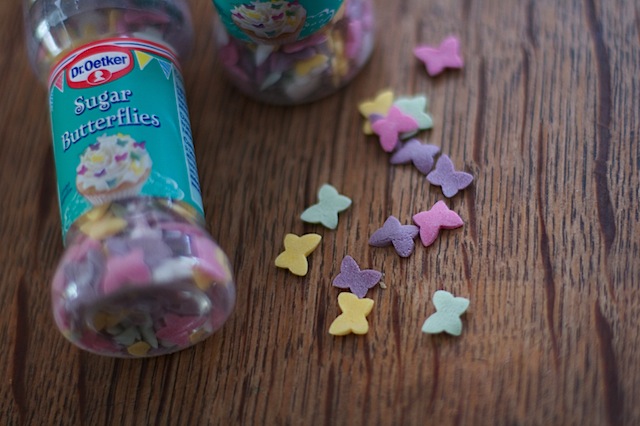 Dr Oetker sugar butterflies
Happily though the Dr Oetker sugar butterflies are now being sold in a screw top bottle instead of the cardboard box they originally appeared in. I hope the polka dots get switched to this packaging soon… it's so much more practical in my storage system although my sprinkles storage system is the subject of another post some day!

Dr Oetker gold shimmer spray
Also new is this gold shimmer spray. I was delighted to see this on the shelves in the supermarket as it's normally something I would get via mail order. Unfortunately I was less impressed with the spray than similar ones by PME as the colour coverage is not so even and it takes longer to dry.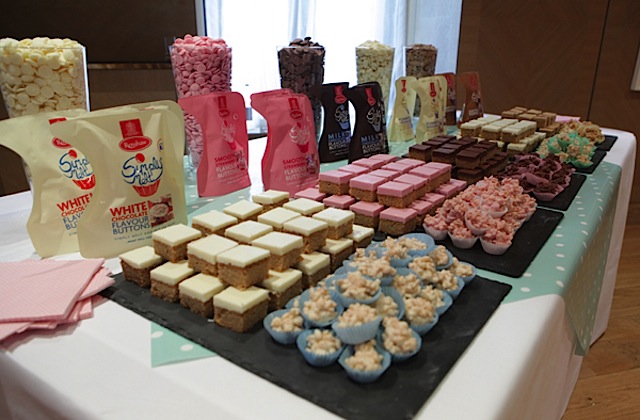 Renshaw Snip and Swirl and Simply Melt
Renshaw have also been busy bringing out a new range lately, you may have noticed these eye-catching Snip and Swirl icings and Simply Melt buttons on the shelves in Lakeland and supermarkets.
The idea of the "Simply Melt" is to snip a corner off and microwave chocolate buttons that you can pour and use either to top traybakes or make chocolate crispies with; the "Snip and Swirl" is a pre-packaged bag of ready made icing. Renshaw sent me some samples to try out.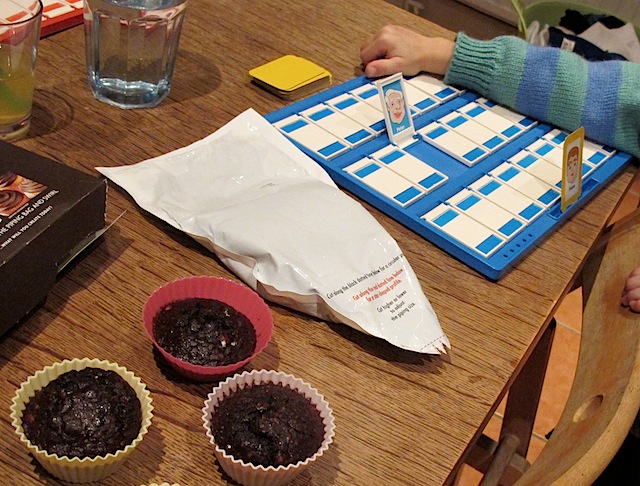 First up was the "snip and swirl" milk chocolate flavoured icing; it looks like buttercream on the box, beautifully swirled onto cupcakes. The bag is generously full of icing and has dotted lines at the end to apparently produce star nozzle style swirls or plain spirals.
I cut the bag to try and achieve the pretty effect on the box but found that without a fixed nozzle that the bag opening flares into an open shape and you might as well have trimmed it straight across. The icing was very soft and achieving a good swirl was difficult. Hence these comical objects below. (Ignore the comical cupcake bases above, they were a "an experiment" *cough*)
Actually a few days later, I was in Lakeland watching a cupcake decorating demonstration with these products and a customer next to me was holding the bag with her hand in a fist desparately trying to squeeze icing out. I felt like telling her she was doing it all wrong but the truth is she would have struggled to do a decent swirl even if holding the bag correctly.
Fortunately the milk chocolate flavour icing tastes good. It doesn't dry out like buttercream (I left it overnight to see) so even if you did get a good swirl the likelihood is that it would droop or get squashed. I'd recommend this product for sandwiching sponge cakes together or pasting on the outside like for Devil's Food Cake.
Next up I tried the "Simply Melt" buttons; the milk chocolate ones are pretty good, I melted them to make chocolate crispies for my Halloween trick or treaters. Having said that, the recipe on the box didn't allow a high enough chocolate to rice crispies ratio and I had to add more chocolate from the cupboard.
Oddly, the "Simply Melt" white chocolate buttons refused to melt and were very difficult to squeeze out of the bag. You need to know how to use your microwave on reduced power so not to burn these melts and their being hidden in a bag makes it hard to see what's going on inside.
Verdict: the snip and swirl and simply melt products taste good but don't expect to achieve the results on the packaging.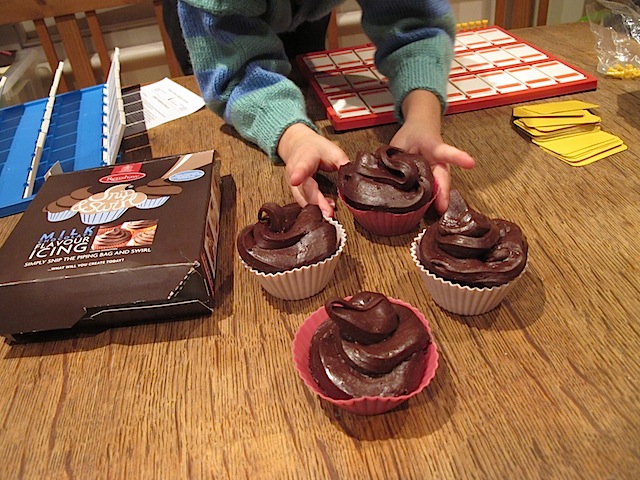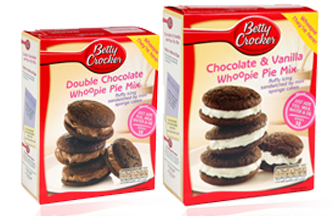 Betty Crocker Whoopie Pie Mix
Recently I attended a launch for Betty Crocker Whoopie Pie Mix. Now whoopie pies are something I've had mixed success with and I've heard various people say they've had lousy results so I'm pleased to report that the whoopie pie mix gives a good soft cake result (as opposed to some of the rocks I've come out with). Sadly the filling is pretty hideous… I had a hard time telling it apart from the equally poor Betty Crocker buttercream sold in tubs. Not like marshmallow fluff at all.
I don't tend to bake with boxed mixes and am always bemused to be given them, however I can see the appeal for some; they are a less chaotic means to baking with small children who are too impatient to wait whilst you do boring stuff like weigh ingredients.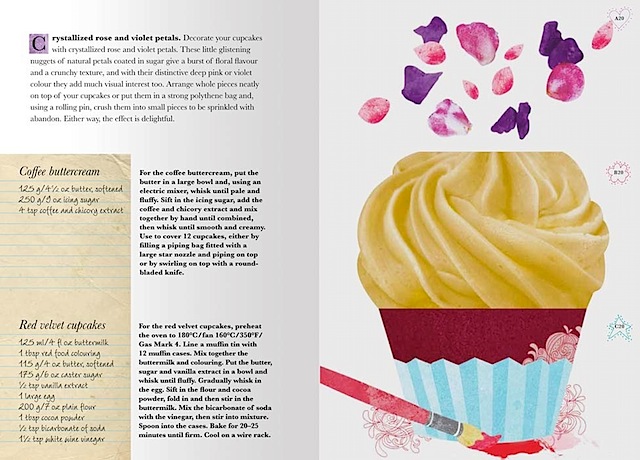 10,000 Cupcakes by Susanna Tee
My last item to report on today in this Baking With Kids round up is not a sprinkle but a book that my son has loved playing with; it's called 10,000 Cupcakes by Susanna Tee, published by Ivy Press. I feared a telephone directory size tome might arrive. I was amused instead to discover a little book the size of a large paperback novel with a spiral spine and its pages all chopped into 3 sections; sprinkle, buttercream, cupcake base.
My maths isn't good enough to tell you if 10,000 is an accurate number of combinations (and presumably some would be combinations you'd rather avoid) and personally I think this is more of a novelty than a serious cookery book. Mind you, how many serious cupcake cookery books are there… It's an ideal Christmas gift for a teenager keen to do some baking but otherwise not something I'd find space for on my crowded shelves.
With thanks to Dr Oetker, Betty Crocker, Renshaw and Ivy Press.